T-Tech 2019: Women lead the way
ITSNZ's summit in the Garden City reveals some of the women helping to transform New Zealand's transport industry.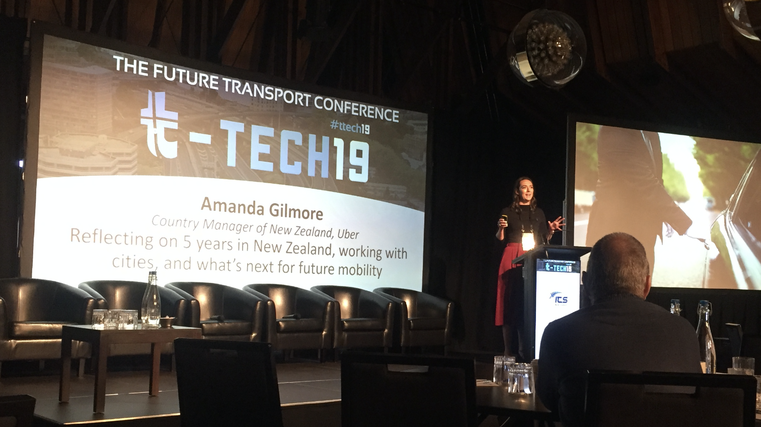 From autonomous vehicles to flying air-taxis, three women are disrupting and revolutionising this country's transport landscape.
During ITSNZ's T-Tech Summit in Christchurch earlier this month, Rita Excell, executive director of the Australia and New Zealand Driverless Vehicle Initiative (ADVI), Amanda Gilmore, pictured above, country manager for Uber NZ, and Anna Kominik, country director of Zephyr Airworks, tackled what they believe the future of mobility might look like for New Zealand.
The race for inner-space
Anna Kominik is working with the government, iwi, communities and businesses to build new skills and capability in New Zealand.
She is country director of Zephyr Airworks, one of the world's first autonomous electric air taxis, Cora.
"Cora is part of an emerging sector," said Kominik. "We are drawing from innovation from other sectors. It's a confluence of many industries.
"There has been more than $28 billion in investment globally, which is expected to rise to $80b. This has come from the likes of car companies and OEMs – all into this next form of transport."
However, Kominik made it clear that Cora's first priority is ensuring safety in our skies. "Our pathway is premised on the strong notion of safety," she said.
"Cora is a two-person electric air taxi with vertical take-off and landing. Cora's air-taxis can go 100km at 150kph on one charge. It's also self-piloting, so there's no need for driver's licences.
"There has also been a lot of questions around the safety of autonomous vehicles and Cora has several safety features. Each of its lift fans is a motor in itself. It can lose 40 per cent of those and still fly. It also has a ballistic parachute that comes out the back if it all turns turtle."
Kominik also discussed the idea that airspace is our last resource for transport. "There's currently a race for inner space. Airspace is our last resource. Not just the horizontal, but the vertical. We have the opportunity to figure out how to develop that. We are currently doing this with the assistance of the government, communities, iwi and, most recently, Ngai Tahu.
"Developing a system for 'verti-pads' is also a pretty big challenge, especially if we don't know what we will be using. There's also a lot of looking to the government for regulation advice, but we can't always look at regulatory bodies to do this."
Kiwis embracing Uber
Reflecting on five years in New Zealand, Amanda Gilmore, Uber's country manager, discussed the future of transportation here and how Uber is helping people move freely around the country "with a platform focus and integrating various modes of transport into a technology-first approach".
"Kiwis have embraced Uber due to not having anything like it before," Gilmore told delegates at ITSNZ's two-day summit in Christchurch. We've seen a tonne of change here in New Zealand. In Auckland, you can get an Uber within five minutes. This is down to us being really lucky to have great regulations."
So, what's next for Uber in New Zealand? "Kiwis love their cars," said Gilmore. "People are chained to their private cars. There's so much congestion. Ninety per cent of kilometres travelled in Auckland is by car. "How can we get people out of these situations into different modalities?
"We've introduced UberPool to Melbourne and Sydney. It's a much cheaper price than just ordinary Uber. However, we need to do this with government collaboration. We want to bring UberPool to life with New Zealand's government involvement."
Uber recently partnered with Transport Canberra to offer discounted Uber trips when travelling via the late-night rapid bus service. Passengers simply had to use the Uber app to book a ride to and from their nearest bus interchange, and they would automatically get $10 off their trip.
Gilmore also discussed Uber's move to complement New Zealand's existing transport infrastructure. "In Auckland, 30 per cent of Uber trips are to and from buses. Instead of grabbing their car keys, this could help Auckland residents push a button and get a ride."
Gilmore, like Kominik, also discussed the future of air-taxis. "Uber, like Cora, is developing shared air transportation. We're working to launch fleets of small electric aircraft."
AVs to create massive opportunity
Speaking at the conference, ADVI's executive director Rita Excell said autonomous vehicles (AVs) will create huge business opportunities in New Zealand.
"We established ADVI, so people join up to the vision to accelerate the safe introduction of driverless vehicles into New Zealand. We aim to bring AVs into a language everyday people can understand."
Excell reflected on a recent development in Western Australia where mining companies have started to use driverless vehicles.
"Mining companies there are using autonomous trucks. It's developing into their future mobility centres. It shows how AVs can create opportunities for local jobs and areas to grow.
"This is shown also in investments – 63 per cent of our partners are wanting to invest $10 billion into the technology over the next five years. We're an economy that's really important for New Zealand and Australia. We will be seeing some early commercialisation, perhaps not to level-five autonomy, but that chain is happening."