First Tesla S owner in NZ
Posted on 24 November, 2014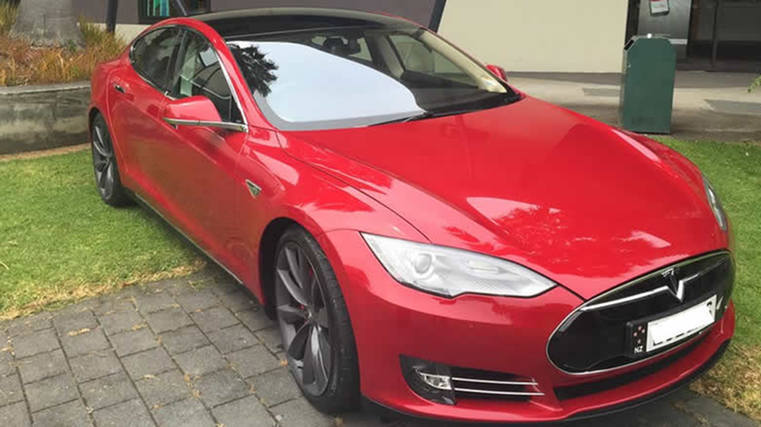 New Zealand's first Tesla Model S owner will be travelling the country to show Kiwis the high-tech vehicle. Steve West's first stop is the Garden City as part of EVolocity – the country's first motorsport day for electric vehicles (EVs). "The reason I'm driving the Model S to Christchurch is because it's important New Zealanders are aware EVs are available and are alternatives to using petrol," he told Autofile Online. "In most cases, they are better alternatives and are cheaper to run – usually about one-quarter of the price of petrol." West is concerned about Kiwis' dependence on foreign oil and the fact the country imports up to three times the amount it exports. "With EVs, we are no longer tied to the price of petrol and personally I'm sick of sending money overseas. I would much rather spend it locally." He made his fortune by creating the DJ technology package Serato and spent $180,000 to bring the vehicle here. He donated his Toyota Estima to a charity and received his Tesla Model S last week. "About 400km of motorway driving costs $20 to fill up on electricity." West says: "Our electricity supply is just perfect for EVs by being very clean and 75 per cent renewable. You get a warm, fuzzy felling driving down the road while not producing emissions." The car takes 4.3 seconds to reach 100kph and he will test its full power at EVolocity when it races against a combustion Ferrari at Mike Pero Motorsport Park in Ruapuna on November 30. West and his wife Dee also own a Tesla Roadster, which they will be showing alongside the Model S when they go on a road trip from Cape Reinga and Bluff in January. They will be stopping along the way so people can get up close and personal their vehicles. The couple have also launched a Facebook page to try to convince Tesla's chief executive Elon Musk to launch a sales and service centre in New Zealand. "Getting your hands on a Tesla is a major undertaking," explains Dee. "If they agree to enter the New Zealand market, current and future models will be easily accessible for Kiwis."
Facts about the Tesla Model S
Android and iPhone applications allow you to lock or unlock the car, honk the horn, see where your vehicle is on a map and control charging.
The Model S can travel up to 500km on a single charge that takes a minimum of four hours with a special three-phase power source. Tesla's supercharger stations cut that down dramatically, but none currently exist in New Zealand.
It boasts a 17-inch touchscreen with media, communication, cabin, and vehicle controls.