EV goes on epic adventure
Businesses and fans of low-emission vehicles have been quick to back young Kiwi as she tackles 4,000km of New Zealand's roads.
Posted on 17 November, 2020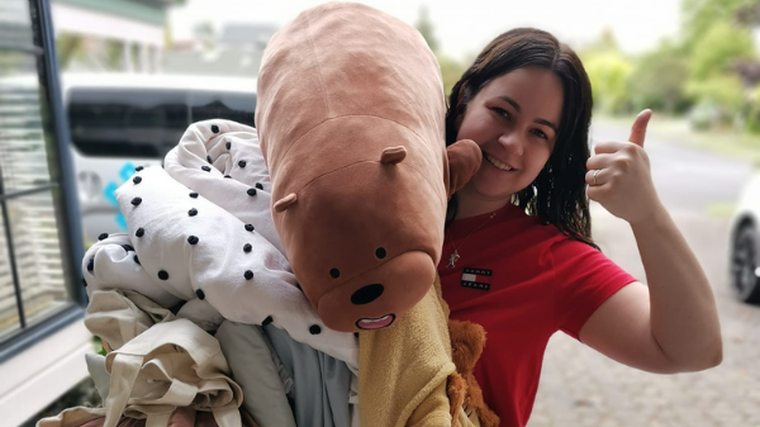 A graduate has been battling range anxiety as she tries to show how easy it is to make a New Zealand road trip in an electric vehicle (EV).
Sophie Tyler is tackling a 4,000km journey from Hamilton to Invercargill and back again in a Nissan eNV200, which is nicknamed Evie.
She has become a star within the EV community as she couch-surfs her way around the country and documents her "Roadie with Evie" adventures on social media.
Her journey has been made possible with help from Dave Boot, owner of EV City in Christchurch, and Richard Heaps, founder of the Power Trip app, which provides trip-planning tools especially for EV drivers.
Tyler left Hamilton on November 9 and is due to arrive back there in early December. She is charging the van about every 100km and has removed some of the vehicle's seats to lighten the load and get the most out of each charge.
After a week on the road, she told Autofile Online she was enjoying her adventure but there had been a couple of nervous moments about whether the van's battery would die.
"I'm loving my trip and it's showing people it's possible to drive an EV around the country, even if it's only at 100km at a time," she explains.
"My range anxiety has been pretty bad and I've definitely been put out of my comfort zone on a few occasions.
"While driving from Levin to Wellington, Google Maps said State Highway One was really congested and suggested an alternative route.
"I did not check it before turning off the highway and I ended up on 50km of windy roads through the Akatarawa Valley. When going uphill, the vehicle's range just drops and it was horrible.
"I was petrified the car was going to breakdown and there were no houses anywhere. I have decided with the range that if the worst comes to the worst, I will just go door knocking and ask if I can plug the van in for a while.
"Once the amount of range left gets to 10km the display stops counting down and just starts blinking. It means that from 10km on you have no idea quite how much power is left and I had that going into Taupo."
On the charge
Tyler, who recently completed a degree in English and Japanese, was due to head to Japan after graduating but the impact of Covid-19 meant she had to get her travel fix here instead.
The 21-year-old decided to arrange a New Zealand road trip and the plan eventually developed into putting an EV to the test.
"Initially, I said I'm not going to take an EV because I know nothing about them and it seemed difficult," she says. "But once I got the car and the app showing me the chargers along the way it showed me this was journey possible.
"You don't have to be an eco-warrior to drive an EV car and it's a cool way to see the country because you have to stop every 100km to get a charge.
"It's taken me through some small towns I would not have stopped in because you have to wait for the car to charge, so I'm looking at things I wouldn't normally see."
She is spending about three hours a day behind the wheel and as well as removing seats, she is not using the van's stereo as she strives to get the "maximum charge from the car".
Tyler explains a full charge takes about 30 minutes, although she is often topping up about 50 per cent of the battery and that takes half the time.
Fellow EV drivers have been keen to host her as she embarks on her adventure. After negotiating the bottom of the North Island, she was sailing from Wellington to Picton on November 17 for the South Island leg of her journey.
"Once I decided to do this, I was posting on my Facebook page and people from around the country were quickly offering for me to stay with them," she notes.
"A guy in Timaru is organising a dinner and has invited the whole local EV community just because he wants everyone to meet me and hear my story.
"It's a cool community and the car has given me a chance to be a part of it."
To follow Tyler's journey, visit www.facebook.com/RoadiewithEvie, or www.instagram.com/roadiewithevie.