Diamond lights for dealers
Marque celebrates number-two finish for market share in 2021 financial year.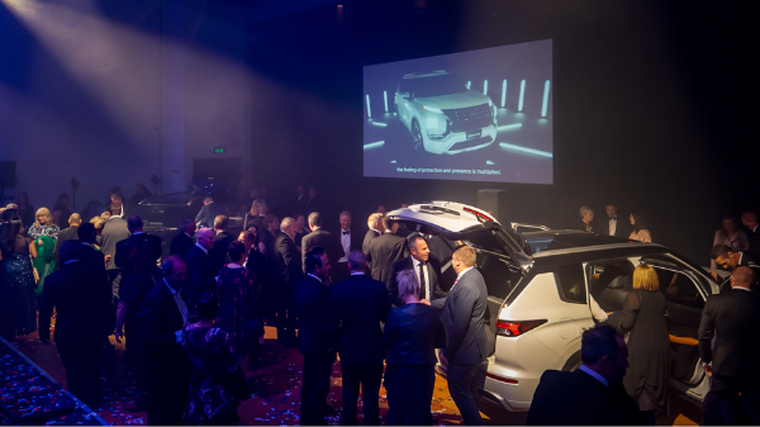 Mitsubishi Motors New Zealand (MMNZ) has celebrated the achievements of its best-performing franchises.
The annual Diamond Dealer awards night on May 28 saw staff from its 56-strong national network converge at Shed 6 on Wellington's waterfront.
Daniel Cook, chief operating officer, says highlights during the 2021 financial year included the launch of Express van and all-new Eclipse Cross range, the "enduring dominance" of the Outlander in the seven-seat SUV market and strong Triton sales.
"A record-breaking final quarter saw a 32-year high of 4,793 units sold, rounding off an historic 12 months," says Cook.
"We're proud of our dealers and pleased to celebrate after a year in which, collectively, we overcame unprecedented challenges to exceed our long-held target of 10 per cent market share and hit the number-two position.
"We appreciate that we're only as good as our last performance, and that continued effort and improvement are key to continued success."
MMNZ's Diamond Dealer awards programme is designed to recognise the company's highest achievers, incentivise its network, and ensure customers get the service and support "they have come to expect".
Cook adds: "Among this year's winners are some of our most consistent high-achievers and one first-time winner, Brendan Foot Mitsubishi.
"We welcomed the Foots to the fold in 2017. It's pleasing to see that, in a short time, they are among the best in the country."
Diamond standard
The winners, in alphabetical order, include Auckland Motors Mitsubishi, Baigent Mitsubishi (Matamata – parts and service) and Bay City Mitsubishi (Tauranga).
The others are Brendan Foot Mitsubishi (Lower Hutt), Delaney Mitsubishi (Paraparaumu – parts and service), Piako Mitsubishi Rotorua, Piako Mitsubishi Morrinsville, WR Phillips Mitsubishi (New Plymouth).
Customer service
Auckland Motors Mitsubishi (group one), W.R. Phillips Mitsubishi (group two), Auto City Mitsubishi (group three).
New-vehicle sales
Andrew Simms Newmarket (group one), Wayne Kirk Mitsubishi (group two), Piako Mitsubishi Morrinsville (group three).
Top market share
West City Mitsubishi (group one), Piako Mitsubishi Rotorua (group two), Archibald Motors Kaitaia (group three).
Other winners
Parts excellence – Bay City Mitsubishi, service – Baigent Motors, finance dealer – Auckland Motors Mitsubishi, managing director's award – Saunders Mitsubishi Thames.