Nottingham declared bankrupt
Man claimed creditors had paid him $2 million – yet, in court, he described himself as penniless and a beneficiary.
Posted on 13 September, 2018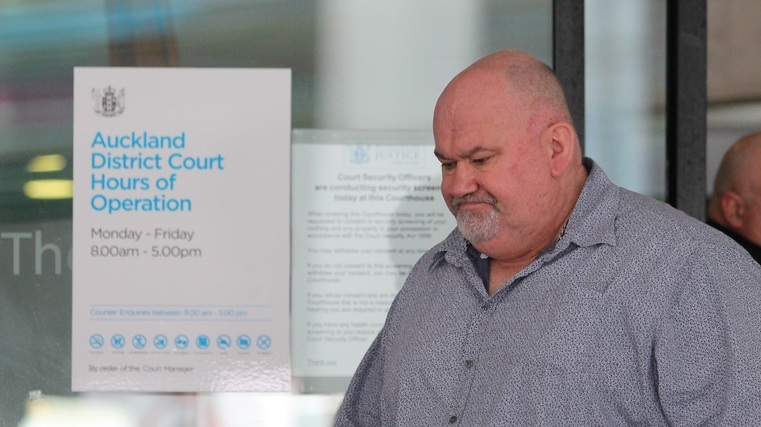 Dermot Gregory Nottingham – a character well-known to many people in the automotive industry – has been declared bankrupt.
That was the outcome of a hearing in Auckland High Court on September 11 at which he said creditors had paid him about $2 million yet he was still penniless. The amount includes around $250,000 in costs owed to ex-defendants in failed prosecutions.
The Official Assignee at Auckland has now been appointed to oversee Nottingham's bankrupt estate, Associate Judge Johnston has ruled. The decision follows action taken under the Insolvency Act and High Court Rules between judgement creditors Martin Russell Honey, Stephanie Honey and Hemi Taka, and Nottingham, pictured above (Photo: NZ Herald).
Two applications and one appeal were heard. One was an application by judgement creditors for an order pursuant to part 2(2) of the Insolvency Act that Nottingham, of Auckland, be adjudicated bankrupt.
Nottingham, who declared himself as a "beneficiary", applied for approval of a proposal under part 5(2) of the Insolvency Act so this wouldn't happen.
Then there was an appeal by the Honeys and Taka under rule 32(1) of the Insolvency Regulations. That was against a decision of Nottingham's trustee recognising "claimants as his creditors" and allowing them to vote on a proposal he put forward.
In essence, this contemplates an individual who is insolvent putting a proposal to creditors as an alternative to bankruptcy.
Peter George, a judgement creditor, says: "Nottingham tried to avoid bankruptcy by putting a proposal to creditors. If more than 50 per cent of them with more than 75 per cent of the debt vote in favour of a proposal, it can be considered for acceptance by a court as an alternative to bankruptcy. The proposal passed a vote."
He adds the overturning of the trustee's decision to accept the claims of all creditors who voted in favour of the proposal undermined the vote in favour of the proposal at the meeting.
On July 9, Associate Judge Johnston set down hearings and issued pre-trial directions. One was that Nottingham or any other party wishing to oppose the appeal against the trustee's decision or support his application for approving his proposal should file and serve notification by August 6. No one did.
It was concluded Kevin Whitley's decisions – as Nottingham's proposed trustee – to accept parties who voted in favour of his proposal at a creditors' meeting in Auckland on July 4 were overturned. Nottingham's application for the approval of his proposal was declined and an order made adjudicating him bankrupt on the application of the Honeys and Taka.
Summary against Nottingham
Associate Judge Johnston said there was nothing in any arguments Nottingham advanced opposing the application of the Honeys and Taka that persuaded him to exercise discretion by declining to make an order declaring him bankrupt.
David Grove, representing the judgement creditors, submitted there was – in this case – a significant public interest in making such an order.
"Nottingham has a demonstrated history of commencing private prosecutions against individuals in which he has been entirely unsuccessful," said the judge.
"Unquestionably, these apparently groundless prosecutions have wreaked havoc with the lives of those wrongly accused of criminal activity. In my view, if Nottingham's bankruptcy puts an end to this practice on his part, then that's a public good.
"While there may be some room for doubt as to whether all persons who claim to be creditors of Nottingham and filed claims in the context of his proposal that I have overturned are all bone-fide creditors, if they are it would seem his creditors have paid to him something in the order of $2m – in cash or value – over recent years. Yet he claims to be penniless.
"In my view, there is a public interest in Nottingham being bankrupted so the Official Assignee can investigate his affairs to establish whether all these claims are legitimate and, if so, what has happened to the $2m Nottingham has received but claims no longer to have."
Creditors' meeting vote undermined
The court heard that, on June 26, Nottingham initiated a proposal pursuant to part 5(2) of the Insolvency Act. This contemplates an insolvent person putting a plan to creditors as an alternative to bankruptcy. A meeting of creditors is convened and can vote on the proposal. If a simple majority in number and a three-quarters majority in value vote in favour, the insolvent may apply to the court for approval. If the proposal is approved, all creditors are bound.
Nottingham's judgement creditors in this matter were the Honeys, Taka and four others. They voted against the proposal that other creditors voted for. The number and value of votes in favour "dwarfed" those of the judgement creditors and a resolution to accept the proposal was passed. On that basis, on July 5, Nottingham started his action seeking the court's approval to the proposal.
The Honeys and Taka appealed the decision to recognise creditors who voted for the proposal. It was common ground that if that appeal was successful, Nottingham's application for court approval must fail because the outcome would be that 100 per cent of his creditors in number and value voted against it. The basis on which they appealed against the decision to accept certain creditors' claims and allow the creditors to vote on the proposal was "straightforward".
The judge ruled the Honeys and Taka established Whitley, the Auckland-based accountant and trustee nominated by Nottingham, was wrong to have accepted claims of general creditors and allowed them to vote, so he overturned his decision.
The effect of overturning Whitley's decision to accept claims of all creditors who voted in favour undermined the vote in favour at the meeting. It meant 100 per cent of eligible creditors voted against the proposal. In those circumstances, there was "no question of approving the proposal", so the judge declined Nottingham's application.