Car production in Japan falls
Shortage of semiconductors for vehicles and fall-out from quake blamed for falling numbers out of factories.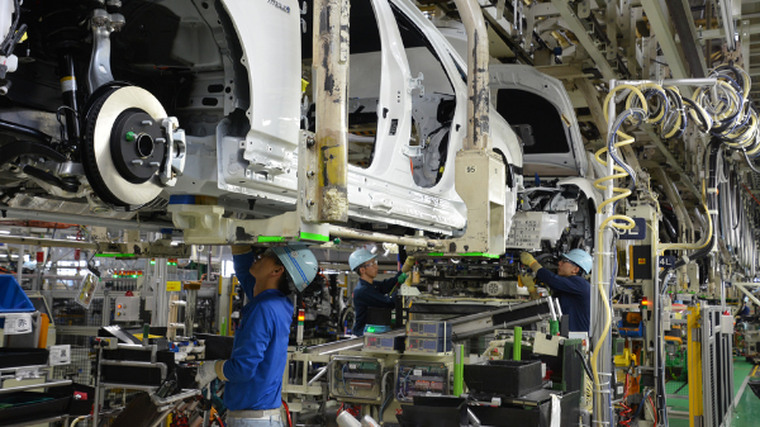 Factory output in Japan dropped during February with an earthquake and semiconductor shortage being blamed for declines in the production of cars and electrical machinery.
The release of official statistics on the situation is adding fuel to worries that the country is struggling to recover from the Covid-19 pandemic.
The world's third-largest economy is expected to contract in the current quarter due to coronavirus-related curbs that were imposed from early January in Tokyo and other prefectures.
And the magnitude 7.3-earthquake off the coast of eastern Japan on February 13, which damaged homes and businesses throughout the northern region, has disrupted production.
Official data released on March 30 shows factory output contracting by 2.1 per cent in February when compared to the previous month. It has been dragged down by falls in output of motor vehicles, electrical machinery, and information and communication equipment.
The output fall was worse than a 1.2 per cent decline expected by economists and followed the previous month's sharp 4.3 per cent gain.
Factories worldwide are struggling with a global semiconductor shortage, which has impacted on car, smartphone and home appliance production.
Manufacturers surveyed by the Ministry of Economy, Trade and Industry expect output to drop another 1.9 per cent in March, followed by a 9.3 per cent rebound in April.
A trade ministry official says a fire at a Renesas Electronics chip-making plant on March 19 was not reflected in the forecasts.
Renesas, which commands nearly one-third of the global market share for micro-controller chips used in cars, said on March 29 that it would take at least 100 days to get back to normal production at the plant.
Factory output in Japan had rebounded in January largely thanks to a surge in the production of electronic parts and general-purpose machinery with demand for tech-making equipment remaining strong.
Some analysts, however, are concerned the country's economic recovery will be dragged down by weak domestic spending and a slower-than-anticipated demand recovery abroad as economies slowly reopen, even in countries that have rolled out Covid-19 vaccines.