Van Gisbergen savours Bathurst win
Kiwi survives tough final laps to put Holden on top of the podium.
Posted on 18 October, 2020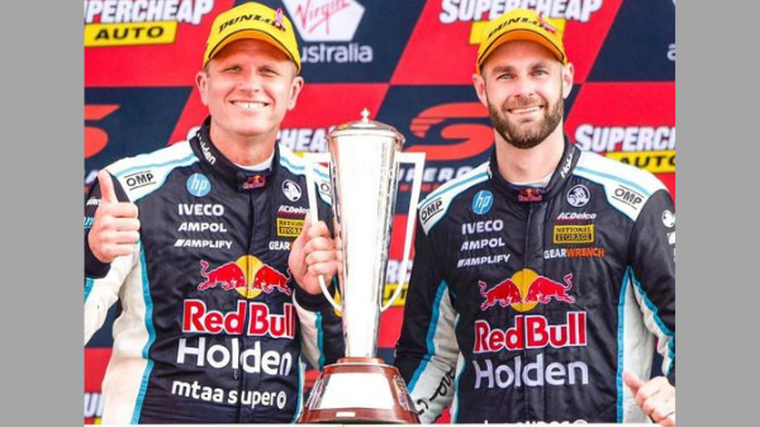 Shane van Gisbergen clinched a maiden victory in the Bathurst 1000 and made sure Holden ended its association with the famous race in winning style.
The Kiwi driver, pictured right, teamed up with Garth Tander, left, in the 161-lap enduro, which eventually became a battle between them and the pole-sitting combination of Cameron Waters and Will Davison.
There was some late drama with two safety cars in the final nine laps but van Gisbergen maintained his spot at the front.
It capped an outstanding performance in his 14th start at Mount Panorama, having been runner-up in 2016 and 2019. It was Tander's fourth victory, following wins in 2000, 2009 and 2011.
"It's just awesome," van Gisbergen said, after picking up a Holden flag on his victory lap.
"The last few laps were really tough with the safety cars but the team did a faultless job and the car got better all weekend, so thanks to my guys.
"We had a great car and it's a great way to send out Holden. Thanks to Garth, he did an awesome job. I just wish my mum and dad were here."
Van Gisbergen's success marked the 34th time a Holden car has won at Mount Panorama. It is Holden's last Supercars race in an official capacity with the marque being retired by General Motors at the end of this year.
Compatriot Scott McLaughlin, who had already clinched a third successive Supercars championship, finished fifth with co-driver Tim Slade.
Bathurst 1000 results
1. Shane van Gisbergen/Garth Tander (Holden)
2. Cameron Waters/Will Davison (Ford)
3. Chaz Mostert/Warren Luff (Holden)
4. Fabian Coulthard/Tony D'Alberto (Ford)
5. Scott McLaughlin/Tim Slade (Ford)
6. Scott Pye/Dean Fiore (Holden)
7. Lee Holdsworth/Michael Caruso (Ford)
8. Mark Winterbottom/James Golding (Holden)
9. Anton de Pasquale/Brodie Kostecki (Holden)
10. James Courtney/Broc Feeney (Ford)