Transport tech could earn NZ $1.5b a year
Intelligent transport systems could be a sunrise tech industry for New Zealand, earning up to $1.5 billion a year, a new industry report has found.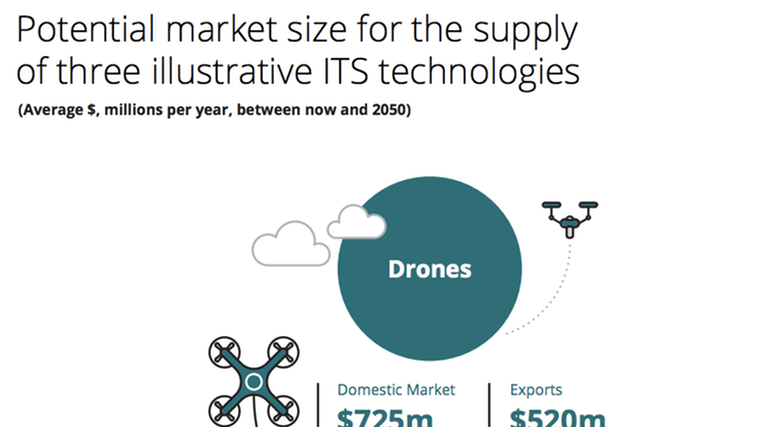 The report, commissioned by the Intelligent Transport Systems (ITS) Advisory Group, is a call to action for both the business community and the Government, recognising the enormous potential for developing and manufacturing intelligent transport systems such as self-driving cars and drones in New Zealand. The report calls for greater collaboration between the Government and business to unlock innovation and export growth around ITS technology and services. Data sharing greater R&D, the upskilling of regulators, and aligning education and skills training with our future needs are also recommended. Chair of the Intelligent Transport Systems Advisory Group, David Prentice says New Zealand is a good location for the new industry because of our growing high tech manufacturing sector, experience in manufacturing niche component parts, and reputation as a test bed for new technologies and world class connectivity. "We want to grow business out of providing solutions to global problems – there is growing demand worldwide to solve problems such as congestion and emissions which intelligent transport systems can help address." Products already produced in New Zealand include GPS systems, drones, robotic port cranes, airport baggage handling systems and wireless charging technology, and there is emerging export potential for this sector. Prentice says the report highlights the potential for New Zealand to respond to global demand and become a first mover in an innovative, high-growth industry that is set to transform transport throughout the world. "Intelligent transport systems have the potential to significantly improve traffic flows, reduce road congestion, increase logistics productivity, lower transport emissions and improve the safety and efficiency of personal travel." The Government has already proved an interest in the industry, with autonomous electric air taxi trials under way in Christchurch. Testing of autonomous electric vehicles is also under way at Christchurch Airport, and autonomous shuttles from Ohmio Automation are to be made in New Zealand. Click here to read the full report.