No end in sight to feebate problems
Minister of Transport says issues with clean car discount are "isolated cases" despite dealers insisting otherwise.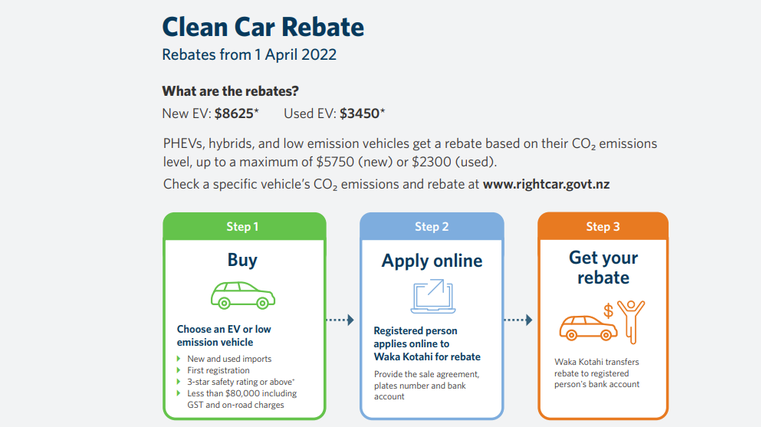 A used-car dealer in Christchurch is the latest expert in the automotive industry to highlight problems with the clean car discount.
Martin Harcourt, a former member of the Imported Motor Vehicle Industry Association's executive, says mistakes with carbon dioxide (CO2) emissions data on Rightcar's website have cost him about $100,000.
He has relied on the online database to identify used vehicles in Japan to import that should incur zero emissions fees, such as cars with small petrol engines.
But problems experienced when coming to register them in New Zealand for the first time have included Rightcar's system producing a $2,300 charge for a Ford Focus after an independent evaluation stated it would be fee-neutral.
Harcourt, of Value Cars Warehouse, says his business has had similar experiences with Audi A1s and Ford Ecosports.
"We can't do business. It's hard when you are buying a car in Japan and you think it's a nil fee. Then you get it, go and register it, and it's $1,500 or $2,000. It's happening all the time."
Harcourt says around 100 vehicles on his yard are affected, and estimates thousands of cars and many traders across the country have been affected.
An example he gives is that it took 10 days to sort out a Toyota Corolla that showed a $1,500 fee when a $900 rebate actually applied.
He has had to deal with would-be buyers walking off his yard while trying to get the correct CO2 data. "We're losing sales because of it," he told RNZ. "It's probably cost us $100,000 in misinformation, I would say."
Harcourt adds he isn't opposed to the feebate scheme but describes its roll-out as being "a complete mess".
Frank Willett, chief executive of Autohub, is aware of deals being derailed by the process.
"Occasionally dealers have reluctantly worn a penalty payable and that's simply been deducted from the margin of the sale," he says.
"In some cases where the anomaly runs into thousands of dollars, the dealer may elect to tip the deal over because it's not possible wear that cost, and it's unreasonable to go back to the purchaser to try to renegotiate the sale price"
An example he has relates to a friend who faced a $2,875 fee on an Audi that, when challenged, turned into a $500 rebate.
Willett told RNZ the data problems have the potential to drive up yard prices – if dealers are unprepared to research every single vehicle, they may increase sticker prices.
Falling on deaf ears
Major issues with the clean car discount have come to light since it was launched on April 1 – by Autofile Online as well as mainstream media.
However, there has been little in the way of public acknowledgement of the problems with Rightcar's CO2 emissions database.
For example, Autofile emailed 21 questions to the Ministry of Transport (MoT) and Michael Wood, the Minister of Transport, on April 22.
By 11am on April 29, no reply had been forthcoming – except for an acknowledgement the email had been received.
However, Waka Kotahi has told RNZ there is no systems-wide problem and few vehicles have been affected.
The agency says it's aware of only 145 vehicles nationwide with incorrect data and 122 had been sorted out of almost 10,000 imported in April. It adds it's rectifying isolated problems "on a case-by-case basis". However, "at the wider system and fleet level there is no system failure".
In addition, Wood has been reported as saying Waka Kotahi has provided assurances the problems are "isolated cases".
The transport agency, which has 13 staff in its clean-vehicles team, is "continuously" updating data, the minister has stated in response to a parliamentary question.
More dealer woes
Paul Carruthers, chief executive of Online Motor Group, believes the uncertainties being thrown up by the clean car discount are changing behaviour in the market.
He says: "The suppliers I talk to in Japan attending auctions regularly are telling me everyone in New Zealand has defaulted, by and large, to just going after the safe cars, which are hybrid ... given the ambiguity around what kind of penalties they're going to attract if they buy cars that aren't in that safe zone."
However, even some importers of used hybrids have been forced to send information on hundreds of cars to Waka Kotahi to get their CO2 data rectified.
Carruthers, whose business is based in Grey Lynn, Auckland, adds some importers who dealt on credit with Japan may walk away if faced by unexpected fees.
"Cars have been abandoned here by importers because the cost turned out to be significantly higher," he told RNZ.
Meanwhile, Harcourt is spending $300 a time for Lower Hutt-based SOC NZ to get fresh data on used European imports on a vehicle-by-vehicle basis.
SOC NZ told RNZ the MoT doesn't grasp the enormity of the task given to Waka Kotahi because vehicle data is so complex, especially for used Europeans.
In addition, VIA is advising dealers not to register cars until they are sure what charges will be payable on them.
The association has asked Wood for assurances traders will be indemnified if they give customers Waka Kotahi data that turns out to be wrong.
Wood stated in response to RNZ that car dealers "have a responsibility to make sure they take all reasonable steps to ensure the information provided on vehicles for sale is correct". If they think that may not be the case, they can ask Waka Kotahi to review the information.
Waka Kotahi statement
On April 13, Autofile Online reported on a general statement from Waka Kotahi.
We originally put questions to the agency on February 23 in anticipation that such problems would affect the automotive industry – well before the clean car discount launched at the start of April.
In that statement, the agency said it's "not unexpected" dealers have been experiencing problems with the scheme's roll-out.
That mid-month statement read: "Waka Kotahi has been working closely with the industry to enable a smooth transition on April 1 to the clean car discount.
"While the system is running well overall, Waka Kotahi is working with dealers as well as the MTA [Motor Trade Association] to resolve some bedding-in issues.
"We're aware of some instances where dealers may be entering incorrect and or incomplete data into the system, which could result in the wrong CO2 figure and, therefore, the wrong rebate or fee being calculated and other instances where the source data may be incorrect.
"We are working to resolve these issues as they are identified and to apply fixes where required. More than 12,000 rebates have been processed to date and it's not unexpected for there to be issues with some transactions."