NBR Rich List released
Rich List confirms it: There's big money in the automotive industry
Posted on 15 August, 2018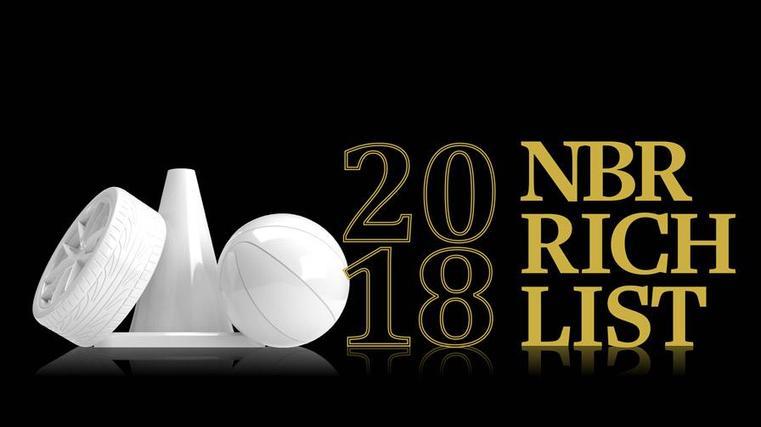 The National Business Review has unveiled its Rich List for 2018, with many figures from New Zealand's automotive industry making appearances.
The combined net worth of the rich-listers this year totals $100.8 billion, up from $79.9b in 2017.
There are 34 newcomers, contributing a combined value of $5.89b. They include car dealers Paul Kelly and Rick Armstrong. Wayne Leach is another newcomer. He's known for turning a Hamilton dealership into a network of luxury car dealerships.
Summaries of rich-listers' of interest to the motor-vehicle industry can be found below.
Todd family – $4 billion
The Todd family was one of the first in the motor-vehicle business, importing vehicles from 1912 and establishing the Todd Motor Company in 1923. It branched out into car assembly in 1935 and for many years that was its mainstay until it exited the business in 1987.
In what is now its major endeavour, the family has been involved in energy since about 1929 when it reacted to disruptions in the petrol market by importing petroleum and marketing it under the Europa brand.
Todd Energy is likely to be impacted by the government's decision to ban fresh oil and gas exploration.
Alan Gibbs – $580 million
After various successful business ventures, Gibbs put his engineering knowledge to work.
The result is – so far – 11 amphibious vehicles, including the Aquada sports car, Quadski quad bike and Terraquad, a utility four-by-four.
About 60 per cent of these vehicles have been developed in New Zealand by Gibbs Technologies.
It's the world's first manufacturer to engineer vehicles that can exceed 50kph on water, achieve normal speeds on land and transition between the two in less than five seconds at the push of a button.
"My principles are simple: stay away from anything to do with government or government incentives, and also try not to invest your own money," says Gibbs.
Sam Morgan – $550m
Morgan saw his 3.1 per cent stake in Xero nearly double in value as the online accounting software company's stock sky-rocketed in the new year after moving to an ASX-only listing.
The Trade Me founder also participated in a $1.2m angel round for Auckland-based HR software start-up Joyous. Joyous is co-founded by Mike Carden, with whom Morgan co-invested in another HR software start-up, Sonar6, which was sold to American company Cornerstone for US$14m in 2012.
Morgan is active in philanthropy, with his venture Jasmine Social Investments focusing on backing "social entrepreneurs" or small projects aimed at alleviating poverty in the developing world.
Sir Colin Giltrap – $395m
Sir Colin began his career in the 1960s when he founded Monaco Motors in Hamilton. After he moved into the Auckland market in the 1970s, he entered the UK market in 1989 when he bought a stake in the Malaya Group. It later became HR Owen – one of Britain's leading luxury motor dealers.
He controlled 81 per cent of Malaya in 1993, which was gradually diluted by a string of acquisitions, and resigned from the board in 2008 after selling the last of his shares for one million pounds.
While his sons, Michael and Richard, jointly manage the Giltrap Group, Sir Colin still holds the title of executive chairman.
In late 2017, the group opened a new $40m headquarters on Auckland's Great North Road with showrooms for its Lamborghini, Aston Martin and Bentley ranges.
Michael says it's one of "the most technologically impressive and environmentally friendly buildings of its type in the country".
Through the Giltrap Trust, Sir Colin and Lady Jennifer are sponsors of worthy causes and pledged $250,000 in 2016 to help establish the Bruce McLaren Centre at the University of Auckland, which will undertake engineering research in honour of the late motorsport legend.
John Copson – $340m
Copson has spent more than 30 years in the finance and insurance sectors.
He founded AutoSure NZ and Crown Insurance, which were sold to Vero for $68m in 2004. He then created Westar Capital before establishing the Crown Asia Pacific Group.
Copson was also behind the glitzy Main Beach development of three restaurants overlooking Takapuna.
Currently, his plan for a $250m suburban redevelopment on a one-hectare beachfront site, worth $14m, is being held back due to Auckland Council resistance.
Spencer family (late Peter) – $200m
The family's interest in agriculture is part of the legacy of the late Peter Spencer.
He was prominent in the farming and meat industry and was also involved in car assembly with Motor Holdings, financial services with Equitable Group, and machinery and vehicle imports with Caspex.
Peter's three sons, Chris, Michael and Howard, continue to be involved in various family businesses. Howard is a director of Hyundai in New Zealand, as well as GS Group Services, a joint venture between the Spencer and Giltrap families. It distributes Hyundai, Isuzu and Renault in New Zealand.
Note: The Spencer family of the late John comes in with $1b on the list with its interests in investment, wine and paper manufacturing.
Neville Crichton – $150m
The luxury car dealer and master yachtsman owns the Ateco Group, which imports European, Korean and Chinese marques into New Zealand, Australia and South Africa.
Crichton gave up racing touring cars in 1990 to switch to blue-sea yachting, winning line hours in the Sydney-Hobart Race in 2002 and 2009.
Gibbons family – $135m
Now in its third generation of Gibbons ownership, Wellington's Colonial Motor Company's (CMC) market capitalisation has risen to a record level of nearly $270m based on shares worth $8.30.
Jim Gibbons is chairman and Graeme Gibbons is chief executive. The major shareholdings are held by individual members of the wider family, whose collective holding of more than 60 per cent is worth about $162m.
CMC's annual sales are likely to reach nearly $900m as it approaches 100 years under Gibbons family control, while operating profit in the half-year to December 31, 2017, rose 17.3 per cent to $15.2m.
Wayne Leach – $110m
Motor-vehicle dealer Wayne Leach bought into Winger Motors almost 30 years ago – now the company is one of New Zealand's largest dealer networks.
Winger went upmarket in 2016 when it became the North Island distributor for Maserati.
Describing the franchise acquisition as "an important new stage in the history of Winger Motors", Leach says it presents a range of exciting challenges.
As well as the franchises, Leach owns valuable showrooms and yards collectively worth more than $55m. The most valuable property is Isuzu's in Auckland's Greenlane, valued at $17.5m. The Maserati showroom in Newmarket is worth $8.8m.
A believer in "what goes around comes around", Winger is committed to helping communities that support its dealerships with a focus on helping families, schools and local sport.
Rick Armstrong – $55m
Armstrong has built a leading network of dealerships nationwide. Founded in Christchurch in 1993, the Armstrong Motor Group has more than 1,500 vehicles in stock at any given time.
The biggest dealership is Auckland City Toyota, which was acquired from Sir Colin Giltrap in 2014, and now operates from three locations offering a fully integrated parts and service operation.
Another milestone was the acquisition of the New Zealand-wide official distributor rights for Peugeot and Citroen.
While many of his dealerships operate from leased premises, including two major sites owned by Giltrap, Armstrong and his trustees can lay claim to a property portfolio worth more than $30m, which also includes a $7.4m family home in the Auckland suburb of Parnell.
Steven Newman – $50m
Newman, founder of Auckland-based fleet tracking technology company Eroad, is back on the Rich List. Listed on the NZX in 2014, Eroad has endured a tough start as it struggled to break into the critical US market.
However, in 2017 a federal government mandate required all interstate trucks above 10 tonnes to be equipped with an electronic logging device, which changed the game for Eroad.
In the year to March 2018, ERoad's North American sales increased by 19 per cent and contributed to an overall 57 per cent hike in revenues to $51.5m.
In the space of 12 months, Eroad's share price rose by more than 125 per cent and boosted the company's market capitalisation to $250m, which valued Newman's 21.7 per cent stake at about $55m.
Newman co-founded Navman, which became a global brand before being sold to the US firm Brunswick Technologies in 2003/04 for $108m.
Paul Kelly – $50m
Since 1998, the Paul Kelly Motor Company has sold more than 40,000 vehicles and operates from four locations in Christchurch where it specialises in new and used Japanese and European vehicles in addition to operating a service centre and finance company.
Earlier this year, Kelly announced on Facebook: "This year marks our 20th year in business. To celebrate the occasion we will be closed for a week from May 14-18. Paul Kelly is taking the entire staff to Las Vegas for our anniversary celebration. We won't be around to take your phone calls or emails but, should you need to contact us, we will be at the Bellagio."
A huge motorsport fan, Kelly has driven in almost 200 events and chalked up 13 wins, including the 2016 ENZED Central Muscle Car race at Teretonga in his Pontiac Transam.
Image source: NBR online