May issue out now
A new verification system for used-imported vehicles is set to be in full swing within two months, the UK may be put on the high-risk list for stink bugs, intelligent transport systems in cars, in-depth statistics and much more.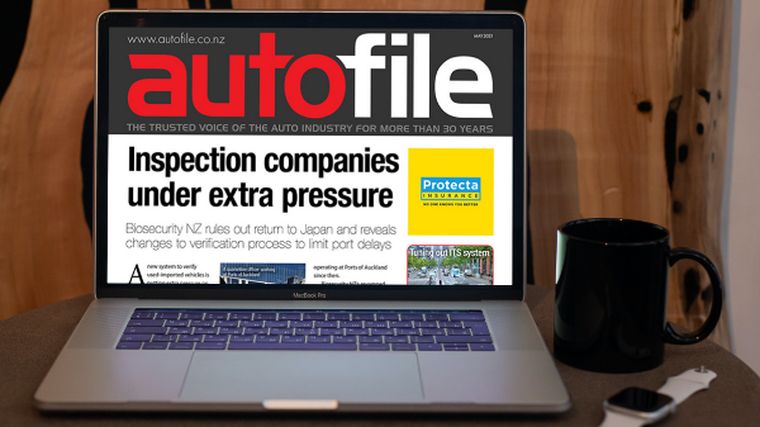 Biosecurity New Zealand aims to have a new way of verifying used imports fully operational by July, with the move putting extra pressure on border-inspection organisations.
Changes to improve onshore processes have resulted from talks with the car industry and its supply chain.
The aim is cut port-clearance times with transitional facilities set up where vehicles of concern will be fully checked – and not dockside. It follows an increase in cars failing biosecurity requirements because of seeds or pine needles.
And MPI inspectors will permanently stay in New Zealand after being recalled from Japan about a year ago. Autofile investigates the issue in depth.
The UK may be placed on the high-risk list to keep stink bugs out of New Zealand in the future. The government has decided against putting the country on schedule three of its draft import heath standard for vehicles for now, but anticipates it will be added – although no timescale has been given.
Poland has been added to the schedule, but China and South Korea – where stink bugs are native – have not. Find out why. And some smaller types of vehicles will no longer be eligible for management-exclusion criteria.
Toyota appears to be going it alone with the broadcasting frequency for intelligent transportation systems fitted to some of its cars that needs to be disabled before being imported here. A ruling is now in force for damage flags to be raised on any vehicles with ITS Connect installed coming into New Zealand.
• Tony Everett, of the MTA, explains why Holden's exit and changes to Honda's operating model "should serve as a reminder to franchised dealers that the world in which they operate carries considerable risk".
• Henrik Moller, of Flip The Fleet, explains how and why dealers should quiz their customers about electric-car use.
• VTNZ wants more collaboration between industry and government officials following the process to approve organisations to carry out entry certification.
• Polestar, a premium electric-only brand, is planning to launch down under as its expands into Asia-Pacific.
• Farmer Audi in Tauranga has taken out the marque's dealer of the year award.
• VIA's Kit Wilkerson opines it's time to revisit the definition of safety for the Kiwi fleet.
• Consummate showman "Mad" Mike Whiddett talks about his on-track antics and suffering a spinal-cord injury.
• Plus: New electric cars unveiled, industry movers, action needed on apprenticeships, in-depth market statistics and much more.
To read the May edition of Autofile, click here.