Japan declares state of emergency in virus hotspots
Vehicle industry waits to learn how measures introduced overseas to combat the Covid-19 outbreak may affect trade over the coming month.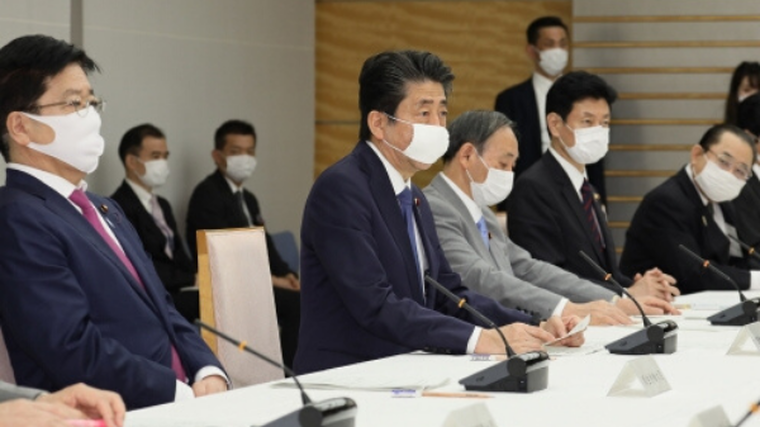 Automotive businesses are desperately seeking details as to how their operations will be impacted after Japan officially declared a month-long state of emergency for Tokyo, Osaka and five other prefectures.
Prime Minister Abe Shinzo has pleaded with residents to stay home to protect their lives, limit the spread of the coronavirus and to counter what he called "the biggest crisis since World War II".
The state of emergency, which became effective immediately after the announcement on April 7, will run until at least May 6 and also covers Saitama, Kanagawa, Chiba, Hyogo and Fukuoka prefectures.
Abe, centre in the picture above, asked people to dramatically cut their interactions with others during that period and urged those who do go out to avoid crowded areas, practice social distancing and wear masks "to protect other people's as well as your own lives".
Frank Willett, chief executive of Autohub NZ, says the company is now waiting to hear from its colleagues in Japan as to how the declaration will affect business.
"I'd anticipate we will get more advice from our head office in Japan as to what they're doing in the coming days," he told Autofile Online.
"We're still waiting for clarity as to how it's going to impact our operation. It's a matter of Covid-19 response action as well as a possible reduction in business hours."
Autohub has offices in Tokyo, Osaka and Nagoya, with the latter in the Aichi prefecture that is not covered by the current state of emergency.
"Autohub Japan has to consider what's going on around it with port and other service operations," Willett says. "If there's a desire by those businesses to continue we would probably do the same thing but at a level we're comfortable with, but if auction houses decide to close their operations then there's not a lot for us to do."
Nigel Grindall, chief executive of shipping and logistics company Moana Blue, predicted cars will continue to be shipped out of Japan despite the latest measures.
He spoke to Autofile Online before the state of emergency became official and said the indication was that car auctions would still operate.
Powerful 'requests'
The state of emergency authorises governors in the affected prefectures to request residents stay home except for essential tasks, such as grocery shopping and seeking medical care. Businesses in those areas will likely be requested to "thoroughly implement infection control measures".
In Japan, a state of emergency does not give prefectural governors legal power to enforce restrictive actions or lock down measures as have been seen in New Zealand, and cities across the US and Europe.
However, requests from the prefectural government are understood to be taken as a "demand" with an expectation that people will follow the directives.
"Under Japanese culture a 'request' can be far more demanding than it would be in other cultures," Willett says.
In a bid to boost business as it grapples with Covid-19, the Japanese Cabinet has also approved a ¥108 trillion (NZ$1.6tn) emergency economic measure.
For more news and the latest industry updates from Autofile Online about Covid-19, click here.