Getting powered up
The Mach 1, Ford's new Mustang, made its appearance at Fieldays. Plus: what other marques showed at last month's event.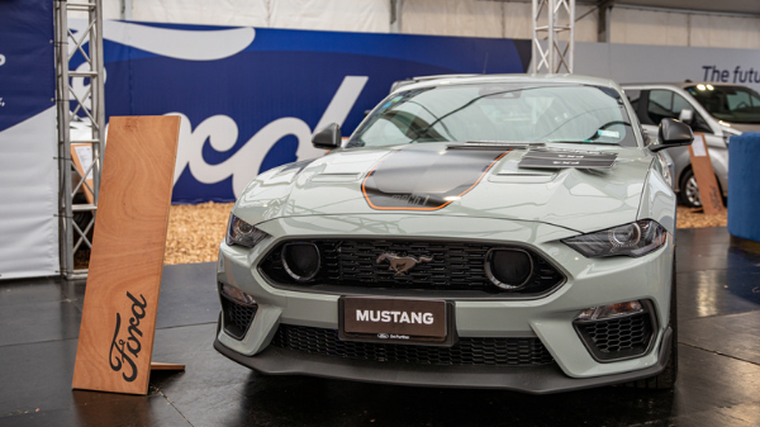 The wraps came off Ford's new Mustang – the Mach 1 with a price-tag of $97,990 – at Fieldays.
Power and torque from the five-litre Coyote V8 has increased from the standard GT's 339kW and 556Nm to 358kW to 570Nm in most markets, and an expected 345kW and 556Nm in Australasia.
The variance is because of the different way emissions are tested down under and effectively gives the Mach 1 the same output numbers as the Mustang Bullitt.
It features parts borrowed from the Shelby, including the Tremec six-speed manual, engine-oil cooler, oil-filter adapter and air intake.
The blue oval has also opened its order books for its plug-in hybrid (PHEV) Escape SUV – the marque's first electric vehicle in this country.
The PHEV starts at $60,990 and increases to $66,990 for the ST-Line X, so the range is eligible for a government clean-car discount rebate of $5,750.
Tom Clancy, a spokesman for Ford NZ, says it was "fantastic" to be back at Fieldays in June after last year's event was effectively cancelled and only ran online.
He adds the government's rebates and clean-car discount plans were the main topic of conversation for people visiting the marque's site, with "not too many people happy about it".
"We had unprecedented demand for the Ranger going into Fieldays and the feebates announcement just added to it," he explains.
"It's difficult to say how much the feebate is influencing buying decisions but we definitely think there will be some extra interest in utes towards the end of the year.
"The demand was already there, and we were looking at a record year for the Ranger, feebate or no feebate."
Clancy says the Escape also attracted plenty of attention and more than 30 orders were placed at Fieldays with the vehicles due to arrive in September.
The Mach 1 at the event was for display purposes, with Ford NZ's consignment of 50 units already sold out.
"That's a vehicle that people buy because it's a Mustang," says Clancy. "It will be a pain having to pay an extra fee from January for that type of vehicle but I'm not sure it will change people's behaviour."
New models
Many brands were missing from this year's event near Hamilton, such as Toyota, Jaguar, Land Rover, Mitsubishi, Mercedes-Benz, Skoda and Kia. However, visitors to the agricultural show still had plenty to see.
Hyundai exhibited new models not yet on sale, including the Ioniq 5, all-new Tucson, the forthcoming petrol-electric hybrid variant of the Sante Fe and facelifted Kona II.
Volkswagen put the spotlight on its vans. These included the new Caddy, which has had a major upgrade of its interior styling and technology, and its California campervans – the Transporter-based Ocean and the bigger Grand.
As for new passenger vehicles, the German marque had its Golf 8 and Passat Alltrack crossover on show.
Great Wall Motors' two brands have undergone almost complete model renewal in New Zealand this year, Haval with its SUVs and GWM with its utes.
The Jolion compact SUV, which is the replacement for the H2, and the recently launched medium-sized H6 were joined by the GWM Cannon.
While Holden will never feature again at Fieldays, General Motors' performance brand, GMSV, will. There was the unveiling of the latest Chevrolet Silverado 1500 LTZ. It boasts 313kW of power and 624Nm of torque alongside its 4.5-tonne tow rating.
The New Zealand-developed Jimny Safari special edition welcomed people to Suzuki's stand, which had the company's full model range, as well as its extensive range of rural and recreational kit from farm bikes to outboard engines.
Great Lake Motor Distributors represents two marques in New Zealand – South Korean SsangYong and LDV, which is part of the giant Chinese automotive group SAIC. It exhibits included the facelifted Rhino and new T60 ute, which features a two-litre biturbo engine making 160kW/480Nm and an eight-speed automatic gearbox.
Finally, Isuzu once again had its self-drive test track with the all-new D-Max and MU-X SUV on offer, while the new Navara its range-topping Pro-4X variant was also a focus of attention.