EV odyssey highlights advances
Dealer praises adventurous driver for showcasing the possibilities of travelling around NZ's growing network of charging stations.
Posted on 07 December, 2020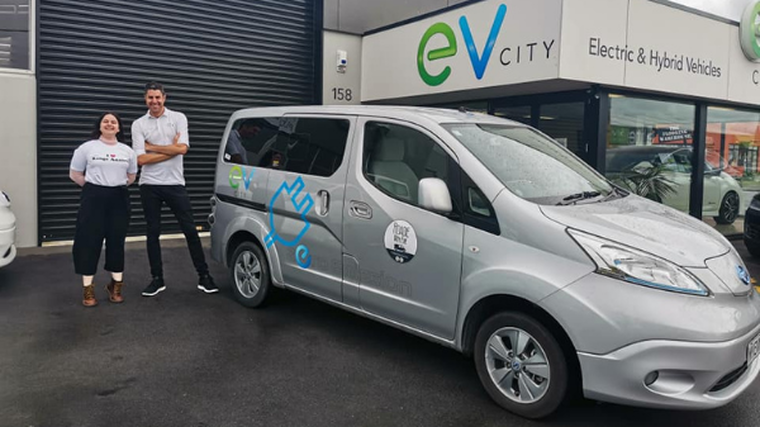 An electric vehicle (EV) dealer has described a young woman's road trip as "the worst car to use being driven by someone uneducated about EVs", and he couldn't be more delighted about it.
Dave Boot, owner of EV City in Christchurch, has helped make Sophie Tyler's "Roadie with Evie" possible by sponsoring her charging costs throughout the 4,000km adventure.
He hopes her experience in a Nissan eNV200, which involved having to stop at a charging station about every 100km, will encourage other motorists to have the confidence to explore New Zealand using an EV.
"Sophie has taken probably the lowest-range EV in New Zealand a very long way," explains Boot. "It's a big ask to be doing the trip she's doing in that particular van.
"Until now, Sophie had no clue about EVs. She had no idea what a battery looked like or that there was more than one in the vehicle, which is pretty cool because with the level of infrastructure nowadays you just don't need to know those details.
"It's also cool for new EV owners or drivers to have the confidence to take one of the shortest range EVs around some wilderness roads."
Boot, pictured above with Tyler, adds the network of charging stations has grown rapidly in recent years and is making it easier to travel further afield in EVs.
He recalls how less than three years ago two backpackers went on a EV road trip and because of the then lack of charging facilities it took them two days to drive from Blenheim to Kaikoura, which included having to recharge their vehicle overnight at a stranger's house.
"Sophie made the same trip in one morning," notes Boot.
"Two-and-a-half years ago there were big holes across the network. We regularly show customers a map with EV chargers on and each time we look we often notice there are new chargers popping up.
"The infrastructure has developed considerably and the speed with which those chargers are getting put in is impressive."
After Boot convinced Tyler to undertake her return journey from Hamilton to Invercargill in an EV, he says he was happy to cover the costs of charging.
He committed to the sponsorship despite not knowing how long her trip was going to be but says he "knew it would be considerably cheaper than if it was in a petrol car".
"Whereas Sophie has encountered some fear about the distance between chargers, I had no fear about how much it was going to cost," he adds.
"Her father was talking to me about his daughter doing a road trip and I said she should do it in an EV and she seemed largely uninterested to start with.
"I told her there's a cool community of EV lovers and good on her for doing the trip. Sophie's roadie is a case of the worst car to use being driven by someone uneducated in terms of EVs and with no prior passion for EVs.
"It just shows how someone with no enthusiasm for EVs can now put together a trip and make it around New Zealand quite comfortably.
"Years ago, that would have only been possible for people who had spent a lot of time planning and who knew a lot about the recharging infrastructure. Now you can just pack up and go pretty much anywhere."