End of road for 'Kiwi car bible'
Auto Trader ditches magazine to concentrate on digital offerings after seeing printing costs soar in the past year.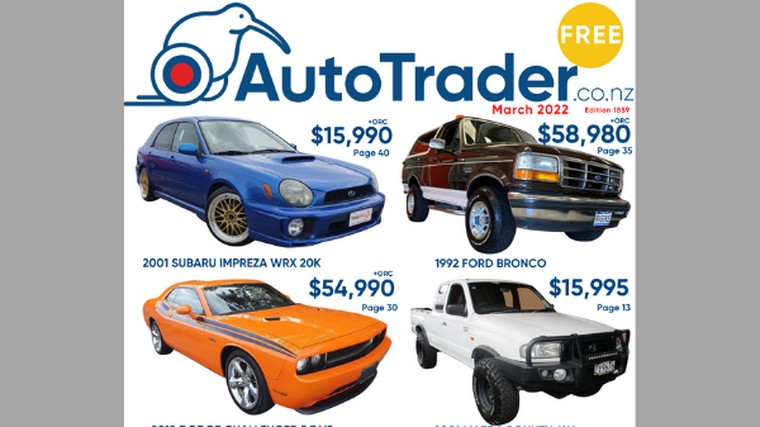 Auto Trader has announced it is no longer publishing its magazine with the March 2022 issue, pictured, the last print edition, bringing more than 40 years of Kiwi motoring history to an end.
The publication was launched in July 1981 as a weekly classified magazine for dealers and private sellers to advertise used cars, and in recent years it had shifted to coming out monthly.
Auto Trader will now solely be a digital product and aims to build its presence in New Zealand's online car market.
Richie East, director, says the magazine was seen as the "Kiwi car bible for many of its 40 years in New Zealand" and the company was proud to celebrate four decades of publishing in July last year.
However, the decision to close the magazine has been made because printing and distribution costs have soared during the Covid-19 pandemic.
"Our costs with the magazine have gone up more than 100 per cent since July last year," East told Autofile Online.
"We're finding cost pressures all over the place and for some time the magazine has been seen as an additional product by dealers to help top up sales at the end of the month.
"It's a difficult decision because the magazine has been around for 40 years. It's a well-loved product by many and a collector's item for some people, but when things are not commercially viable for a business it makes sense to stop."
Auto Trader was founded by Ed Lamont, a former car salesman and dealer, in 1981 when he began publishing the magazine from a domestic garage in East Auckland.
It was taken over by ACP Media in 1993 where it evolved into a glossy full-colour magazine and a website to complement the title was launched in 2005.
Auto Trader changed hands again in 2012 when it was purchased by Bauer Media before returning to Kiwi ownership seven years later when it was bought by East and Ross Logue's Auto Trader Media Group. In 2020, the website was given a new look along with a new logo and branding material.
East adds that with many consumers and dealers shifting to online platforms, going completely digital makes sense for Auto Trader.
"The website will be the core focus now. All strategies will just be focused around growing the website and there are always ways for us to improve," he says.
"We have been going from strength to strength with our website, which has made the decision about the magazine easier, and the last three months have been record-breaking for us in terms of dealer inquiries coming through the site."