Cross Cars to bolster hillclimb champs
Rally ace Hayden Paddon is the driving force behind getting special one-seater vehicles into mainstream motorsport action.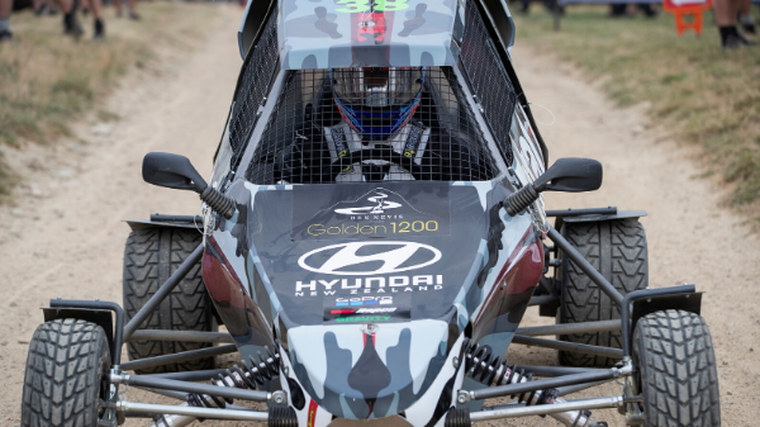 Kiwi rally star Hayden Paddon is looking forward to some "close and exciting competition" following a decision to include Cross Cars in the MotorSport New Zealand Hillclimb Championship.
Competitors will have the chance to vie for the New Zealand Cross Car Championship when the series gets under way in September this year, and for the overall New Zealand Hillclimb Championship in subsequent years.
Paddon has been a driving force behind the initiative to introduce Cross Cars into mainstream motorsport action.
Donna Elder, chairwoman of MotorSport NZ's ClubSport Commission, and the organisation's technical team have developed regulations to add a new category of vehicle to the championships.
"The New Zealand Cross Car Championship is designed for close and exciting competition with the driver being the main performance factor," says Paddon.
"Cross Cars have already featured on the podium of several hillclimb events run under MotorSport New Zealand ClubSport regulations, including outright victory in the Alexander Road hillclimb on Mount Victoria run by the Wellington Car Club."
Paddon won't be contesting the championship himself but is taking an "organising and promoting role".
"Our team at Paddon Rallysport is looking forward to being more involved with the New Zealand Hillclimb Championship and working with MotorSport New Zealand to grow the championship's profile," he adds.
A Cross Car is a one-seater, rear-wheel drive, space-frame buggy powered by a motorcycle engine.
Elton Goonan, acting CEO of MotorSport NZ, is also looking forward to the development and he describes Cross Cars as "awesome machines".
"The technical department has been working hard to ensure the Cross Cars comply with Schedule A," adds Goonan. "I think we'll see quite a few competitors take the opportunity to run a Cross Car in more club events as a result.
"I'm looking forward to seeing them also get stuck into the fantastic array of qualifying events we'll see as part of this year's New Zealand Hillclimb Championship and fight for the chance to become our inaugural New Zealand Cross Car Champion."
The New Zealand Hillclimb Championship, which includes the new Cross Car championship, comprises four club-run qualifying rounds, two in the North Island and two in the South Island, followed by a final round, which alternates between the islands. Each round includes a gravel hillclimb and a sealed road/tarmac hillclimb with the two events usually on the same weekend.
For more information about the New Zealand Hillclimb Championship, visit www.motorsport.org.nz.
New Zealand Hillclimb Championship calendar 2020-21
• September 26, 2020 – SI qualifying round 1 (gravel), Marlborough Car Club
• September 27, 2020 – SI qualifying round 2 (gravel), Marlborough Car Club
• October 3, 2020 – NI qualifying round 1 (seal), Hawkes Bay Car Club
• October 4, 2020 – NI qualifying round 1 (gravel), Hawkes Bay Car Club
• October 17, 2020 – SI qualifying round 1 (seal), RATEC
• October 18, 2020 – SI qualifying round 2 (seal), RATEC
• November 28, 2020 – NI qualifying round 2 (seal), Pukekohe Car Club
• November 29, 2020 – NI qualifying round 2 (gravel), Pukekohe Car Club
• February 13, 2021 – Championship final (seal), South Otago Car Club
• February 14, 2021 – Championship final (gravel), South Otago Car Club