Clean-up begins at fire-hit business
EXCLUSIVE: Owner talks about fire that destroyed 32 vehicles as investigators unable to determine cause of blaze.
Posted on 11 November, 2019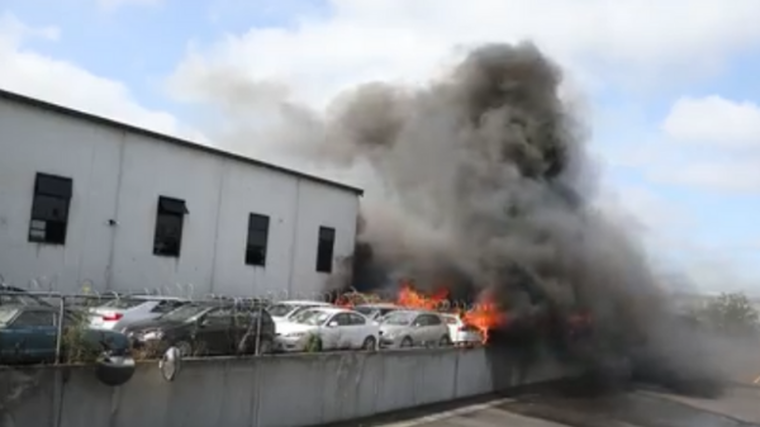 Faiyaz Rauf has started a major clean-up at his Auckland business, but he's simply grateful he and his staff have been able to carry on working after a massive on-site fire engulfed 32 cars.
Clouds of smoke billowed into the sky during the blaze at Import Vehicle Compliance and Repairs (IVCR) in Carbine Road, Mount Wellington, on November 2.
IVCR director Rauf has told Autofile Online how he tried to tackle the flames before fire crews arrived and that he suffered a sleepless night after the drama. Despite the damage, he says the company, which employs about 10 people, was quickly back to work.
"We were still operational [during the week], the fire was outside the building so that was a good thing for us," he says. "We were back to work on the Monday [after the fire] and fully operational later that same day.
"The good part was we still have a workshop and that meant our people could come to work and still have a job. It has been a disruption but … cars are cars and there will be other ones, but thankfully everybody is okay."
Robert Watson, senior fire risk management officer at Fire and Emergency NZ, investigated the incident that was attended by two fire trucks and an aerial fire appliance.
"We haven't been able to establish a definite cause," Watson says. "But the fire was not suspicious and not vehicle-related. An accidental cause is most likely."
Rauf, who started IVCR in 2006 and says it performs compliance testing and certification on up to 4,000 imported vehicles a year, is preparing to begin a clean-up of all the fire-damaged cars this week.
"Everything was left as it was for the investigators to do their work. We have just had to work around the situation and park cars elsewhere in the past few days."
Unable to 'pinpoint' cause
He is desperate to know what was behind the blaze, which started at about 4pm on the Saturday and took firefighters about an hour to put out.
"I want to know how it started to make sure it doesn't happen to us or anyone else in the future," Rauf says. "We have been going through the CCTV footage for hours but there is nothing we can pinpoint and say this is what caused the fire.
"We had closed for the day and I was passing by that afternoon and saw some smoke and wondered where it could be coming from and once we drove closer, we realised it was our business. When we got here there were four or five people taking photos but none of them had called the fire department.
"I rang the fire department. Then we grabbed some extinguishers and did some firefighting ourselves. When the crews got here they told us to get out and we had to wait outside until the whole thing was doused down and we could see the damage. I couldn't sleep the night of the fire. I was still hearing popping and all the horns that were going off. I have never experienced anything like it."