Aussie Takata website tops six million
Australians have now made more than six million vehicle checks on the government's Takata airbag recall website.
Posted on 05 February, 2019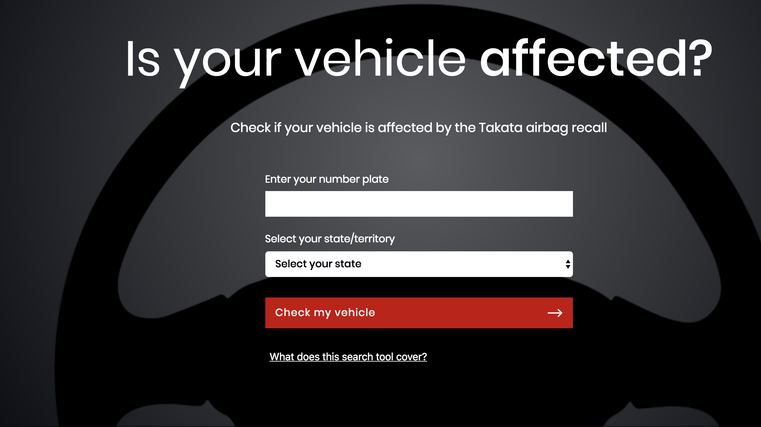 Australians have now made more than six million vehicle checks on www.ismyairbagsafe.com.au - the Federal Chamber of Automotive Industries' (FCAI) Takata airbag recall website.
In checking these six million vehicles, the FCAI has identified more than 915,000 vehicles whose airbag inflators are affected by the safety recall.
If a faulty Takata inflator ruptures, metal fragments will propel out of the airbag and into the cabin potentially causing serious injury or death to occupants.
The innovative website was developed for the FCAI in response to a compulsory national recall called by the Australian government. It is a custom-built product which was launched publicly on July 29, 2018, and is supported by a national advertising campaign across newspapers, television, radio and digital media. It is the largest advertising campaign the FCAI has conducted on the industry's behalf.
"This is an excellent response to a major public safety campaign. We passed the six million inquiry mark at the weekend," says FCAI chief executive Tony Weber.
"There has been an average of more than 32,000 vehicle checks made every day since the website was launched six months ago."
Weber says the industry has completed rectification of nearly two-thirds of the three million vehicles that are affected by the national recall.
"Our members will not rest until they have completed the whole job," adds Weber. "They are doing everything they can to reach out to owners of affected vehicles – every working day, they are writing, telephoning, emailing and door-knocking."
Weber urges vehicle owners in every state and territory to continue to actively use the website or text the word TAKATA to 04 872 47224 to check the recall status of their vehicles.
"It's very easy – simply go to the website and enter your vehicle's registration plate number and state or territory. Within a few seconds, you will be advised whether your vehicle is affected."
Once a vehicle was identified, vehicle owners could make arrangements with their brand's local dealer to have all faulty airbags replaced. The work is free.