App helps EVs charge around country
Power Trip allows drivers to plot out long journeys but dealers are also using the technology to showcase the potential of zero-emissions cars.
Posted on 27 November, 2020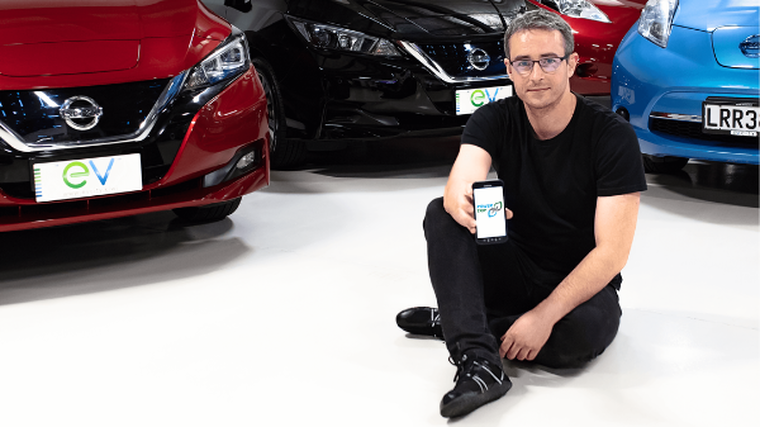 Dealers selling electric vehicles (EVs) are looking at hooking up with a specialised journey-planning app to help rid consumers of range anxiety once they drive off in their new purchase.
The Power Trip app has been designed to help motorists plot their routes around the country's network of charging stations without the risk of running out of battery power.
Richard Heaps was inspired to create the technology after his own road trip in an EV nearly turned into a disaster.
"My partner and I bought a Nissan Leaf to do a trip and nearly ran out of battery despite the planning I'd done," he explains.
"I thought we need to do something about this and that's where the idea for having it all in one app came from.
"The technology looks at the elevation, route, road speeds, corners and intersections and we'll try to build weather into it at some point. We're trying to make EV journeys easier."
Heaps, pictured, released the first version of the app in late 2018 and it has been updated and improved since with the help of feedback from users.
It uses a mix of vehicle, road and terrain data to estimate a car's energy needs and creates a step-by-step travel and charging itinerary along with an estimate of costs.
About 2,000 people use the technology on a regular basis and Heaps is now working on an online version of Power Trip that can be featured on dealers' websites.
He says this will allow dealers to show customers how much money and carbon dioxide emissions they can save, and it will also feature a referral campaign to help boost sales.
"There's a lot of interest from car dealers selling EVs in supporting people's journeys once they have bought their car," he notes.
"When we first rolled the app out there were lots of spots where you couldn't really go because of a lack of chargers but the likes of ChargeNet have rolled out more charging stations all over the place.
"There are a few gaps still and those are usually in more rural areas. Going up and down the country is easy now and you can often even skip chargers if they're fully occupied and simply go to the next one.
"Going across the country – such as travelling from Turangi to New Plymouth – is trickier and you need to plan more carefully."
Emerging technology
Heaps suggests the expansion of the charging network is probably a similar situation to when petrol stations started emerging in response to the advent of motor cars.
"When everything was horse and carts and cars were a new thing, I can imagine the arguments people would have had then about establishing refuelling stations across the country.
"It's a similar situation to now with EVs and there's no reason why we can't do the same. In fact, it should be even easier because we have the technology and the knowledge to make it happen."
Heaps has seen the app put to one of its toughest tests by Sophie Tyler, a 21-year-old graduate taking a Nissan eNV200 van on a 4,000km road trip around New Zealand.
The route of Tyler's "Roadie with Evie" adventure has been based around being able to stop about every 100km to recharge her vehicle's battery.
"People are often sending me back data and results from trips but Sophie's was the first time I had seen someone put in about 20 stops in a trip and just hit go," Heaps explains.
"Thankfully, the app pulled it all together in one go and it was great to see that this does work on that scale.
"I think what Sophie is doing is great. It's showing people you can do these trips and you don't need a crazy big EV to do it in."
Environmental goal
Another motivation for creating the app, besides his own experience on the road, is a desire to reduce the emissions being produced from cars in New Zealand.
Heaps says he has long wanted to do something eco-friendly and if he can help tackle issues around climate change "I'll die a happy man".
"There are still hardly any EVs on the road as a percentage of the fleet in New Zealand," he says.
"A lot of changing that will depend on the political will to do something, but the app is the best way I can think of to help encourage the uptake of EVs.
"We want Power Trip to give people reliable answers straight away. We want to make EVs easier, get more of them on the road and help people to do the right thing."
To learn more about Power Trip, visit powertrip.earth.