VW announces Herbert Diess as new CEO
Volkswagen has chosen Herbert Diess as its new chief executive in an overhaul that includes streamlining the company's multiple car brands into just three groups while preparing its truck business for a potential listing.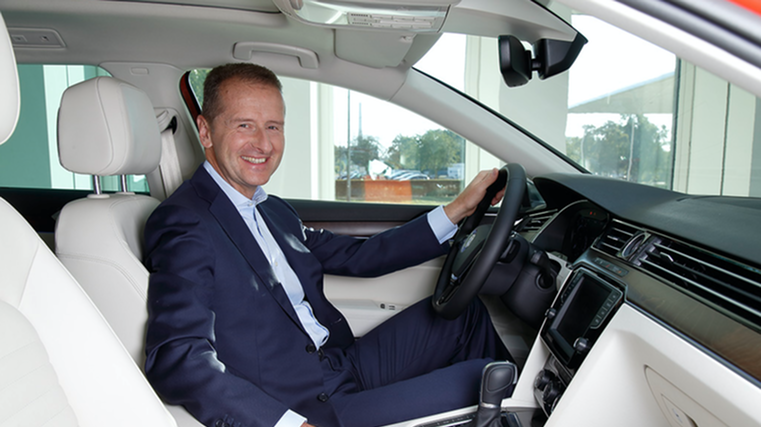 Matthias Mueller's replacement with VW brand chief Diess follows slow progress in reorganising the group's car brands, a key pillar of "Strategy 2025" to transform the Germany's biggest car company into a leader in cleaner cars and to move on from its diesel emissions scandal of 2015. For Volkswagen its the biggest development since it became a multi-brand conglomerate under former chief executive Ferdinand Piech. The carmaker said it planned to create six new business areas and a special portfolio for China, its largest market, and split its brands into three new vehicle groups with categories for value, premium and super-premium nameplates. The "super premium" group would include sports car brands Porsche, Bentley, Lamborghini and Bugatti. Audi would be excluded from this group and form its own premium division. Analysts welcomed the appointment of Diess, a former BMW executive who has more than doubled profitability at the VW brand since taking charge in 2015. "Diess is a man of action, he is the most plausible choice at VW to lead the group into the next phase of its transformation," said Nord LB analyst Frank Schwope, who has a "buy" rating on Volkswagen. Separately, VW said works council executive Gunnar Kilian, a close aide to labor boss Bernd Osterloh, will replace group human resources chief Karlheinz Blessing who will stay at VW as an adviser. VW will tighten leadership duties within the group and empower the heads of the three vehicle categories to take on company-wide responsibilities. With VW's core namesake brand shouldering the bulk of development spending within the group, Diess will also become responsible for R&D activities across the group. Rupert Stadler, CEO of luxury division Audi will take charge of group sales. Oliver Blume, head of sports car brand Porsche and newly appointed to the group executive board, will oversee production at the multi-brand organisation, VW said. Diess, Stadler and Blume will also take charge of the new groups Volume, Premium and Super Premium respectively, VW said, without giving more details. Analysts at Goldman Sachs say there is 160 billion euros worth of "hidden value" in the European autos sector that could be unlocked through portfolio simplifications.