Volkswagen recalls cars over safety woes
Ram, Jeep, Mercedes-Benz, Subaru, Skoda also alert motorists to potential problems.
Posted on 28 September, 2020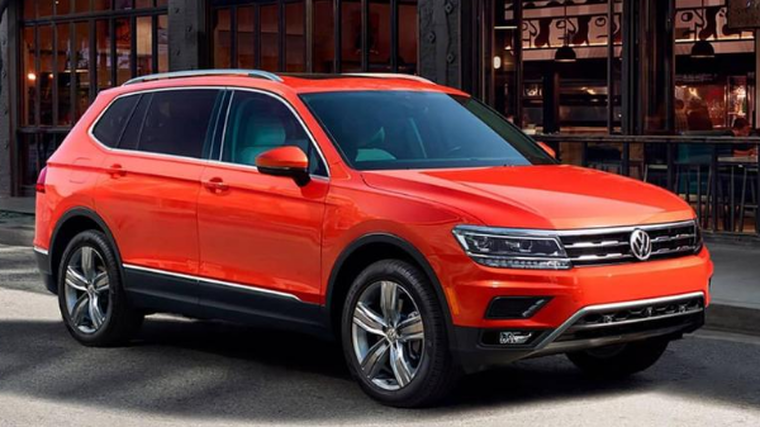 Volkswagen has issued recalls for versions of its Polo, Tiguan and Touareg after uncovering a range of possible faults, including one that may lead to a fire.
The marque warns some Tiguan models built between 2017 and 2019 feature background lighting of the panorama sunroof and are at risk of suffering a short circuit in the LED module.
Subsequent heating-up can occur because of humidity entering the LED module. In turn, this can lead to the failure of the background lighting in the Tiguan, pictured, and/or scorching damage or a scorching smell. Volkswagen adds that under "very unfavourable conditions a vehicle fire can occur".
Another recall says that on Tiguan R-Lines from 2016-20, due to deviations in the bonding process, the roof spoiler can partially or completely detach from the vehicle. The spoiler is additionally fixed in position with bolts on the rear lid.
Seatbelt problems have been discovered on Polo vehicles manufactured from 2018-19. Volkswagen advises the belt buckle for the left rear seat can unintentionally open in certain circumstances.
"If a fault occurs, the left-rear passenger is not secured any more by the restraint system in an accident or when braking hard," the marque adds. "There is a high risk of injury."
Finally, Touaregs from the 2020 and 2021 model years may have a poorly welded connection of the gearbox oil pipe, which can cause the fluid to leak.
The recall notices from June 15 and 23 advise owners of the affected vehicles to contact a Volkswagen dealer.
Ram 1500, model years 2019-20
Recall issued: June 8. The hazard: The windshield wipers may have been built with an improperly formed wiper arm head joint. This may result in the wiper arm failing to operate properly and lead to diminished visibility for drivers. What to do: Contact a Chrysler, Jeep, Dodge or Ram dealer.
Jeep Wrangler, model years 2018-20
Recall issued: June 8. The hazard: The transmission harness may have insufficient clearance to the catalytic converter, which may cause contact between the two and result in a no start, diagnostic trouble codes or stall condition and thermal degradation of the wiring harness. What to do: Contact a Chrysler, Jeep, Dodge or Ram dealer.
Mercedes-Benz E Series, model year 2016
Recall issued: June 15. The hazard: Incorrect routing of wiring harness on fuel module. What to do: Contact a Mercedes-Benz service outlet.
Skoda Fabia, Octavia, Rapid, Roomster, model years 2010-15
Recall issued: June 15. The hazard: A component in vehicles with a seven-speed dual clutch gearbox may fail because of production deviations. This leads to a pressure loss in the mechatronic unit, which interrupts the transmission between engine and gearbox. What to do: Contact your local dealer.
Subaru Forester, model year 2019
Recall issued: June 15. The hazard: Under "indicator status and applicable child restraint system" in the owner's manual, the explanation for the rearward facing restraint system is described incorrectly. If a child-restraint system is installed following the incorrect description, it may increase the risk of injury in a crash. What to do: Contact a Subaru dealer.
Subaru Forester, XV, WRX, Impreza, model years 2011-17
Recall issued: June 15. The hazard: The stop-lamp switch conduction may fail on some grey market models. Silicone gas, potentially introduced to the vehicle through a variety of consumer goods, may seep into the stop-light switch housing and lead to the switch failing. This may lead to the driving eyesight warning indicator and VDC warning light illuminating. If so, the brake lights will not work. While parking, the engine may not start for vehicles equipped with keyless access and push-button start system, and the shift lever cannot be moved (AT/CVT vehicles only). What to do: Affected owners will receive a letter once parts become available.