Vans switching to electric
French marque's all-new Kangoo and Master are the latest light commercials to go emissions-free.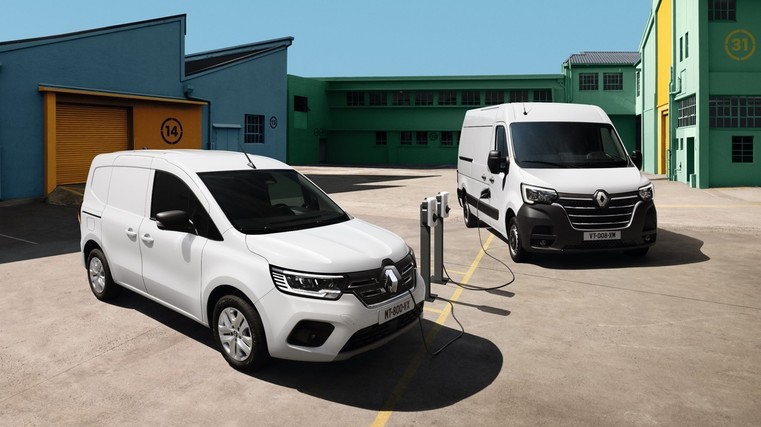 Renault is renewing its all-electric light-commercial range starting with the Kangoo Van E-Tech Electric and 52kWh Master E-Tech Electric.
The all-new Kangoo Van E-Tech Electric draws on the legacy of its internal combustion engined (ICE) predecessor, which was voted international van of the year for 2022.
By placing the battery under the floor panel, its cargo capacity remains unaltered with up to 3.9 cubic metres of storage volume in the L1 variant and 4.9cu m in the long-format model, 600kg of payload and 800kg in long format, and 500kg of towing capacity.
Thanks to its 45kWh lithium-ion battery, which is composed of eight independent and easily repairable modules, the Kangoo Van E-Tech Electric, pictured above with the Master, boasts a range of up to 300km on the WLTP cycle.
Available on variants with a 22kW charger, the battery has a liquid-cooling system and electrical resistance allowing use in the right temperature zone, thus maintaining its autonomy and reducing charging time.
Batteries are guaranteed for eight years or 160,000km. During this interval, they are replaced free of charge if capacity degrades to less than 70 per cent of their nominal value, also known as state of health.
The e-van comes equipped with a 90kW motor boasting 245Nm of instant torque for a smooth driving experience, while its eco mode caps power output and top speed to help optimise overall range and is best used with a light load.
The driver can choose between three regenerative braking regimes. Sailing is the limited regenerative mode, which is suitable for driving on motorways and fast lanes.
Drive is the default mode for versatile use that has an ICE-motor feel when taking the foot off the accelerator. Brake is the maximum regenerative mode for use in traffic jams and on mountain roads.
The Kangoo Van E-Tech Electric has conventional hydraulic braking assisted by an adaptive regenerative brake (ARB) system. This maximises recovered energy regardless of braking regime.
The range of drive mode and braking combinations means motorists can choose between six driving styles for optimal comfort and range according to use and traffic conditions.
To guarantee the best range in all seasons, the Kangoo has regulated air conditioning with a heat pump. This enables heating in winter and cooling in summer by operating on the principle of reversible air conditioning.
The heat pump provides optimal performance between -15 and +15°C. In addition to providing first-rate thermal comfort, it preserves autonomy. This feature allows the preservation of up to 85km of WLTP autonomy in addition.
There are two types of on-board chargers with the Kangoo. There's a 22kW three-phase charger for accelerated charging at public terminals. As an option, an 80kW DC fast-charger can recover 170km in 30 minutes.
Space and efficiency
Renault's all-new large electric van, Master Van E-Tech Electric has a 52kWh battery to increases its coverage with a WLTP range of up to 200km.
It also boasts an ARB system, which maximises recovered energy regardless of the selected braking regime.
The van's eco mode – limiting maximum power and speed – paired with low-resistance tyres ensure maximum range and driving comfort.
There are two types of charging solutions. The single-phase 7.4kW AC charger is suitable for all domestic charging. A 22kW DC charger for faster public charging allows 50km of range to be recovered in 45 minutes.
The Master Van E-Tech Electric 52kWh battery takes five hours to reach 80 per cent charge when plugged into a 7.4kW wallbox and 10 hours via a 3.7kW domestic unit.
An energy-efficient electric motor with a power of 57kW, which is ideal on urban and peri-urban roads, is a feature of the range.
The Master will available in 15 versions instead of the original six with a choice of three different lengths and three different heights, available in 3.1t and 3.5t when orders open and later in 3.8t.
The four van versions offer a cargo volume of eight to 15cu m. The two "cab floor" variants come in either L2 or L3 and are ideal bases for flatbed, dump or large volume conversions that can carry up to 20cu m.
The final line-up and specification for models heading down under are yet to be decided and may vary from launch information.
The fully electric Master boasts the same cargo space as its ICE sibling with one of the largest storage volumes in its category.
Equipped with lane-departure warning, rear-parking assistance and reversing camera, the all-new van has the latest in advanced driver-assistance systems.
These include front and rear-park assist, rear camera, and rear-view assist with a camera display on the upper section of the windscreen providing an optimal mid and long-range rear view.
Side-wind assist is fitted as standard. It activates above 70kph and corrects up to 50 per cent of the van's lateral deviation in extreme driving conditions.