Van delivers zero stars
ANCAP boss urges marque to install more safety features as Express makes history. PLUS – video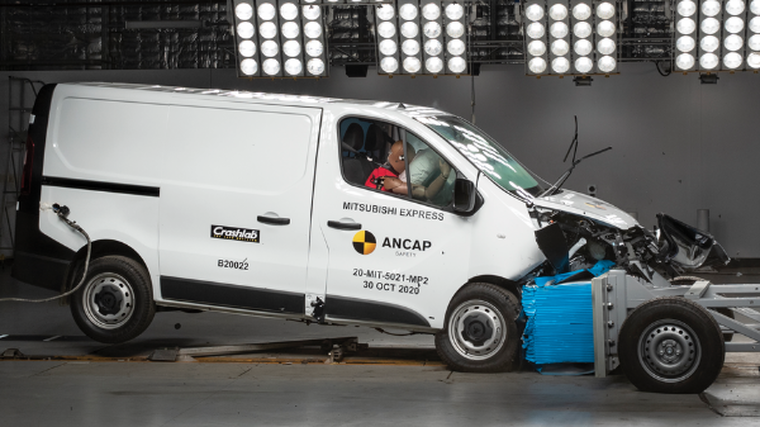 Mitsubishi's Express has scored a dubious first – a zero-star ANCAP rating because of its absence of active safety systems.
The van also delivered "marginal performance" in physical crash tests and "lacks basic safety features consumers have come to expect in a newly released model".
Mitsubishi announced the withdrawal of the Express from the Australasian market in 2013 and, after a seven-year hiatus, the new model was released locally last year.
Following a full suite of crash tests by ANCAP, the van's crash performance highlighted notable risk of serious injury to the chest of the driver in three of four destructive tests – frontal offset, full-width frontal and oblique pole.
A penalty was also applied for potential hard-knee contact points for the driver in frontal collisions and close to the maximum penalty applied for "aggressivity" in frontal crashes with other vehicles.
Further penalties were applied for significant deformation of the side cargo door in side impact and pole tests, creating openings through which partial ejection may be possible.
A high risk of neck injury was recorded for the driver in the whiplash test, with passenger whiplash injury risk likely to be higher due to the basic design of the bench seat and head restraints for the two front-row passenger seating positions.
There is no chest-protecting side airbag on the van's passenger side, nor is a centre airbag fitted for protection in side crashes. A frontal airbag for the centre passenger seating position is also not offered.
Autonomous emergency braking and lane-support systems – safety features that are routinely fitted to almost all vehicles assessed in recent years – are absent with the Express. This resulted in a safety-assist score of just seven per cent.
Scores for adult-occupant and vulnerable road-user protection were also low.
"Mitsubishi recently introduced the Express into our market, but its specifications do not align with today's safety expectations," said Carla Hoorweg, ANCAP's chief executive.
"Unfortunately, we saw below-par performance for protection of occupants and vulnerable road users from the Express, with results lowered even further due to a fundamental lack of active safety systems.
"The Express' poor result sends a clear signal to manufacturers and their global parent companies that safety must be prioritised in all segments offered to the Australasian market."
Hoorweg adds safety-rating criteria and consumer expectations have evolved, as have manufacturers' desire and ability to introduce improved levels of safety.
"We know Mitsubishi can deliver vehicles with high levels of overall safety and a wide range of modern safety technologies. We encourage them to accelerate the introduction of these features into their vans."