Turners hails 'robust' used-car market
Company reveals how it will operate and hopes to keep growing as the industry changes following the coronavirus pandemic.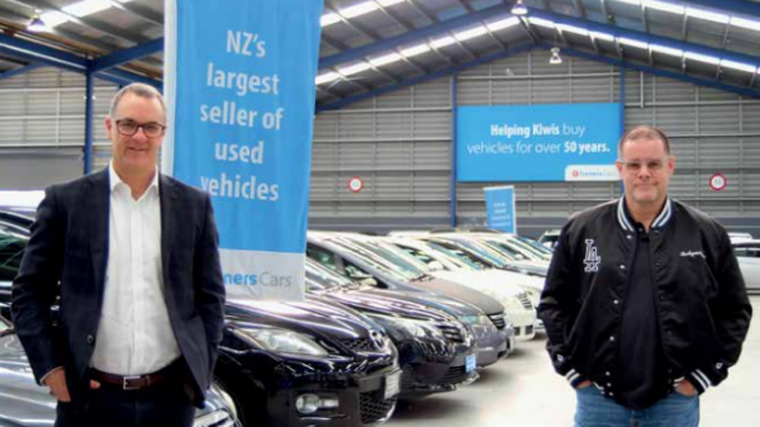 Turners says the demand for used vehicles remains "robust" as the company plans a push to boost its market share and increase its online offerings to customers.
Grant Baker, chairman, and chief executive Todd Hunter say the outlook for the business is encouraging as New Zealand's aging fleet means hundreds of thousands of cars will need replacing over the next few years.
Turners' annual report, released on July 30, also outlines some of the key changes facing the industry and how it plans to tackle those challenges.
Discussing the used-car economy, Hunter, pictured left, and Baker, right, add that Turners is "well positioned" to make gains as dealer numbers continue to drop.
They say the "softening" noted in the second half of the 2019 financial year, which continued into financial year 2020, was further compounded by the impact of Covid-19.
"However, underlying demand remains robust driven by New Zealand's aging fleet with hundreds of thousands of cars needing replacement over the next few years," they add.
"Around 950,000 vehicles – 20 per cent of light vehicles – are at or very near the scrapping age, which is around 19.5 years for an import and 17.5 years for a New Zealand-new car. More cars are now exiting the fleet due to the cost of repairs and a stricter warrant of fitness regime.
"The used-vehicle market is still very fragmented. However, consolidation is under way. Dealer numbers have been in decline for the past two years and we expect this to accelerate further over the next 12 to 24 months.
"We know this is a good time to be pushing hard for gains in retail market share and we are well-positioned to take advantage of this. We will focus on building our share by growing our customer base and adding value to customers through our 'one-stop shop' offer and customer experience."
'Changing environment'
The annual report says while the used-car market is evolving, Turners is "excited about our potential in this changing environment".
It adds changes facing the industry include consumers being more informed about vehicles, and "delivering great customer outcomes is essential to survive and prosper".
The report notes that more of the customer experience is shifting online, particularly for finance and insurance, regulation and compliance across all Turners' businesses is increasing, and industry consolidation is inevitable.
It also warns the disruption from alternative car-ownership models may see people moving to flexible ownership and subscription schemes.
Looking ahead
The company in its annual report identifies what it considers five key areas for business in the 2021 financial year.
Firstly, the opportunity to accelerate market share. "We are in a position to realise any new opportunities that arise from a disrupted market and expect to accelerate market-share gains made in recent years," the report says.
"We will concentrate on increasing our share through optimising our existing branch network, creating new consignment relationships, expanding our retail footprint and taking advantage of market consolidation."
Secondly, it plans to leverage its scale and brand equity, and says its "highly trusted" Turners brand will become more relevant in the new economy.
Thirdly, Turners highlights being a diversified business as a strength going forward. "Each business has different cycles and delivers a balance of annuity versus activity-based revenue. Geographical diversification also allows the business to redeploy inventory if there are any localised lockdowns going forward or regional demand differences."
Fourthly, the company is committed to creating competitive advantage from technology investments and will "double down on efforts to further broaden our technology advantage".
Finally, Turners says its balance sheet is a "major competitive advantage" that will help the company continue to grow in a consolidating market. "We are well-positioned from a funding and capital perspective to take advantage of growth opportunities in the future."
View from bosses
Baker and Hunter say despite the impact of the coronavirus pandemic they are pleased with results for the year ending March 2020.
They add that underlying earnings grew in three out of its four businesses and "we were on-track for a full house until Covid-19 hit".
Net profit before tax for the year was $29.1 million and underlying earnings were up 11 per cent to $28.8m.
"The Covid environment has highlighted the value of a diversified portfolio and the inherent 'annuity' nature of three of those businesses," Baker and Hunter explain. "Three of our four businesses – Oxford Finance, Autosure Insurance and EC Credit Control – were profitable even during the level three-four lockdown period."
They detail that Turners wants to create a more cost-efficient business and build on its strengths to become the "preferred choice for our customers".
"Key achievements include a tech-focused car-sharing and vehicle-subscription business based in Australia, the continuation of our property strategy with the development and opening of two new sites with a further four planned for FY21, and the completion of the Oxford Finance strategic review."
Online success
Baker and Hunter detail how Turners reacted to the Covid-19 outbreak and restrictions put on businesses to help contain the spread of the disease. They say the company put itself in a position to survive a three to six-month lockdown period by taking a "cash is king" approach.
"We then had to start rethinking the business. Our primary objective was to resume trading as soon as possible, and in a way that safely managed the risk to our people and our customers.
"We initiated a successful contactless, 100 per cent online trading programme and even during the level four and three lockdown we were able to sell 600 vehicles online. The ability to sell uninspected vehicles online at scale for the first time demonstrates the high trust and awareness of the Turners brand. Given its popularity, we plan to continue with this online service."
Looking ahead, Hunter and Baker acknowledge there are many unknowns facing the industry over the next year or two.
"However, the long-term dynamics of the used-car industry remain robust and an attractive opportunity for Turners. We have full confidence in our strategy, businesses and teams to deliver an improving performance for all our stakeholders, from our customers through to our shareholders.
"The pandemic has hastened our move to become a more cost-efficient, resilient and focused business."
To read the full annual report, click here.