Trio score top safety marks
BMW, Volkswagen and Genesis impress experts in tests as SUVs and a people mover get put through their paces. PLUS – videos
Posted on 14 December, 2021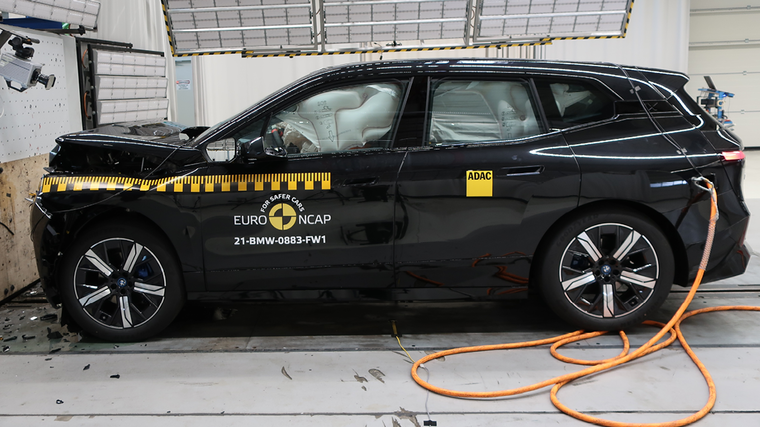 A trio of vehicles have all been awarded five-star safety ratings following the latest test assessments by ANCAP against its 2020/22 rating criteria.
Two medium SUVS, the BMW iX and Genesis GV70, and the Volkswagen Caddy people mover all came away with top marks from Australia's independent voice on vehicle safety.
The electric BMW iX, pictured, scored highly across all occupant protection and collision avoidance assessment areas.
It also achieved good results in the side-impact test and oblique pole test, and in the autonomous emergency braking (AEB) car-to-car and vulnerable road user scenarios, with collisions avoided or mitigated in almost all scenarios across a range of speeds.
ANCAP notes the iX did however present a higher risk to the occupants of an oncoming vehicle in the frontal offset test, and the maximum penalty was applied.
The iX also performed well in the far-side impact tests and for child occupant protection.
ANCAP has now rated 19 fully-electric vehicles, with the BMW iX the second fully-electric vehicle in the medium SUV segment to be tested under the 2020-2022 protocols.
Carla Hoorweg, ANCAP chief executive officer, says: "BMW have again placed safety as a high priority in its vehicle design and specifications, and the iX results show BMW aren't willing to compromise on safety for an alternative-powered vehicle."
The BMW iX and Genesis GV70 are both fitted with an active bonnet, designed to lift the bonnet to provide greater clearance from stiff components in the engine bay if a pedestrian is struck. However, ANCAP says protection offered by both vehicles to the pelvis of a pedestrian was poor.
The Genesis GV70, which launched in Australia this year, scored highly, particularly in the assessment areas of adult occupant protection and safety assist. All collisions were avoided or mitigated in the AEB car-to-car and vulnerable road user scenarios, including AEB junction assist.
Hoorweg adds the GV70 has a "comprehensive range of safety features and solid results across all areas" of ANCAP's assessment.
The seven-seat Volkswagen Caddy, which was introduced in Australia and New Zealand this year, scored well across all areas of the safety tests.
It recorded good results in the lane support system performance and most AEB car-to-car tests.
However, its five-star rating applies only to the people mover variants, with the Caddy Cargo van currently unrated.
The Volkswagen Caddy people mover is fitted with a comprehensive range of safety features and technologies, including a centre airbag designed to provide added protection to front seat occupants in side impact crashes, and AEB junction assist, where the vehicle can autonomously brake to avoid crashes when turning across the path of an oncoming vehicle.
Hoorweg says: "The purpose of people movers is to transport a large number of passengers in a family or business setting, so it's very pleasing to see the safety and design of vehicles in this segment improving.
"Volkswagen has made notable safety improvements in the new-generation Caddy people mover, compared to the previous model."