Toyota and Nissan cut production
Japanese carmakers are taking action as Covid-19 puts a dent in business.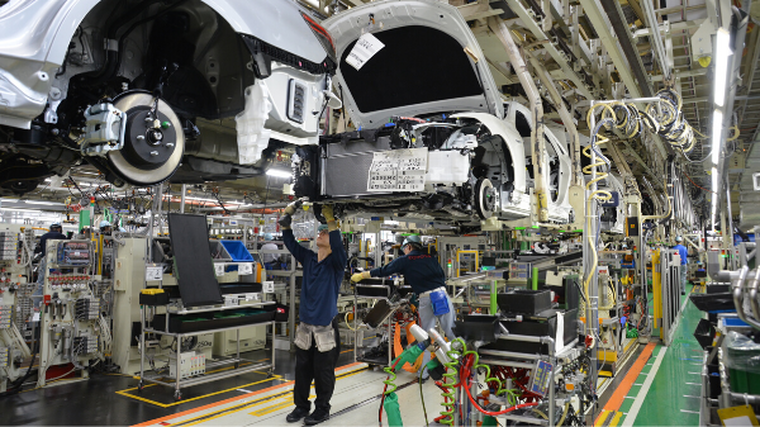 Toyota and Nissan are cutting vehicle production levels following a slump in demand for new cars and factory shutdowns because of the coronavirus pandemic.
Toyota will reduce output at its plants in Japan by 122,000 units in June as the it halts production at 15 sites for four days.
The marque will also stop output for up to seven days on 10 of its production lines, which makes models including the Prius hybrid and Corolla sedan.
Single shifts will operate on five production lines next month, an arrangement the carmaker may continue on some lines through July and August, reports Reuters.
Toyota is also planning to slash production in North America by nearly one-third through October and is bracing for an 80 per cent drop in full-year operating profit.
Nissan to trim output
Nissan has announced it will cut its global production capacity by 20 per cent from the current level by fiscal 2022.
The carmaker is capable of producing about seven million vehicles worldwide annually, but it only sold 4.79m vehicles in the 2019 financial year.
"We plan to cut output levels to match the current sales level," a Nissan executive said.
With the Covid-19 outbreak leading to uncertainty I the automotive market, Nissan plans to close its factory in Barcelona and scale back its business under the Datsun brand in emerging markets, the Japan Times reports.
Mitsubishi hits three-year low
Mitsubishi aims to cut fixed costs by 20 per cent or more in the next two years after reporting an 89 per cent drop in annual profit, its weakest performance in three years.
The marque says it will also focus on growth in ASEAN countries to survive the aftermath of the Covid-19 pandemic.
Mitsubishi's operating profit was ¥12.8 billion yen (NZ$194 million) for the year to the end of March, down from ¥111.8b a year ago.
The company did not provide an earnings forecast for the current fiscal year and did not issue a year-end dividend.
Subaru profits up
Subaru enjoyed a 15.7 per cent increase in annual operating profit in the 2020 financial year but warns sales of its cars will likely suffer from the virus crisis.
Profit rose to ¥210.3b for the year to the end of March, from ¥181.7b a year earlier.
The carmaker saw a three per cent rise in annual global vehicle sales to 1.03m units.
However, the marque, which earns two-thirds of its vehicle sales from the United States, acknowledged it may take a hit in the coming months as its biggest market struggles to control the Covid-19 pandemic.