Toyota FT-60 takes to NZ tracks
Toyota Gazoo Racing's FT-60 has commenced testing in New Zealand, with the car running at both Hampton Downs and Manfeild Circuit Chris Amon.
Posted on 09 September, 2019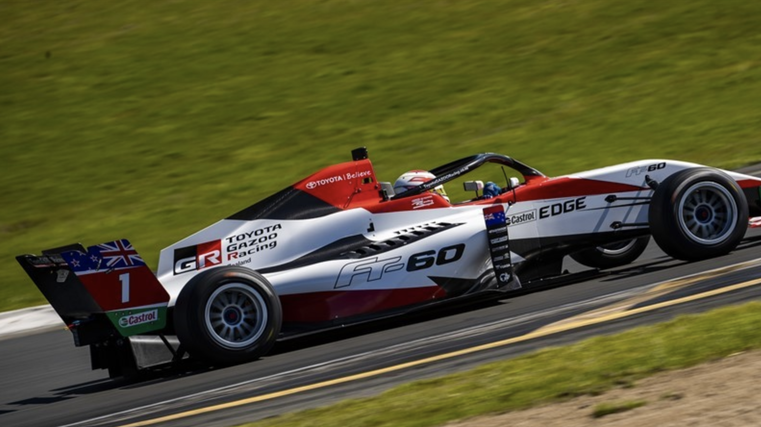 The first New Zealand testing of Toyota Gazoo Racing New Zealand's FT-60 open-wheeler has commenced with the car running at both Hampton Downs and Manfeild Circuit Chris Amon - the venue for the country's annual Grand Prix event.
Behind the wheel of the 280-horsepower, high downforce state-of-the-art racer was two-time New Zealand Grand Prix winner Daniel Gaunt.
"It was a great couple of days really and we were able to work our way through a list of jobs effectively," says Gaunt.
"There is a big difference between this car and the previous Castrol Toyota Racing Series machines. It's a much bigger car, with more downforce and it's 100kg heavier with all of the modern safety equipment.
"That being said, with nearly 300 horsepower and a turbocharger, it's an extremely quick car."
The car's first shakedown runs took place in very hot conditions at three Italian circuits during July, but this was the first time the car had run at home and on circuits that will be used in the 2020 Castrol Toyota Racing Series.
Interest around the world in the new-look category has been huge, with northern hemisphere teams as well as drivers keen to be involved in the five-round championship. The first drivers for the 2020 championship are set to be confirmed months earlier than in previous years.
The 2020 Castrol Toyota Racing Series begins at Highlands Motorsport Park in Cromwell in New Zealand's South Island over the weekend of January 17-19. It stays in the South Island for the second round a week later, moving to Teretonga Park near Invercargill for round two.
The series then heads to the North Island for the remaining three weekends of racing. That will include the Denny Hulme Memorial Trophy at Hampton Downs Motorsport Park, the New Zealand Motor Cup and the New Zealand Grand Prix meeting over the weekend of February 14 to 16 at Manfeild Circuit Chris Amon.