Top award for stink-bug work
Jacanna's Natarlia Harold reports on ways hold-ups experienced getting imports into New Zealand during the high-risk season for BMSBs can be minimised.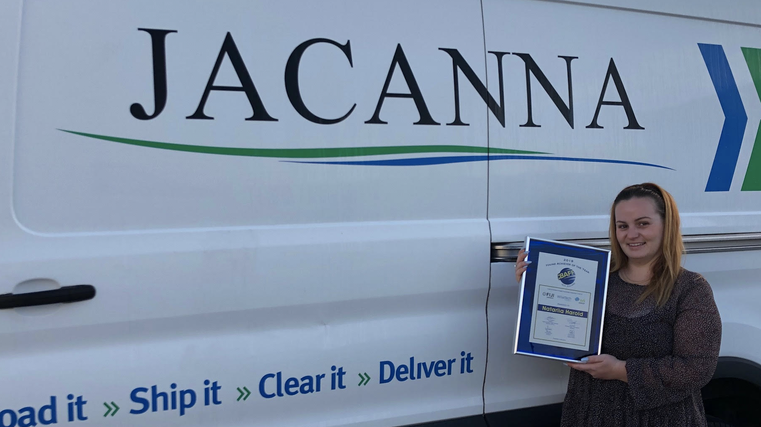 An operations supervisor has been recognised by the Customs Brokers and Freight Forwarders Federation for work on brown marmorated stink bugs (BMSBs).
Natarlia Harold, who works for Jacanna Customs and Freight in Auckland, has taken out the organisation's young achiever award for 2019.
The 25-year-old had to submit a 2,000-word dissertation on an industry topic, so she wrote about cars being refused entry to New Zealand because of stink-bug infestations.
"It was a tough decision, but Natarlia's dissertation and interview were impressive," says Peter Webb, one of the judge and chief executive of Independent Verification Services. "She quantified the problem and came up with a solution."
Harold is now nominated to represent New Zealand at the International Federation of Freight Forwarders' young international freight forwarder of the year awards.
What follows is an edited precis of Harold's dissertation on seeking solutions to delays during the BMSB season.
The challenges to New Zealand's biosecurity caused by the BMSB and delays this has caused the import sector have been widely documented.
As an operations supervisor for Jacanna, which specialises in vehicles, heavy freight and machinery, I've had extensive experience of delays for imports during 2018 and 2019 – including two of the first break-bulk vessels found with BMSB infestations.
New Zealand has a high demand for vehicles and agricultural machinery imports, and this puts pressure on our biosecurity service's obligation to guarantee the protection of our agricultural and export industries.
The Ministry for Primary Industries (MPI) understandably targets imported goods with a higher risk of carrying BMSBs. These include new and used vehicles, vessels, machinery and equipment.
The BMSB issue has affected imports from America for some years resulting in mandatory fumigation of specific commodities. However, in recent years this has become a wider issue. Schedule three of the import health standard issued in August 2018 covers all freight from the US, 14 European countries and Japan.
All such imports from schedule-three countries must be cleaned and treated to control BMSBs. All imports from countries of concern for stink bugs must be inspected on arrival in New Zealand, and any shipments from Japan cleaned and treated prior to shipment to control them and other pests.
For containerised cargo, the solution is fairly straightforward – fumigation. For break-bulk cargo – goods that must be loaded individually and not in intermodal containers – the situation is more complicated.
In February 2018, my employer was informed by a shipping line that two of its vessels containing a large number of our vehicles was suspected to have a BMSB infestation and couldn't continue into New Zealand until appropriate treatment was carried out.
This was the first time such a situation had occurred and the shipping line worked hard to find solutions, abiding by MPI requirements throughout. Initially, the delays were expected to be seven to 10 days, which isn't unusual in the industry.
However, a request to fumigate the vessels in Australian waters was declined and a further request to the MPI to allow sulfuryl fluoride to be used was also declined. Sulfuryl fluoride can only be used in New Zealand if the situation is classified as an emergency.
The shipping company then confirmed the vessels would instead be "fogged" at sea. Fogging is used to wake up BMSBs as they are almost impossible to kill when asleep. When the fogging was completed, the vessels would sail to Auckland for an MPI-supervised ship unload – checking every vehicle as it was discharged.
If no BSMBs had been found, unloading and further inspections and heat treatment would have proceeded. However, BSMBs were discovered on the first vessel to arrive and it was ordered to leave New Zealand waters. Both ships were redirected to Singapore for further treatment.
Two senior Jacanna executives flew to Singapore to oversee the unloading and treatment. This was completed by March 27. The vessels were reloaded and arrived in Auckland. They were successfully discharged on April 11 following a delay of 57 days. No cost was passed onto clients as this was responsibility of the shipping line.
New requirements were then put into place to avoid such large-scale issues for future transits. From September 1, 2018, all break-bulk – or "roll on, roll off" – cargo was ordered to be heat-treated before being loaded onto vessels in Japan. This solution has worked thus far with no further issues on this scale. Charges for origin heat treatment are passed onto the importer.
However, that was a solution to just one of the challenges. There are many other pressures on the MPI during the BMSB season, which runs from September 1 to April 30 with only four months of the year when regulations ease.
A further major problem for our sector has been pressures on the MPI have resulted in very significant delays in its staff processing biosecurity authority clearance certificates (BACCs). Processing used to take up to three working days. This works well for forwarders, enabling them to gain BACCs for short transit-cargo destinations, such as Australia. However, during the 2018/19 BSMB season, it took up to 12 days for an application to be processed.
While the MPI hired more staff, this didn't help. Trainee staff often generated incorrect or incomplete BACCs resulting in second submissions and further delays.
These delays resulted in significant demurrage and detention costs or additional transport and facility charges. For instance, Port of Tauranga introduced a flat fee of $150 per container if it was more than 48 hours in port without MPI clearance. Overall, the delays caused significant extra costs for importers.
It is unlikely importers will continue to import goods at a loss. The increased costs caused through these delays will ultimately be passed on in prices to consumers.
There is no simple solution to remedy such a complex problem. However, I believe some steps could be taken to alleviate it.
Customs brokers could be further trained to aid in processing biosecurity. Customs brokers are already trained by NZ Customs to ensure correct tariffs and duty rates are applicable to goods without using incorrect concessions. They already deal with commodities in extreme detail, right down to what goods are made from. If brokers were trained to include treatments in their applications, it would mean the MPI would only have to accept the choice of action, which would diminish processing times per application.
Additionally, brokers would then be in a position to release BACCs. This would mean that if a fumigation-treatment certificate was presented to them, they would be able to release this within the port system and have the certificate uploaded for MPI checking and referencing afterwards.
The majority of the responsibility would continue to remain with the MPI. However, sharing the tasks would alleviate some of the time pressures. This would support time for more adequate training of new MPI staff. In turn, improving staff education and training would reduce the time MPI officers and freight forwarders currently spend editing applications due to processing errors.
New Zealand has a responsibility to look after our primary industries by abiding by biosecurity regulations. Enabling our sector to "step up" in this way could benefit the MPI, our sector and consumers.