Tips to keep your car germ-free
A Toyota expert shares some advice on how to maintain hygiene standards in vehicles as the Covid-19 pandemic continues. PLUS – video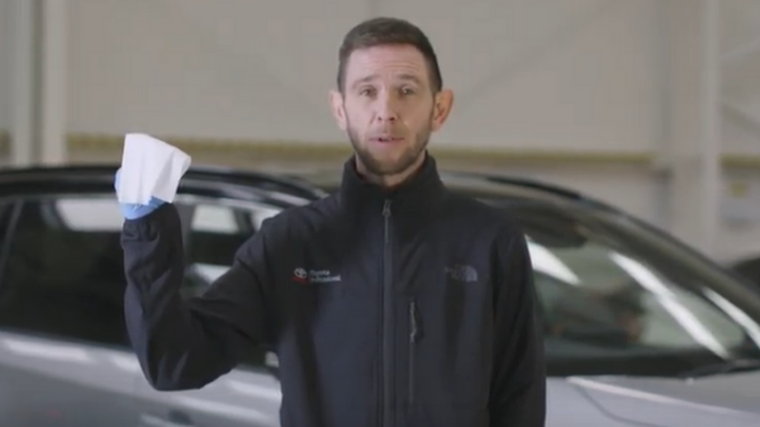 As the spread of coronavirus forces an increasing number of people into lockdowns worldwide, Toyota is reminding us to maintain hygiene standards with our cars.
The Japanese carmaker has released a video highlighting 40 areas of vehicles – inside and out – that need special attention to help reduce the amount of dirt and germs that drivers and their passengers encounter.
Toyota says during even the shortest of journeys people will touch multiple surfaces while doing things such as opening a door, changing gear, adjusting the heating or turning lights on.
Ben Murphy, a professional car detailer for Toyota in the UK, cleans about 30 cars per week and in the video he guides viewers through what areas of a vehicle need attention.
"Our cars return to our press fleet garage from all over the country and I have to think – where have people touched?" he told the Daily Mail.
"For example, a driver will probably approach the car with the key in their hand and pull on the door handle. Then there's the steering wheel and horn, the gearstick and surprisingly the rear-view mirror, because most people adjust the rear-view mirror when they get in the car."
Murphy, pictured above, adds it is also important to think about other parts of a vehicle that may get touched less frequently but still retain germs, such as dust caps, the bonnet and head rests.
He says bleach-free antibacterial wipes are all you need to "kill 99.9 per cent of germs".
"With a pack of wipes, a pair of gloves and a dry microfibre cloth, you can give most of the touch points a clean."
Toyota Australia has also shared advice for car owners on social media with a picture of a car interior to highlight which areas need regular cleaning.
"With hygiene front of mind, keeping your car's interior clean is key," it tweeted on March 25. "Look inside our Prado, where we've mapped out the top contact areas to focus on keeping clean to help reduce germs."
Key areas to clean
Toyota's 40 areas of a car that should be cleaned to kill germs.
1. Exterior door handles
2. Frame of door and roof
3. Interior door release
4. Window switches
5. Interior door handle
6. Door pocket
7. Seatbelts
8. Seatbelt clips
9. Seat adjust buttons
10. Steering wheel
11. Horn button
12. Control stalks
13. Driver air vents
14. Dashboard
15. Power button
16. Gear shift
17. Multimedia screen
18. Central air vents
19. Heating controls
20. Glovebox
21. Logbook
22. Central storage compartment
23. Cupholders
24. Rear-view mirror
25. Interior lights
26. Grab handle
27. Key
28. Head rests
29. Seat pockets
30. Rear central tab
31. Fuel cap
32. Wheel valves
33. Boot lid
34. Parcel shelf
35. Boot floor tab
36. Boot close button
37. Bonnet lid
38. Washer cap
39. Dipstick
40. Oil cap