The countdown to Fieldays
The Hyundai NZ Kona Electric and the new Ford Ranger Raptor are just a few of the hotly anticipated vehicles that will be appearing at this year's Mystery Creek's 50th-anniversary Fieldays from June 13 to 16.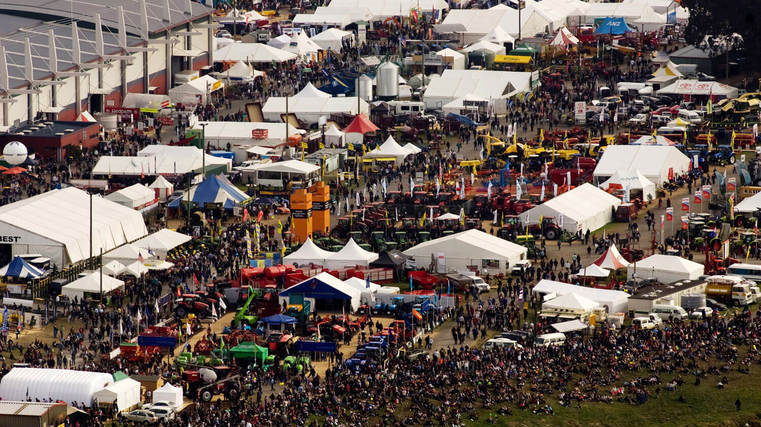 Built from an agricultural foundation, Mystery Creek's Fieldays has evolved into a key event for New Zealand's automotive industry.
The Southern Hemisphere's largest agricultural event is the ultimate launch platform for cutting-edge technology and innovation. It is also a great way for car-brands to showcase the latest enthusiast-oriented vehicles and release exclusive deals.
Here's everything you need to know about this year's car-brand presence:
Volkswagen
Celebrating their eighth year at Fieldays, Volkswagen New Zealand will be showcasing their latest model lineup including the all-new polo, the Amarok V6 and the Tiguan Allspace. Brand classics will also be on show with the Golf and the modern-day Kombi van.
Volkswagen has also partnered with Icebreaker resulting in their Tiguan being kitted out in locally sourced Merino.
You can find the Volkswagen site at E92/E94 on the Fieldays' map.
Kia
The updated 2018 Kia Carnival, which has the all-new 8-speed sequential shift transmission, has just arrived off the boat and is being rushed to Mystery Creek to join the current Kia line-up.
The SUV line-up will take pride of place at Kia's stand, which will include the updated 2018 Sorento with 8-speed transmission introduced earlier this year, as well as the Niro hybrid and plug-in hybrid models that arrived in March, along with the Sportage.
Mitsubishi
Mitsubishi's hero offer at this year's Fieldays is the Triton 4WD Black edition which is being offered at $34,990 +GST.
Mitsubishi will also have the Huntaway II for sale at the event, but with only 20 available – and many already having been sold - it'll be touch and go on how many are left by the end of the week
"Those looking for a Terminator of a truck equipped to tackle the toughest terrain should get their hands on one of these before they sell out," said MMNZ Head of Marketing and Corporate Affairs Reece Congdon.
The extreme opposite of its Fieldays stablemate Huntaway II, the new Triton R Concept is designed for streetside rather than off-road escapades. Strictly a concept vehicle, the R Concept will be on display, not on sale at the stand.
You can find Mitsubishi at site J30-34.
Lexus
The flagship luxury sedan will be in a blacked-out area which allows visitors to experience the car with all their senses other than eyesight, offering a "total sensory experience."
"As drivers, we generally look at a car, feel how it drives through the seat of our pants and perhaps listen to the exhaust on a high-performance model," said Paul Carroll, the Senior General Manager of Lexus New Zealand. "The 'out of sight experience' at Mystery Creek is designed to get people to feel and smell the craftsmanship of the interior of the LS."
The award-winning performance sports coupe, LC 500, and Lexus' SUV models including the NX, RX and LX will be on display.
The Lexus site will be located prominently on the corner of I Road and C Street in the heart of Mystery Creek.
Hyundai
The hotly anticipated Hyundai NZ Kona Electric will be making a very special appearance at Fieldays ahead of its launch.
Hayden Paddon and his AP4 rally car will be hanging out at the Hyundai stand, where you could find yourself sitting next to Hayden as a co-driver competing in a virtual race experience.
The brand new 2018 Santa Fe will be revealed for the first time at Fieldays, plus new models like the i30N, Genesis G70, i30 wagon, iLoad and more on display.
Ford
The new Ford Ranger Raptor has landed in New Zealand for its Fieldays debut. There will be 250 Raptors coming to New Zealand this year. Out of that figure, they say that 102 have been sold already via pre-order.
The entire Ford range will also be on display along with a lifestyle section.
Holden
Holden will reveal a right-hand drive Acadia seven-seater - a first of its type at Mystery Creek.
The new Colorado Xtreme will also be showcased, which was a concept car at Fieldays two years ago.
The Colorado Xtreme will arrive in Holden dealerships early in Q4 this year and will cost $79,990.
Toyota
The FT-1 will be on display so enthusiasts can get an up-close preview of the concept car.
Petrol heads will also be able to showcase their skills in a tyre changing competition as part of the Toyota Racing Series display.
Toyota ambassadors Marc Ellis and Matt Watson will also be present along with the largest range of SUVs in the market, the C-HR, RAV 4, Highlander, Fortuner, Prado and Land Cruiser 200.