Supercar livery puts fans close to action
Castrol and Kelly Racing put images of more than 1,000 people on car for Battle of the Mountain. PLUS – video
Posted on 15 October, 2020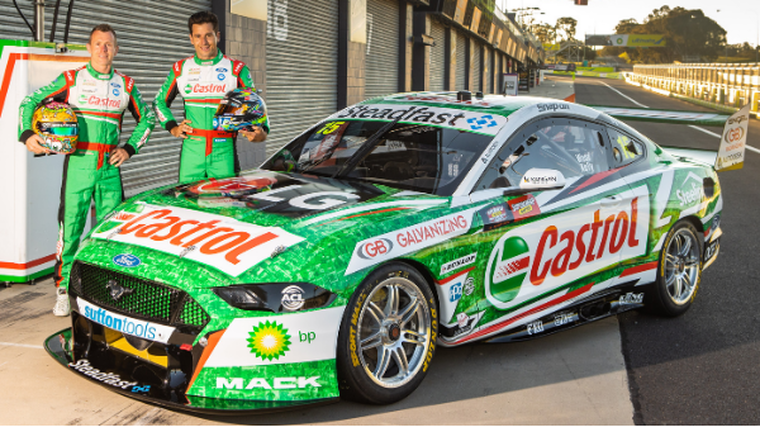 A collage featuring the faces of hundreds of motorsport fans makes up the special livery of a supercar preparing to tackle the Bathurst 1000.
Castrol and Kelly Racing have applied a sentimental touch to the #15 Mustang vehicle that Rick Kelly and co-driver Dale Wood will race around the Mount Panorama circuit from October 15-18.
The #RideWithCastrol concept was launched in September and people were invited to submit their photos through social media to feature on the car across the four-day event.
A number of frontline workers who have tackled bushfires, floods and the Covid-19 health crisis also appear in the special paintwork alongside images of racing legends Larry Perkins, Russell Ingall, Greg Murphy and Matt Mingay.
Overall, more than 1,000 faces will adorn the Castrol Racing Supercar for Kelly's 20th Bathurst 1000.
Castrol says the one-off livery is a way for fans to still be at the track in some form as spectator numbers at Bathurst are limited this year and border restrictions mean many fans can only watch the action from home.
Kelly says it is good to involve the fans in this way and he believes the new livery is something "we can all be really proud of".
"The cool thing for me was that we included every photo that was submitted, it didn't matter if you're a big supporter of our team or anyone else in pit lane, if you wanted to join us this year and submit your photo then you're on the car," he explains.
"There are also some really cool throwback images from back when I was quite new to the sport and a lot of selfies that people have taken with me at the track over the years which is awesome."
Ben Rose, head of marketing for Castrol Australia, adds: "Traditionally we have brought the car to the community but this year, we have put the community on the car.
"The Castrol Racing Mustang looks fantastic with thousands of fan faces riding with Rick, Dale and the team all weekend. It'll be fantastic to see on track and we hope it brings some joy to those who've done it so hard this year."