Stink bug-infested car carriers sent to Asia
The discovery of stink bugs on craft entering Australia has seen two ships turned away and one more still under scrutiny.
Posted on 20 December, 2019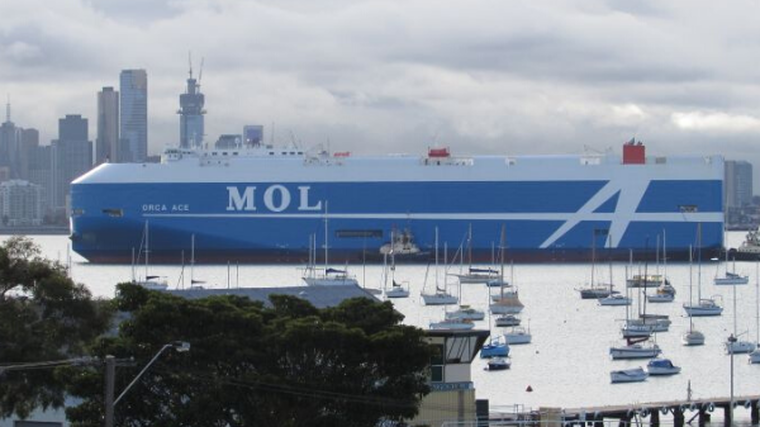 A shipping company hopes to deliver thousands of vehicles "safely and smoothly" despite three of its vessels waiting to find out when cargoes can be unloaded in Australia after being infested with brown marmorated stink bugs (BMSBs).
The detection of the insects aboard four car carriers operated by Mitsui O.S.K. Lines (MOL) has seen two ships turned away by officials across the Tasman. Another vessel remains under assessment, while a fourth was quarantined before being given approval to discharge.
About 4,000 Hyundai cars and 6,000 Kia vehicles are caught up in the situation, with other marques, such as Nissan and Mazda, also believed to be affected.
The Orca Ace, operated by MOL, is sailing towards Singapore for specialised treatment before it can return to the Port of Brisbane. It is believed to be carrying more than 3,500 cars and heavy machinery, but was refused entry into Australia because of a potential biosecurity risk.
The Dugong Ace, which has more than 4,000 vehicles on-board, is the latest ship to be turned away by the Department of Agriculture because of a BMSB infestation and will also head to an Asian port for treatment before returning to deliver cars.
MOL's Glovis Chorus remains under scrutiny. However, its Tranquil Ace has been able to unload vehicles at Brisbane, Port Kembla and Melbourne after being held in Brisbane for five days.
An MOL spokesman told Autofile Online it is unable to provide specific details about what is on-board each of the vessels "as it is related to our customers' information".
"The Orca Ace was ordered to leave Australian territorial waters and to sail towards a south-east Asian port to be treated appropriately," says the spokesman.
"We can't comment on our scheduling as it is connected to customer info, but we aim to deliver these vehicles safely and as smoothly as possible. So far there is no effect on other shipments."
All four of the craft operated by MOL had recent stops to collect vehicles in South Korea, which is not on the BMSB target-risk countries listed by the Department of Agriculture and New Zealand's Ministry of Primary Industries.
The Motor Industry Association (MIA) and some other shipping companies have previously raised concerns about some nations, such as South Korea, China and Thailand, being left off the high-risk list with strict biosecurity rules for how cargo must be shipped to New Zealand and Australia.
Japan faces the toughest measures in the battle against BMSBs, with all used-vehicle imports to New Zealand needing to be heat-treated prior to loading, while new vehicles must follow approved pathways from factory to ship.
The MOL spokesman adds: "We are not in position to comment on legislation, and we will follow laws/rules while maintaining the highest standards of operational safety and navigation."
Shipping schedules
The Orca Ace, pictured, left Hyundai's berth at Ulsan, South Korea, on October 29, before making multiple stops in Japan, which included Nissan's berth at Kanda, and ports in Hiroshima and Higashi-Harima. It then revisited Ulsan before a trip to Yokohama, Japan, on November 9, and from there it sailed to the Port of Brisbane where it arrived on November 20. The car carrier was there for five days before setting sail for Singapore, where it is estimated to arrive on December 22. MOL's online schedules show that it hopes to return to Australia to unload its cargo at Brisbane, Port Kembla and Melbourne from mid-January.
The Dugong Ace's present voyage began at Toyohashi in Japan at the beginning of November, and from there it sailed to ports at Pyeongtaek, Mokpo and Ulsan – all of which are in South Korea – before making its way to Brisbane where it arrived on November 27. After being held off Queensland's coast, MOL now has it listed for two stops at Bintan, Indonesia, and one at Singapore, before returning to Australia in January.
The Tranquil Ace, which visited Auckland, Wellington, Tauranga, Lyttelton and Nelson in October and November 2019, began its present journey at Yokohama on November 16. From there it sailed to Pyeongtaek before arriving at Brisbane in mid-December. It left Brisbane on December 16 and travelled to Port Kembla, arriving on December 17 before sailing the following morning to Melbourne where it docked on December 20.
Meanwhile, the Glovis Chorus left Mazda's Hiroshima berth in Japan on November 26 and, in the following days, made its way to Nissan's site at Kanda, Ulsan's Hyundai berth, Masan and Mokpo, before arriving at Yokohama on December 2. It arrived at Port Kembla on December 19, where the craft still remains.
(Autofile sourced this shipping information from MyShipTracking.com, MarineTraffic and Vessel Finder on December 20)