Skoda turns emergency services green
Marque offers plug-in SUV to police, fire and ambulance crews on the other side of the world.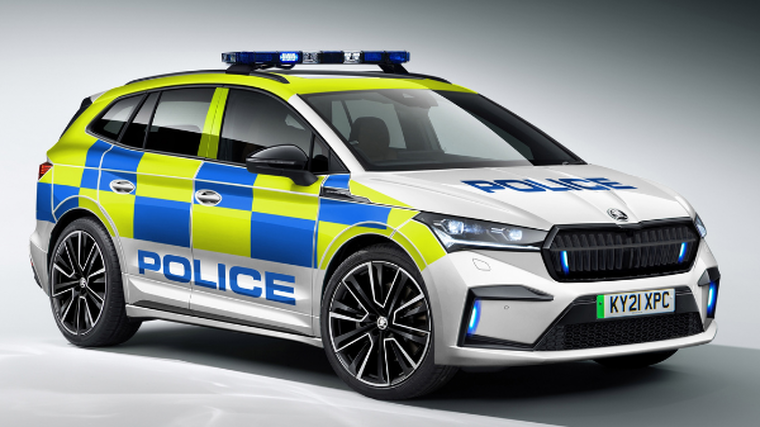 Skoda has become the latest marque to offer emergency services in the UK the chance to drive battery electric vehicles (BEVs).
The Czech brand has added its first all-electric SUV – the Enyaq iV – to its "blue-light squad" and the model comes with either a 62kWh or 82kWh battery.
It will be able to rapidly respond to emergency calls with a 0-100kph acceleration of 8.5 seconds and a top speed of 160kph.
Offered in two-wheel drive and delivering an output of up to 204PS and 310Nm of torque, the Enyaq iV has a WLTP combined range of up to 536km on a single charge.
Skoda says fast charging the battery up to 80 per cent will take about 38 minutes and an all-wheel drive variant is in the pipeline.
The SUV has a luggage capacity of 585 litres – or up to 1,710 litres with the rear seats down – to offer ample room for blue-light customers to store and transport vital life-saving emergency equipment.
"The zero-emission Enyaq iV will help emergency services achieve sustainability targets without compromising on performance or ability," the marque notes.
The plug-in police car has been unveiled by Skoda hot on the heels of Tesla announcing it is loaning Model 3 saloons to forces and fire brigades across the UK to trial.
Tesla UK says the trial is in line with the government's Road to Zero strategy, with emergency services trialling electric vehicle adoption ahead of the 2030 target to move to 100 per cent ultra-low emission new vehicle sales.
Skoda became the preferred supplier for New Zealand Police in November 2020 and will be bringing thousands of specially fitted out patrol vehicles to the fleet over the coming years.
The force said electric and hybrid vehicles were tested during the tender process, but limitations including power efficiency and the total cost of ownership meant they were not the preferred option.