Ro-ro turns on the gas
Ship pioneers lower-emission technology as companies strive to hit target over greenhouse gases.
Posted on 20 November, 2020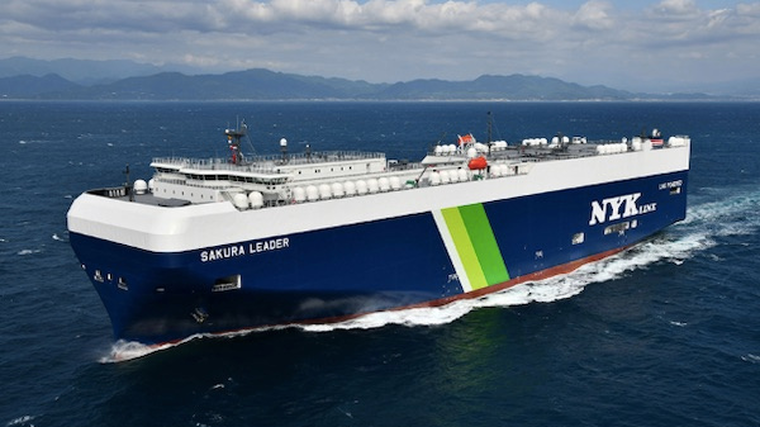 Japan's first pure car and truck carrier (PCTC) powered by liquefied natural gas (LNG) has gone into service.
NYK Line's Sakura Leader can hold about 7,000 vehicles and its launch marks the start of the company replacing all its car-carrying vessels with eco-friendly ships.
A naming ceremony for the roll-on, roll-off was held at Shin Kurushima Toyohashi Shipbuilding Company in September ahead of its delivery to NYK the following month. It left Japan carrying vehicles produced by Toyota for its first significant voyage in early November and was headed for North America.
The ship's development is partly in response to the International Maritime Organisation's bid to reduce greenhouse gas emissions from shipping by at least 50 per cent by 2050.
NYK describes LNG fuel is one of the bridge-solutions companies can use until zero-emission ships are created. The company is due to receive a second LNG-fuelled PCTC in 2022.
By switching fuel to LNG and modifying vessel design, it is claimed ships can become about 40 per cent more energy efficient by reducing carbon dioxide (CO2) emissions per unit of transport.
The new vessels are also expected to reduce sulphur oxide (SOx) emissions by about 99 per cent and nitrogen oxides (NOx) by approximately 86 per cent compared to ships using conventional heavy oil–fired engines
Mitsubishi Shipbuilding installed the LNG fuel gas supply system (FGSS) for the Sakura Leader's dual fuel engines.
The ship has been designated by Japan's Ministry of the Environment and Ministry of Land, Infrastructure, Transport and Tourism as a model project to reduce emissions by using alternative fuel.