Politician makes $1 offer for Holden
Australian Senator launches blistering attack on General Motors over its behaviour since deciding to axe the lion and stone brand.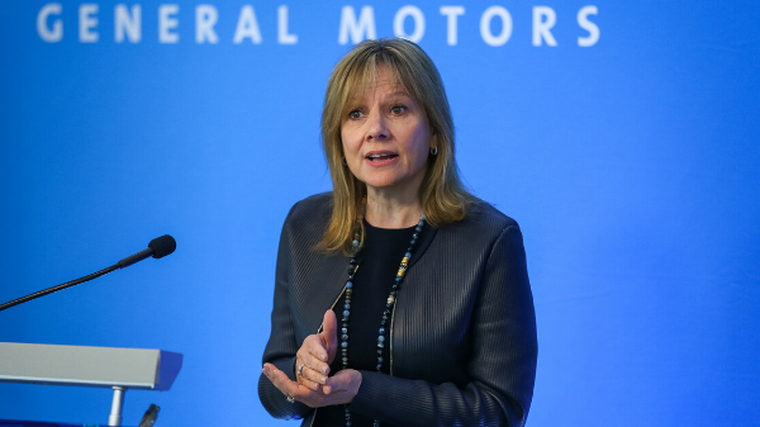 An Australian politician has offered to buy the Holden brand from General Motors (GM) for $1 after roasting the company during a parliamentary speech.
Queensland Senator James McGrath made the offer as he accused the US car giant of using the coronavirus pandemic to prolong negotiation talks with dealers following February's decision that it will retire the Holden brand by the end of 2020.
The Liberal National Party member also accused Mary Barra, pictured, GM's chief executive, of "the worst corporate behaviour" and accused her of "American legal chicanery".
GM and the 185 Holden dealers in Australia remain at loggerheads over compensation talks with a substantial gap between what each side considers fair value.
McGrath said in his speech on May 14 that if GM no longer put any value on the Holden brand it should hand it over to the dealers and he offered to pay Barra $1 for it.
"General Motors need to understand that what they're offering dealers in compensation for killing the brand is just not good enough," he explained.
"General Motors may think the rich history of the Holden brand in Australia is worthless, but I think it's priceless.
"If General Motors think the brand is worth nothing, then hand the brand back to Australia. Give it back to the Holden dealers.
"In fact, I'm happy to purchase the Holden brand from General Motors for a dollar. I'll send you, Ms Barra, a dollar in the post and you can give us the Holden brand back and we'll give it to the Holden dealers."
McGrath, who is the deputy chairman of the committee set up to investigate Holden's departure from Australia, added that GM appeared to be "attempting to put the screws" on Holden franchisees
"Shame on you, General Motors. Shame on you, Ms Barra, and your American legal chicanery," he said.
"To put it bluntly, General Motors are trying to sneak out under the cover of Covid-19, disappear in the night and leave Australian businesses stranded after an 89-year one-night stand.
"This is an unforgivable stance for General Motors to be taking, particularly at a time when the Australian economy and businesses are managing the economic shock of the current pandemic.
"The decision by General Motors to discontinue Holden operations in Australia is their prerogative, but they must do so responsibly and in a manner that is fair to the very people that have enabled the company to operate in the Australian marketplace."
The Australian Automotive Dealer Association (AADA) has echoed McGrath's sentiments and denounced GM's corporate behaviour.
"After announcing it was terminating 185 dealers across Australia, the compensation offered to those dealers has been described as totally inadequate and not one dealer has accepted the offer," James Voortman, AADA's chief executive, says.
"Since the emergence of the Covid-19 crisis, GM have reportedly turned the screws and failed to budge on their initial compensation offer, telling dealers their ability to be a future authorised service dealer is dependent on them accepting the offer."
The AADA is calling for new regulations around automotive franchising laws to prevent a repeat of the current situation.
"We have seen Holden terminate all of its dealers and Honda have cut a substantial portion too," Voortman adds. "If these multinationals need to withdraw or restructure their networks, so be it, but there must be a set of regulations that ensure they do so fairly."
GM broke its silence on May 5 over the negotiations with dealers in Australia and refuted claims its initial compensation offer to dealers is unfair. It also said accusations of unconscionable and misleading conduct are "baseless" and "unsupported by fact or law".