People mover gains top safety rating
Results for Hyundai vehicle and van described as good news for families and fleet buyers. PLUS – video
Posted on 22 December, 2021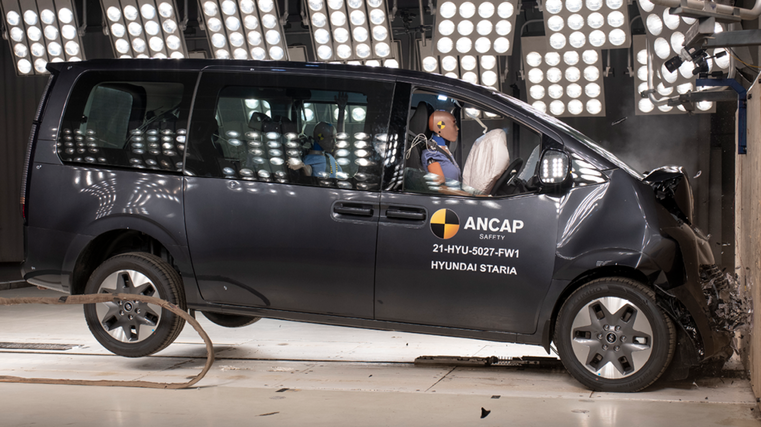 An eight-seat people mover has been given the highest safety rating after being scrutinised by experts at ANCAP, Australasia's independent voice on safety.
The Hyundai Staria and Staria-Load both received five-star ratings under ANCAP's 2020/22 criteria, which is the most stringent to date.
The Staria scored well across all areas of assessment, with full points awarded in the side impact test for adult and child occupants, and for the driver in the full width frontal and mobile progressive deformable barrier tests.
ANCAP says submarining of the rear passenger's upper legs was noted in the full width frontal test and deductions were applied, however the vehicle still scored well overall.
The people mover has a range of safety features, including head and chest-protecting side airbags, a centre airbag, autonomous emergency braking (AEB), and a lane support system as standard.
Carla Hoorweg, ANCAP's chief executive officer, says: "The safety rating for the Hyundai Staria will be well received by families and fleet buyers, with the Staria becoming the third vehicle in the people mover segment to achieve a five-star safety rating under ANCAP's 2020-2022 criteria."
The maximum rating applies to all variants of the Staria as well as the Staria-Load van with automatic transmission. The latter is the first commercial van to score five-stars under the 2020/22 protocols.
"This is a highly-anticipated result for fleets, and a significant step forward from the previous generation vehicle that the Staria-Load replaces," explains Hoorweg
"For so many small businesses and tradespeople their vehicle is their workplace. By providing the full suite of available safety specifications in the Staria-Load, Hyundai has shown strong commitment to the safety of Australian and New Zealand road users."
Chris Blair, Hyundai New Zealand general manager of passenger cars and light commercial, says the company is thrilled at the ANCAP results.
"Safety is always a high priority when selecting our specifications," he adds. "The Staria and Staria Load are kitted out with segment-leading technology and safety features ideal for families, and van drivers who spend hours in their vehicle."