Paddon's EV wins on debut
Special rally car features mechanical sound device to add to the entertainment factor for fans. PLUS – video
Posted on 26 October, 2021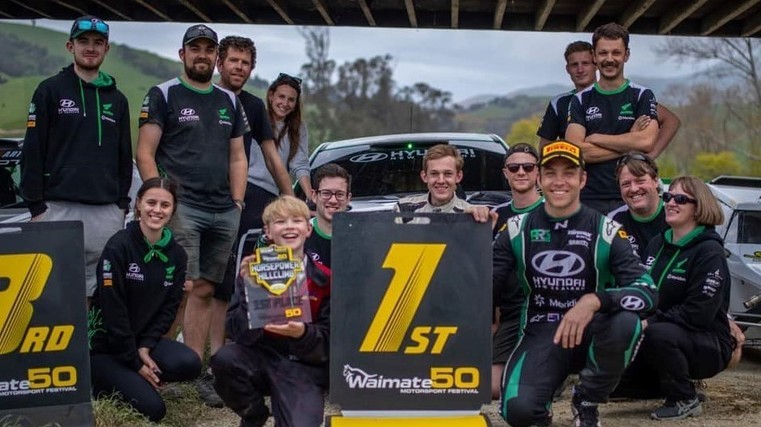 Hayden Paddon drove his Hyundai Kona EV to victory as it became the first electric rally car to compete on gravel anywhere in the world.
The Kiwi driver took out the Waimate 50 Horsepower Hill Climb and was just one of two competitors to break the two-minute barrier for the 4km course.
Paddon and his five-strong team at Paddon Rallysport, based in Cromwell, have been working on the Hyundai EV rally car for the past two years.
MotorSport New Zealand also recently released electric vehicle (EV) guidelines to allow car clubs organising events to have safety guidelines to work with such technology.
Paddon had completed a number of demonstration runs in his Hyundai but chose the hill climb at the Waimate 50 Motorsport Festival in South Canterbury on October 23 and 24 for tis competitive debut.
The car also features a prototype mechanical sound device, which he says produces a noise for safety reasons when on a rally stage but also to create the vibe and sounds that spectators enjoy.
Running in the unlimited 4WD class of the hill climb, which attracted 50 entrants, Paddon set the fastest time from the first run when he clocked two minutes, 8.41 seconds.
He continued to improve over the weekend and managed two minutes, 0.77 seconds in his fourth run at the start of day two.
Paddon eventually cracked the two-minute barrier on the sixth run with a time of one minute, 59.76 seconds to lead the field going into the top-15 shootout.
He won the event with his best time of one minute, 58.38 seconds ahead of former New Zealand Hillclimb Champion Matt Penrose, from North Canterbury, competing in a Semog Crosscar and the only other competitor to break two minutes.
Paddon says: "We're really happy with the result. It's pretty awesome to even get to the event itself and I'm proud for the team after two years of work, to win on debut.
"I think it's a massive credit to the amount of work everyone has put in and we've certainly had to work for this.
"We are learning a lot about the car still. There's a lot of potential to come from it which we're still working out how to unlock.
"In saying that, we just had to work with the tools and the knowledge that we had this weekend. We learnt a whole lot more and got a lot of data which is certainly going to help us a lot more in the future."