Minister pledges more reforms
More than 80 guests attend special showcase as Michael Wood says he wants to help Kiwis into safer and more affordable low-emissions cars.
Posted on 11 August, 2021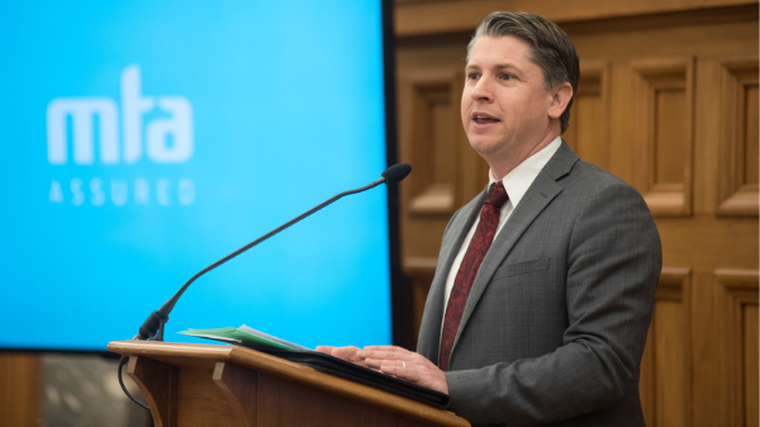 The government will consider creating a scrappage scheme and put scrutiny on the warrant of fitness (WOF) regime, figures from across the automotive industry heard during a special event in parliament.
Michael Wood, Minister of Transport, addressed a crowd of more than 80 guests at a vehicle safety and maintenance showcase he co-hosted with the Motor Trade Association (MTA) in Wellington on August 10.
The Labour MP said the government was committed to undertaking a programme of work to "raise safety standards for vehicles entering the fleet" as it seeks a significant reduction in deaths and serious injuries on our roads.
"The warrant [and] certificate of fitness regime will be investigated to ensure it remains fit for purpose for our future road safety requirements," he said.
"We also need to increase understanding of vehicle safety and this includes examining the options to increase the uptake of these technologies into the fleet."
He noted 319 people were killed on our roads in 2020 and thousands more were seriously injured. This was a decrease from 2019 but it still meant on average "one person is killed every day and another is injured every hour".
Wood, pictured, also highlighted that in 2017, 66 per cent of all deaths and serious injuries on our roads occurred in vehicles with a safety rating of one or two stars.
Work on raising awareness of safety ratings as the key measure of a vehicle's safety performance is under way and he said it was showing positive results in public attitude surveys.
The minister added the government is interested in exploring all available options to help Kiwis move away from unsafe, higher-emitting and aged vehicles to cleaner, safer and more affordable low-emissions cars.
He thanked MTA officials for having shared their thoughts with him about a vehicle scrappage scheme.
"It's great to know that the MTA is committed to exploring options that will support our transition to an environmentally sustainable, equitable and low-emissions transport system.
"A scrappage vehicle mechanism focussed on equity goals could be part of this … we will work with you to explore the options."
The invitation-only event in the capital, which had been in the planning since February, was also attended by representatives from a number of government departments and political parties.
During the evening, the minister reaffirmed the government's commitment to cut carbon emissions from transport as it seeks to create a net-zero carbon economy by 2050 through measures such as the clean car discount and the clean car standard.
"This means whatever the new or imported used car people choose to buy, they are all contributing to the task of cleaning up the vehicles coming into New Zealand."
Key propositions
Dave Harris, president of the MTA, also gave a speech at the event and described responding to increasing carbon emissions from vehicles as an "important challenge".
"Everyone in this room will agree that we need to do something, but we perhaps differ in our views on what steps are needed," he noted.
He said the MTA believed "achieving the goals of vehicle safety and lower emissions are not mutually exclusive" and outlined three propositions to help cut transport emissions.
Firstly, because global demands will limit the supply of EVs, the MTA wants officials to be open to all low-emissions technologies. These could include improvements in internal combustion engine performance, biofuels, hydrogen, or greater reliance on conventional hybrid vehicles.
Secondly, it urges regular servicing and maintenance of vehicles to keep them running efficiently, minimise emissions and to identify any safety problems.
"Our last proposition is that we need to be realistic about the safe lifespan of vehicles," said Harris.
"New Zealand vehicles are currently being scrapped at around 19.7 years of age. But we know that vehicles from age 15 start failing their WOF inspection more than 50 per cent of the time.
"We also know, from a study commissioned by the Ministry [of Transport], that the victims of a fatal crash involving two vehicles are more likely to be in the older vehicle, which averaged around 17 years old."
Harris added industry and officials need to acknowledge there are older vehicles on our roads that should not be there, "that's why we have been calling for further investigation of a scrappage scheme".
"We are … engaging with the government on how New Zealand might approach scrappage and we very much appreciate the interest the minister has shown in that conversation."
Michael Wood, left, Minister of Transport, with MTA's chief executive officer Craig Pomare and president Dave Harris
Pictures Lance Lawson Photography