Kia franchise doubles operation
Tauranga Motor Company has moved into new home with more space to show and service cars.
Posted on 01 October, 2020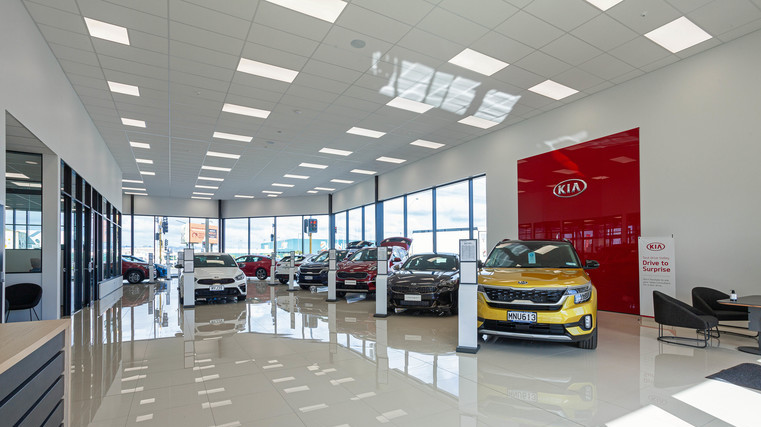 A multi-million-dollar Kia dealership has been built in Mount Maunganui on the back of strong brand growth and 10 years of commitment from Tauranga Motor Company.
In moving over the bridge from its previous site near the city centre, the marque's new Bay of Plenty home boasts more than twice as much space – growing from 3,000m² to 7,500m² – and more amenities for customers.
The building has been designed to be highly visible on the corner of Hewletts Road and Maru Street, with the showroom pushed right out to the front of the site to echo international trends.
"It's a magnificent location and the way the dealership has been designed gives us the ability to show off our vehicles at their best," says managing director Mark Jury.
The facility is the result of continued growth in Kia matched by a population boom in the Bay of Plenty and represents the company's confidence in the future. Three out of the past four months have seen record sales at Tauranga Kia.
The customer-friendly design includes better access into the site and more room for vehicle turning, together with car-park spaces that are wider than normal.
That theme flows through into the showroom where extra-high ceilings and bright, light surfaces amplify the feeling of spaciousness. It's not an illusion because there is now space to display more than 30 new vehicles inside – three times as many as before.
Jury says: "That's important because we want people to feel like they can easily walk around and browse in a comfortable and welcoming environment.
"There are two customer seating areas, with coffee and tea facilities, and wi-fi available for customers while they get their vehicles serviced."
The service centre is contained under one roof instead of being spread across several sites and incorporates a large grooming area. The equipment includes a drive-over brake and wheel alignment system that saves time.
Looking further ahead, the dealership has also been designed to accommodate an increase in demand for electric vehicles, including the provision of heavy-duty power facilities for rapid battery charging.
This is an important aspect as Kia looks to expand its electrified options in the future following the success of the Niro. The technology to support these future vehicle requirements will be vital.
"We have experienced enormous growth in sales of Kia," adds Jury. "We are not anticipating that growth slowing up any time soon, especially when the range has been completely refreshed this year and more new models are being added in coming months."
Todd McDonald, managing director of Kia Motors NZ, is full of praise for the Tauranga Kia team and says it has been instrumental in helping the brand achieve record growth.
"They have built a strong relationship with their customers, which is illustrated by the high number of buyers who return to buy another Kia," he adds.
"It is one of the fastest-growing and consistently high-performing Kia dealers in New Zealand. The opening of this exceptional new dealership enables them to deliver an even better customer experience and provides a platform on which to build stronger growth in the future."