Introducing the 2019 Ford Ranger
On sale from October 2018, the 2019 Ford Ranger will bring New Zealanders an even more capable pick-up with a freshened line-up that combines class-leading technology, safety and convenience features into a package with lower running costs.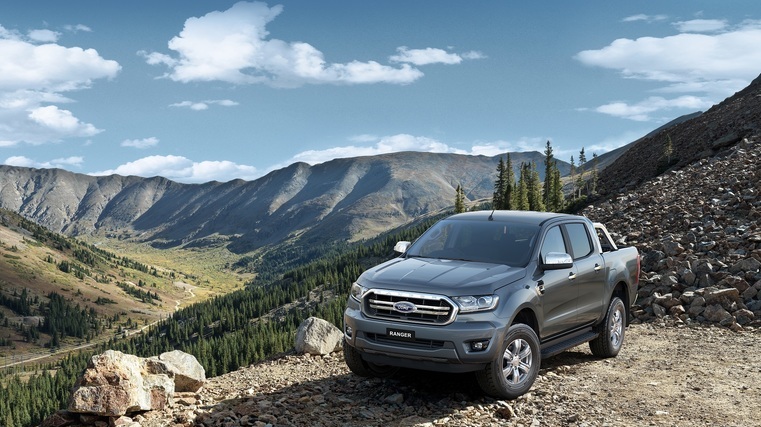 The 2019 Ranger builds on the capabilities and off-road credentials that have made the award-winning Ranger the most popular vehicle in New Zealand for three years running and the most popular ute in New Zealand for the last four years.
"The Ford Ranger has proven to be a great fit for all aspects of the Kiwi lifestyle," said Jeremy Nash, Ford New Zealand Marketing Manager. "The Ranger's solid workhorse credentials combined with class-leading refinement and capability have pushed the Ranger to the top of the charts in New Zealand and has attracted many new customers to the ute segment. The 2019 model builds on that and with new powertrain options it will appeal to even more customers for a wider variety of uses."
The 2019 Ford Ranger will be offered with an array of new features including the addition of Ford's latest new-generation 2.0L Bi-Turbo diesel engine. The Bi-Turbo will be available in the Ranger Wildtrak series as an option, giving Ford Ranger customers a wider choice to better match their lifestyles.
Having chalked up the equivalent of 5.5 million kilometres of testing, Ford's new generation of diesel engines use advanced materials and sophisticated construction to offer Ranger BiTurbo customers a vehicle with an enhanced span of already capable attributes. With common-rail direct fuel-injection, an integrated intake manifold, and a belt-in-oil primary drive, the Bi-Turbo is compact, lightweight, powerful and efficient.
"The new BiTurbo delivers 500Nm from 1750rpm, giving customers access to more torque, more of the time," said John Willems, Chief Program Engineer, Ford Ranger.
The Bi-Turbo takes advantage of a sequential turbocharging to deliver greater responsiveness, drivability and maximum efficiency. The first fixed-geometry turbocharger is employed to deliver greater throttle response and eliminate lag by spooling up quickly at low speeds. The secondary turbocharger features advanced variable geometry to deliver performance gains and smoothness at higher speeds, taking over from the primary initial turbo.
Ford's Pre-Collision Assist uses Inter-Urban Autonomous Emergency Braking (AEB) with Pedestrian Detection and Vehicle Detection at any speed on Ranger to detect pedestrians, objects, as well as vehicles, to bring Ranger to a complete stop, mitigating rear-end collisions and road-traffic collisions with pedestrians. The system, which functions at speeds above 3.6km/h, is standard on the Ranger Wildtrak.
Traffic Sign Recognition, available for the first time on Ranger, is designed to identify traffic signs whether they are at the side of the road or above it, permanent or temporary. An icon of the speed sign appears on the instrument cluster and changes every time you enter a new limit.
Lane Keeping Alert and Lane Keeping Aid, and Adaptive Cruise Control with Forward Alert are also now a feature on the Ranger Wildtrak, reducing driver workload to help with both short-term attentiveness and longer journey driver fatigue.
In a segment first, the 2019 Ranger Wildtrak also features include Active Park Assist (APA), reducing stress by enabling semi-automatic parallel parking. The driver needs only to apply the throttle and brakes, as the system steers the Ranger into the parking space.