Industry's "annus horribilis"
David Vinsen, chief executive of VIA, (the Imported Motor Vehicle Industry Association), has described 2018 as the industry's annus horribilis.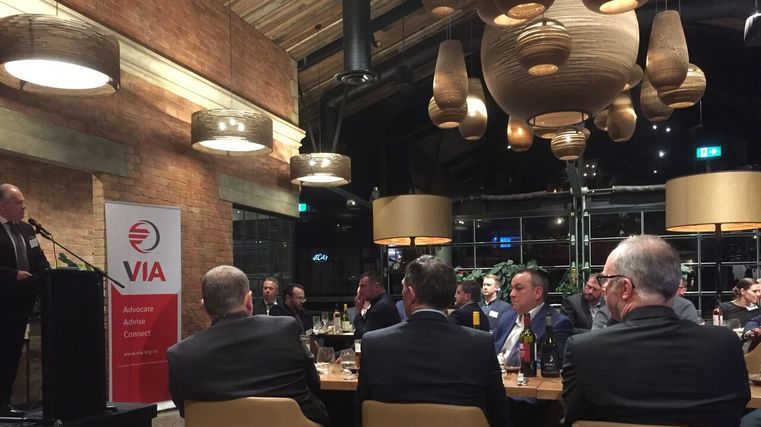 The chief executive of VIA, (the Imported Motor Vehicle Industry Association), has described 2018 as the industry's annus horribilis – and it's only just half over.
David Vinsen coined the Latin phrase, which was made famous in a speech by The Queen in November 1992 during a speech at London's Guildhall after a massive fire at Windsor Castle and some of her offspring divorcing.
He was referring to the crises that have hit the automotive sector this year, which have resulted in its 30th-anniversary celebrations deferred until next year.
"This year has seen crises the like of which we haven't experienced for many years," Vinsen told guests at VIA's midwinter dinner in West Auckland on July 12. "I certainly haven't seen anything like it in my 15 years in this role or my 40 years in the industry.
"I won't use the term 'perfect storm' because that implies a confluence of events at the same time. But if you get through the storm, you come out the other side into smooth waters and plain sailing.
"What we're experiencing isn't like that. It's more like a series of near-knockout blows. Each one arriving before you've had time to recover from the previous one. The cumulative effect is significant."
What follows are edited parts of Vinsen's speech at the function.
Looking back on the past year
2017 was a good year for the industry with more than 330,000 vehicles imported and sold. That's about 6,400 vehicles every week.
The total was made up of 177,000 used vehicles and 156,000 new. Almost 180,000 exited the fleet with a net increase in the fleet of more than 150,000 – hence the congestion. So, good volumes last year.
2018 was shaping up to be similar. The only issue on the horizon was the second phase of the ESC [electronic stability control]. Due on March 1, we knew it would affect volumes for a while. We were prepared. The only concern was positively identifying qualifying vehicles.
The stink bug crisis
Out of the blue on Waitangi Day, live stink bugs were found on a vessel discharging at Auckland. Waitangi Day, our national day. Who knew stink bugs had such a sense of occasion! And then on a second ship, and another and a fourth. The supply chain ground to a halt.
Stink bugs had been found the previous November in Christchurch, on concrete equipment from Italy, but we weren't expecting anything like this – the most sudden, unexpected and deepest crisis the industry has had to deal with.
I was on holiday, but my board called me back deal with this issue. They gave me two instructions – biosecurity is paramount and VIA is to take a leadership role. There were no established procedures to deal with such a crisis. It was a bit of "trial and error" and "make it up as we go along".
Developing treatments and procedures to ensure stink bugs weren't able to get established in New Zealand was a serious issue and we took it seriously. We took the view nothing was more important than our biosecurity.
We knew other industries, particularly horticulture and viticulture, were watching what was happening with concern. They would be vulnerable if stink bugs became established and they were starting to point the finger at our industry as the cause of potentially serious effects for them. We engaged in damage control with them, behind the scenes, so they knew every possible precaution was being taken and the situation was under control.
Our import supply chain is efficient, it's almost on a "just in time" basis with "no fat in the system". So, no shipments, everything stopped. Cashflows were hammered, retention of skilled labour became problematic and balance sheets were stretched to twanging point. There was frustration, desperation and real concern.
The collaborative effort was all industry sectors and government departments had to deal with the issue. The situation was tri-aged. The affected ships were sent away while treatments and procedures were developed. There were new requirements and processes for fresh shipments to get the supply chain moving without compromising biosecurity. There was research on what would be required to ensure we never faced this situation again.
The four affected vessels were progressively brought back and subject to controlled discharge – from 12 or 14 hours to three or four weeks. Berth space was at a premium with constant juggling.
Fresh shipments were starting to arrive with higher levels of scrutiny. But in Japan, more than 6,000 vehicles were piling into the ports every week. We knew that after the famine would come the feast and so it proved. Although we were expecting it, there was little we could do to prepare for it.
When fresh shipments started, we had the largest volume months ever, which put huge pressure on everything – space, capacity and funding. Businesses under financial pressure because of no stock were suddenly under huge financial pressure because of excess stock.
Although we were surprised by the resilience of the industry, we're still not out of the woods. There are still a lot of businesses under extreme pressure.
Overall, there have been tens of millions of dollars of losses in shipping delays, additional ships and sailings required, storage and seven weeks' lost trading. But, although it didn't seem like it, the exercise was successful on three counts.
It prevented the bugs from becoming established. Our tens of millions of losses pale into insignificance when you think of the more than $6 billion and 60,000 jobs that were at risk in horticulture and viticulture. We deserve to congratulate ourselves, industry and government for this success.
It was an example of all industry sectors and government departments collaborating to deal with the issue. It wasn't easy – the regulator was doing its thing, industry wanted to make progress and get certainty, there were financial pressures. There was collaboration, but competition.
The import health standard [IHS] is now being reviewed, setting new requirements to ensure we're ready for the start of the next stink-bug season, which starts on September 1. Let's hope the bugs know!
Accredited border-inspection organisations are investing millions in developing treatment systems to ensure we have the capacity needed.
There's no doubt costs are going to increase for everyone, but that will be the price we need to pay to ensure our biosecurity.
While this was going on, the ESC deadline came and went with barely a hiccup. There were non-compliant vehicles that missed the deadline because delivery was delayed by the stink-bug crisis, but we put in place arrangements with the NZTA so they could be dealt with separately.
And we were able to arrange a simplified process with NZ Customs for vehicles imported, exported and then re-imported because of the bugs.
I'm proud of the leadership role VIA took in dealing with this issue. We're not a regulator, we're not biosecurity scientists and we're not logistics or inspection experts.
But we showed leadership in coordinating the efforts of everyone involved and ensured that communications were as accurate and timely as possible in a fast-changing situation.
The airbag recalls
While we were in the midst of dealing with this issue, the Minister of Commerce and Consumer Affairs, Kris Faafoi, declared a mandatory recall for vehicles fitted with a particular airbag.
The recall had been around for some time. It's a significant issue for the motor industry worldwide – more than 140 million vehicles were affected.
Despite best efforts in New Zealand, there had been slow progress in remedying the problem. Information was incomplete about which vehicles were affected, and which had already been reworked. Some needed to be reworked again.
There was an inadequate supply of replacement parts, as the airbag manufacturer had gone into bankruptcy. And, in NZ, vehicle owners were apathetic. There was a poor response to the campaigns to replace airbags.
So the minister took his decision to make the recall mandatory. His aim was to prevent any more affected vehicles entering the fleet and rework vehicles in the fleet as quickly as possible.
Both laudable goals, but easier said than done. We still have the constraints of lack of information and moving target, shortage of parts and consumer apathy.
This isn't an inconsiderable problem. There are almost 600,000 vehicles affected by the recall in New Zealand alone, total cost over $100m. Once processes are set up for this particular recall, there will be other safety-related ones in the pipeline.
Working with the government
The industry is collaborating with government departments.
Once again it's a number of departments – MBIE's Consumer Affairs, which is responsible for the recall, the NZTA on operations, procedures, information and record-keeping, and NZ Customs, which is responsible for ensuring no vehicles subject to the recall enter the country – seize and crush! We've established procedures to prevent this. I'm confident that no affected vehicles will be imported.
These have not been easy issues to deal with. Different government departments have been involved as regulators and administrators. Different industry sectors involved on who's going to do what and who's going to pay. There has been co-operation and competition at the same time. It's not straightforward stuff.
Co-operating in the industry
We're also collaborating closely with the Motor Industry Association (MIA), the new-vehicle distributors' association.
It has hasn't always been a happy relationship. But last year we entered into a memorandum of understanding, formally recording how we will liaise and deal with each other.
The basis is we have far more in common than we do differences, and on pan-industry issues where we have common interests, we co-operate. We identify and carve out areas we disagree on.
We worked closely with the MIA on the biosecurity issue – no differences. We are working closely with them on the recall issue by sharing information, developing procedures and so on. The intention is to ensure vehicle owners have a seamless process, at no cost to them, to have airbags replaced, and we work towards meeting the minister's targets.
But we haven't yet agreed on who should pay, so we've put that out of the discussions for the moment until we get the system operational, and have a better idea of the magnitude and costs.
It's not always easy. But as far as I'm concerned, the agreement is working well and I'd like to acknowledge my colleague David Crawford, of the MIA, for his contribution.
Tackling climate change
Minister Twyford's Associate Transport Minister, Julie Anne Genter, has announced the government wants to focus on the transport sector to get us to achieve our share of the Paris Accord climate-change goals.
This is about greenhouse gas emission (GHGs). Transport makes up about 20 per cent of New Zealand's GHGs. The only way to reduce our emissions is to reduce the volume of hydrocarbon fuel that's consumed.
There are two main strands to the action. Modal shift is about getting into public transport, cycling, walking, and car-pooling and sharing. This is why you're seeing emphasis on cycleways, walking school buses, trains, trams and ferries etc.
Then there's more fuel-efficient vehicles. The government is determined to improve the average fuel efficiency of vehicles entering the fleet. This going to affect our industry, new and used.
The intention is influence the choice of vehicles at two levels – demand by influencing purchasers' choices by a feebate scheme and supply by influencing the range of vehicles offered for sale.
Importers – new and used – must ensure that, on average, their range of stock doesn't exceed the fuel-economy standard. We're working with the government on these proposals.
Also on the agenda
We have plenty on our plate – and that's without talking about things that are going to force structural change on our transport system and industry. Things such as MaaS, EVs, ITS, autonomous vehicles and so on.
All this, as well as doing our regular operational activities – "does this vehicle comply", "what documentation do I need", and working on new legislation, submissions and standards.
VIA is well-positioned to deal with radical and serious changes. But our balance sheet is under pressure, which reflects the industry, and we're taking steps to address that.
Every cloud has a silver lining. Out of the crises I've talked about, we have some real positives. In particular, our members are voluntarily stepping up to assist, not only financially, but also at a governance level.
For the first time in a while, we've had people offering to serve formally on our board, as well as keen interest from corporates and sponsors wanting to be more involved in the activities of the association.
I'm confident VIA will continue to have a strong voice in representing the vehicle-import industry.