Imports to keep coming during lockdown
Ports of Auckland says operating under the highest alert level because of the pandemic will be harder but it will aim to maintain business as usual.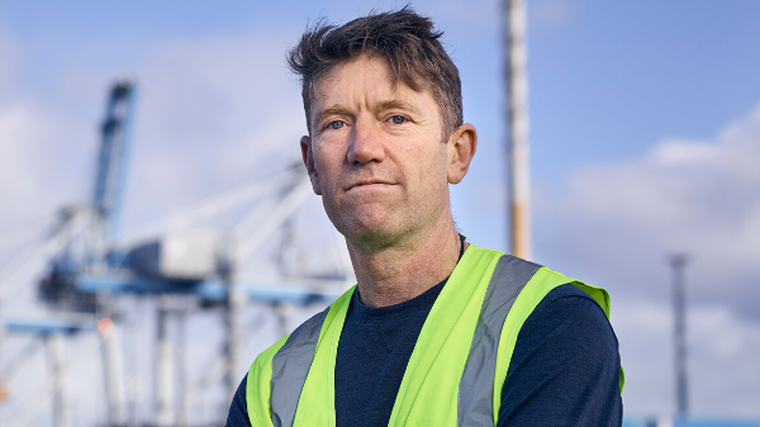 Imported vehicles and other freight arriving at our ports during the four-week lockdown period will still need to be collected to prevent blocking the path of essential supplies.
Matt Ball, a spokesman for Ports of Auckland Ltd (POAL), says the company has essentially been told by the government that "freight services are essential and must continue".
He adds that while the company will ensure that happens, the raising of the Covid-19 alert to level four will bring some changes.
"It means we have to put in place even stricter measures to protect staff who have to continue working on site at the port, so that they don't get sick and we can keep freight moving," Ball, pictured above, explains.
"It also means we will have fewer staff, as travel restrictions and the need to isolate 'at risk' people take effect.
"So, it makes operating harder. However, we have plans in place to manage this and enough staff to keep operating. We will keep the port open and keep freight moving."
Ball adds that with POAL operating close to normal, businesses still need to collect freight from the port. "Even items that aren't considered essential need to be moved off port because otherwise the port will quickly fill up with 'non-essential' freight and essential freight won't be able to get through."
POAL's sole focus is on freight after a ban on cruise ships until the end of June came into force on March 14.
The company has a crisis management team that meets daily to discuss the latest situation regarding the coronavirus. POAL has also been operating with increased border controls since January, which includes not handling ships that have been in high-risk areas in the 14 days before arriving in New Zealand.
'Critical lifeline'
Other ports around the country are also striving to maintain business as usual during the lockdown period.
The Port of Tauranga says on its website that it provides an essential service and has introduced "extensive measures" to protect its staff, customers and the community.
"Whatever happens over the next few months, we have a duty to ensure that imports and exports can keep moving," it adds.
CentrePort in Wellington and Lyttelton Port Company (LPC) is also aiming to maintain full operational levels despite the pandemic.
A statement from LPC says: "We have a responsibility to ensure we continue to operate, and therefore we have implemented a business continuity plan to enable us to maintain a level of service in all possible scenarios.
"With the evolving situation around Covid-19, we continue to work hard on business continuity and keeping the port open. We take our role as critical lifeline infrastructure seriously and we remain focused on ensuring vital supplies can keep moving and making sure we support your businesses and the community."
'Significant disruption'
The Ministry of Transport has held a conference call with stakeholders from the industry, including representatives from ports, the road freight sector, airlines and rail.
Chris Carr, director of Carr & Haslam, believes the government is taking positive steps to work with the industry during the "significant disruption".
He says it's important for New Zealand's supply chain to not be disrupted and remain operating, while what the government has classed as "essential services" is broader than first envisaged.
"Ports will be a priority and clearing the ports will be a priority so they can operate," he says. "Wharves can't be left to clog, they must be shifted."
While it will not be business as normal for the transport industry, "there's going to be a need for transport".
Carr & Haslam has more than 150 years' experience in delivering freight throughout New Zealand. Its services range from transporting cars to over-dimensional containers and general freight.