Car carrier capsizes
Four crew missing after Hyundai Glovis car carrier capsizes at Port of Brunswick in the US.
Posted on 10 September, 2019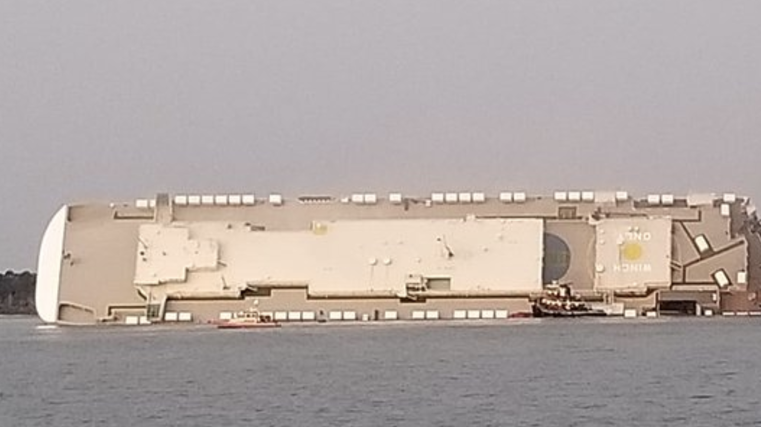 The US Coast Guard is searching for four crew members of a large vehicle carrier ship which overturned off the Georgia coast near the city of Brunswick.
The Golden Ray, a 200-metre long vehicle carrier, departed the Brunswick port about 1 am on September 8 suffered a fire on board.
Of the 23 crew members and one pilot on board the car carrier, twenty crew members have been rescued, but the remainder is unaccounted for. The cause of the incident is currently under investigation and is not yet known.
"The Coast Guard has closed the channel while they conduct this rescue effort," Griff Lynch, the executive director of the Georgia Ports Authority, which operates the Brunswick port, told the Atlanta Journal-Constitution. "That is the most important thing - the safety of life."
The vessel had about 4,200 vehicles on board, he said. Though much is not known about the incident, "it seems to have to been a stability issue on the vessel."
The Golden Ray, which is registered out of the Marshall Islands, arrived in Brunswick on September 7 and off-loaded "a couple hundred" vehicles and about 300 vehicles were loaded onto the ship, Lynch added.
The Golden Ray is owned by South Korea's Hyundai Glovis, the car shipping unit of Hyundai Motors. The company operates a fleet of around 60 vehicle carriers.
The Bruswick port is one of the busiest in the US for shipping cars, with nearly 614 vehicles passing through the docks in the year ending June 30.