NZRC campaign for Gillies and Pilcher
Andy Gillies and co-driver Nathan Pilcher announce they will undertake a full New Zealand Rally Championship campaign in a Toyota AE85 - an iconic rally car not seen on New Zealand stages for almost a decade.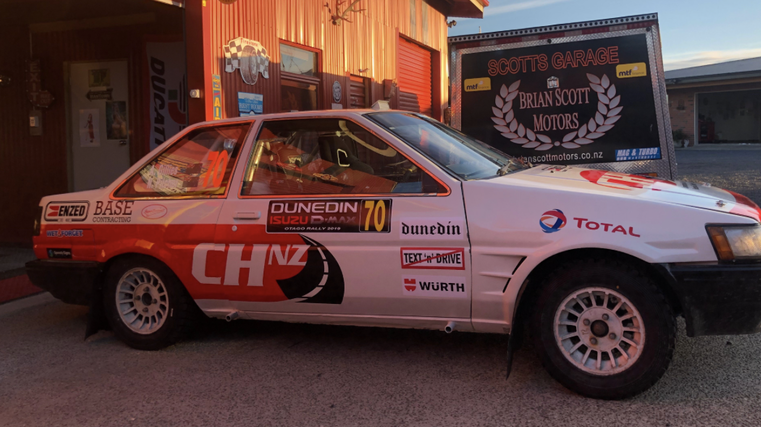 Andy Gillies and co-driver Nathan Pilcher have confirmed their first full New Zealand Rally Championship (NZRC) campaign beginning March 13 at Rally of Otago. The pair have also acquired Chris Paddon's Toyota AE85 Levin for the campaign.
Pilcher - who has recently spent time learning from world rally winning co-driver John Kennard at the Co-Driver Academy in preparation for the season - is also one of the country's most experienced race engineers having been part of several of the Evans family's recent V8 and endurance racing campaigns.
Pilcher says the pair have burned plenty of midnight oil readying the car for its first competitive outing in almost a decade.
"The car hasn't been driven in nine years and we have spent the summer months going through it with a fine tooth comb and also making improvements along the way to make it faster and more reliable," Pilcher explains.
"Last year myself and Andy were hoping to do a little more than just Otago where we surprised ourselves finishing third in class in our Datsun Sunny.
"Our trip to Whangarei, however, was cut short at the end of the first day with a roll on the seventh stage which left too much damage to continue. We put the Datsun to one side and decided to embark on a full New Zealand Rally Championship with a different car and here we are.
"The crew are hoping for a solid performance in their first full season together, and hope that their combined experience will help them make progress quickly.
"Our goals begin with just getting to the finish of Rally Otago but with Andy's reputation of reliability on our side and only one retirement in a rally in four years, we're optimistic that the car will go well.
"Once we get Otago out of the way, we are planning to focus on improving areas such as notes, cornering speed, performance and reliability. Last year we found we worked well together and that's another big plus we have as a team.
"Andy has a long history in rallying and has achieved some great results in the past. With my background being circuit racing but I'm certainly enjoying the change of being in the car all day and seeing some beautiful countryside as well, rather than my view being just an engine bay or the underneath of a circuit racer!
"The Commercial Hire NZ Toyota Levin has had a complete nut and bolt rebuild and we have gone over literally everything to make sure we know the car inside out. The brakes have been upgraded and we have plans to upgrade the engine and gearbox as the season progresses too."
The Commercial Hire NZ Toyota Levin will also be supported by ENZED, Total Lubricants, Wurth NZ, Wet&Forget, MG Minerals, Superfinishing NZ, Arrowtown Bakery, Base Contracting, Brian Scott Motors and Prestige Commercial Vehicles.
Following Otago, the team move on to the Rally of Whangarei in early May, followed by the Canterbury Rally in June, then the South Canterbury Rally later that month before heading north for the Rally Coromandel in August.
The season then has a free September before concluding with Rally Waitomo in October.