Ford leads battle of utes
Ranger extends advantage over Toyota Hilux despite overall slowdown in new commercial sales.
Posted on 01 November, 2023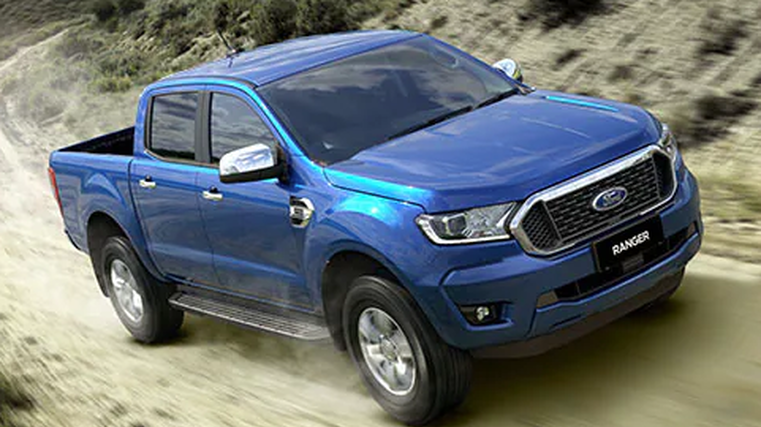 The Ford Ranger is now 1,101 units ahead of Toyota's Hilux in the battle to be this year's best-selling ute.
It follows the blue oval's vehicle, pictured, being last month's best-selling commercial with 794 registrations. The Hilux picked up 679.
Toyota's Hiace was third on the October models' chart with 160 sales, followed by the Mercedes-Benz Sprinter, pictured, on 126 and Mitsubishi's Triton with 99.
There were 2,890 new commercials registered in total last month for a drop of 26.7 per cent from 3,943 a year ago.
Year-to-date, the Ranger now has 8,628 registrations and a 25.1 per cent market share and the Hilux is on 7,527 and 21.9 per cent.
Overall, there have been 34,334 commercials registered so far this year, which is down by 15.6 per cent when compared with the 40,671 units in the same period in 2022.
Toyota was the top marque last month with 860 units and a 29.8 per cent market share after sales rose from 738 a year earlier.
Ford was next on 825 units and a 28.5 per cent share, followed by Isuzu with 156, Mercedes-Benz on 139, and Fuso notching 111.
Toyota leads the year-to-date chart with 9,695 registrations and 28.2 per cent of the market, ahead of Ford on 9,369 and 27.3 per cent.
Used sector slides
As for used-imported commercials, there were 489 units registered in October for a year-on-year drop of 8.3 per cent from 533.
It takes the sector's year-to-date total to 5,188, which is down 21.3 per cent from 6,591 over the first 10 months of 2022.
Toyota was the best-performing marque last month with 232 registrations and a market share of 47.4 per cent with Nissan next on 114 and 23.3 per cent.
The Toyota Hiace was the top model with 38.7 per cent of October's market thanks to 189 sales, which was up from 149 a year ago.
Nissan's NV350 was next with 69 and 14.1 per cent share of activity, while the Hino Dutro was third on 29 units.
So far this year, Toyota tops the marques' ladder with 2,386 sales and 46 per cent of all registrations, while its Hiace is the leading model on 1,735 units and a 33.4 per cent market share.