Firms team up over hydrogen cars
Toyota NZ partners with eight companies to launch vehicle-sharing scheme with the Mirai.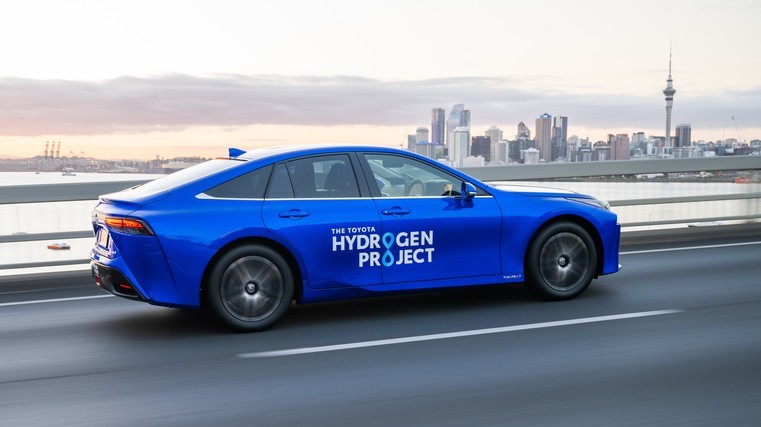 A car-sharing scheme using a fleet of fuel-cell electric vehicles (FCEVs) is being touted as New Zealand's first commercial application of such hydrogen technology.
Toyota NZ has teamed up with eight businesses for the Hydrogen Project, which starts on May 1 in Auckland.
The marque's partners in the trial are The Warehouse, Air NZ, Saatchi & Saatchi, TVNZ, Beca, Westpac NZ, Spark and Z Energy.
A fleet of Mirai FCEVs will be at the centre of the scheme and for many Kiwis it will be the first time they have seen the model on our roads.
The trial will make use of the outgoing generation and the current generation that's sold in Japan, North America and Europe.
Neeraj Lala, chief executive of Toyota NZ, says the companies involved have joined together to demonstrate the commercial possibilities of hydrogen technology in the real world.
"This trial also showcases the ability for large companies to join together to share their fleets, which in the future could lead to larger reduction in carbon emissions when you are talking about sharing, say 100 cars," he adds.
"While the FCEV is tried and tested technology, we applaud their willingness to sign up to this unique scheme and give hydrogen a go.
"Car-sharing with hydrogen cars is not common anywhere in the world. We're all keen to see how this will work in practice and how we can utilise this technology further."
Lala says as hydrogen infrastructure is still in its infancy in New Zealand, the trial has been established as a catalyst for a "burgeoning" hydrogen export market.
"There is pressure to reduce carbon emissions. Change is coming rapidly. We need to accelerate the introduction of new technology and innovations to support a low-carbon future.
"Hydrogen fuel-cell technology is another step in the journey to a zero-emissions transport eco-system. The commercial application of this technology is vast and we have the means to explore new technologies."
Hydrogen can store more energy in less weight, making Toyota's fuel-cell system suitable for vehicles with heavy payloads and long ranges.
Fast refuelling also benefits commercial fleets and other vehicles in near-continuous use, such as straddle carriers, forklifts and taxis, as well as with car-sharing schemes.
Lala says this country is well-positioned to expand its use of renewable energy.
"The use of green hydrogen as a fuel for transport is also about having cleaner air to breathe in our cities. New Zealand is an ideal place, with our renewable energy and resourceful culture, to test new ideas and innovate."
Hydrogen is among the powertrain options being developed by Toyota in its transition to a low-carbon future.
It recently revealed 16 new battery electric models and committed to producing 3.5 million EVs per year by 2030.
Lala says Toyota is keeping many options open and is not committed to one fuel source or technology.
"This is not a distraction from BEV application in our light-vehicle fleet. It is to ensure ongoing business resiliency beyond just mobility through alternative business opportunities."
The unveiling of the Hydrogen Project has been made with Prime Minister Jacinda Ardern on her trade mission to Singapore and Japan. Lala is among those in her delegation.
What Toyota's partners say
Mike Bennetts, CEO of Z Energy: "As a fuel retailer not tied to an upstream oil exploration company, Z has always focused on providing the right energy for the right use and drive solutions customers want.
"Now is the time for all businesses to be bold in how they will work to reduce emissions. Toyota's innovation in hydrogen is a great example of being bold and this is project we are very proud to be supporting."
Greg Lowe, CEO of Beca: "We continue to explore the use of new thinking and technologies to support our business and clients transition to a low-carbon economy.
"We have company-wide goals to reduce our direct and indirect carbon emissions. Joining Toyota's Hydrogen Project is one important step to reduce our direct emissions associated with work travel by 50 per cent by 2030.
"This complements our strategy to use a mix of car-share options and introducing more plug-in hybrid EVs to supplement our existing EV fleet."
Jolie Hodson, CEO of Spark: "For New Zealand to meet its climate-change commitments, every individual and every business needs to play a role.
"For our part, we recently established and verified a science-based-emissions reduction target, and have shifted almost all of our existing fleet to hybrid, plug-in hybrid and electric vehicles."
About the Mirai
The fuel cell in Toyota's Mirai combines hydrogen and oxygen in a chemical reaction. Electricity, a by-product of this chemical reaction, is used to power its electric motor. The only discharge from the exhaust pipe is water.
A fully fuelled Mirai has a range of close to 500km of city driving using 4.6kg of hydrogen on-board plus energy from its regenerative braking system, which is similar to the technology found in Toyota's hybrids.
The marque says the FCEV is proven technology with more than 11,000 units sold in Europe, North America and Japan.