Takata action across Tasman
Australians are being urged by the Federal Chamber of Automotive Industries (FCAI) to check if their vehicles are fitted with faulty Takata airbag inflators via a new website.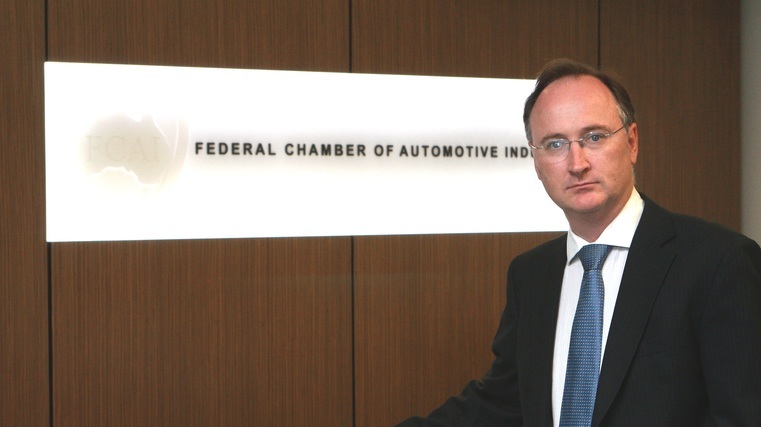 Australians are being urged by the Federal Chamber of Automotive Industries (FCAI) to check if their vehicles are fitted with faulty Takata airbag inflators via a new, centralised website as part of the country's compulsory nationwide recall.
Tony Weber, chief executive, says a national advertising campaign urges car owners to visit the industry-backed website www.IsMyAirbagSafe.com.au to check their registration plates against the database of affected vehicles.
The campaign's message "Don't Die Wondering" is deliberately provocative to gain the attention of more than 1.6 million owners whose Takata airbag inflators currently, or in the future, will need replacing free of charge.
The FCAI says there have been 24 reported deaths and 266 injuries worldwide caused by mis-deploying inflators, with one death and one serious injury reported in Australia.
Weber, pictured above, highlights the critical need to replace alpha-type inflators, which are a subset of faulty Takata parts that pose the greatest safety risk to occupants. Across the Tasman, these inflators were installed in certain BMW, Honda, Lexus, Mazda, Nissan and Toyota models sold from 2001-04.
"Some 19,500 vehicles in Australia still need to have their alpha inflators replaced as a matter of urgency," says Weber. "In certain circumstances, there's a chance as high as one-in-two that these may rupture on deployment in a collision. Vehicles with alpha inflators shouldn't be driven and owners should immediately contact the manufacturer.
"If a faulty Takata inflator ruptures, metal fragments will propel out of the airbag and into the cabin potentially causing serious injury or death to occupants. It's vital owners don't underestimate the seriousness of this national recall."
The urgency attached to inflator replacements has resulted in attempts to contact owners multiple times – often as many as five or six times via mail and other contact methods, such as SMS and phone calls. The industry has so far replaced airbag inflators in almost half of the 3.05 million units affected nationwide, therefore mitigating the subsequent risk to vehicle occupants.
The Australian Competition and Consumer Commission is responsible for enforcing the compulsory recall and industry implementation of the FCAI's national awareness campaign.
"We welcome the addition of industry's new web tool as an easy way to check vehicles affected," says Delia Rickard, deputy chairman. "The safety of drivers and loved ones is at the heart of the recall."
The risk of faulty Takata inflators mis-deploying may arise after the first six years in the worst conditions from exposure to high temperatures and humidity levels, says the FCAI. This has helped affected marques in Australia to prioritise units most at risk to help manage the complex supply and rectification process at dealer level.
The worldwide shortage of replacements means it has been necessary for some vehicles to undergo interim fixes with brand-new Takata inflators. These parts used for the interim fix pose no immediate risk, but will need to be replaced again before they are six years old.
"Any customer who has had an airbag inflator replaced should also check the website to find out if their vehicle will be subject to a future recall," Weber adds.
He says motorists had responded well to a previous voluntary recall. However, it's estimated there are about 1.6 million cars on Australian roads identified as requiring Takata replaced now or in the future. All marques involved in the recall have been contacting owners, or will do so in the immediate future, to alert them to the need to take action and arrange to have faulty inflators replaced.