EV projects gain $3.2m boost
Projects to expand charging infrastructure, launch a car-subscription service, and create an electric ute are all winners in the latest round of government co-funding.
Posted on 26 August, 2020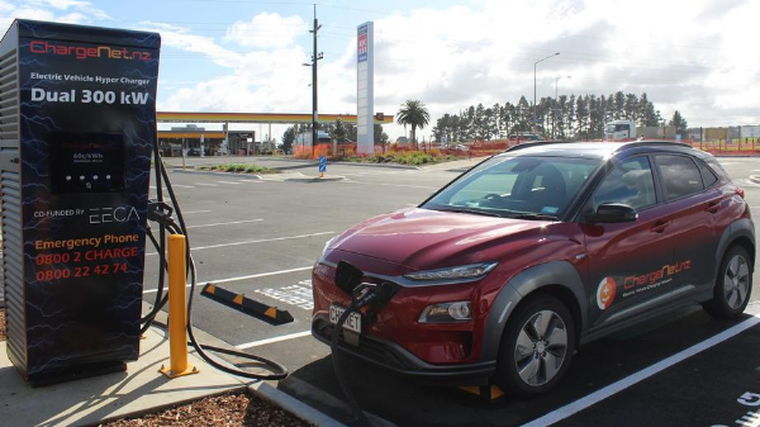 More electric-vehicle (EV) chargers will soon be popping up around the country after being given a slice of $3.2 million of government cash.
The Energy Efficiency and Conservation Authority (EECA) has announced co-funding for 24 projects that encourage the uptake of EVs in the latest round of the Low Emission Vehicles Contestable Fund.
The successful applicants will contribute about $5m of their own money to the projects.
Besides supporting 11 ventures to install extra charging infrastructure across the country, cash has also been awarded to Turners Automotive to help it buy 10 used EVs for a new car-subscription service.
Other beneficiaries include McKay Limited, which plans to convert an end-of-line utility vehicle to electric by utilising a second-hand Nissan Leaf drive system.
For the first time, organisations could apply for co-funding to install secure e-bike storage facilities and five of these projects have been awarded money.
Dr Megan Woods, Minister for Energy and Resources, announced the winners from round eight of the fund on August 26 and noted a number of previously funded projects have hit the road in recent months.
"The success of previously-funded projects shows that we can meet New Zealand's transport needs across a variety of sectors, giving other organisations the confidence to make their own investments," she says.
EECA is now taking applications for round nine of the fund and, as a result of the recent Covid-19 restrictions, has extended the deadline to noon on September 14, 2020.
Successful applicants
Charging infrastructure
1. Central Otago District Council, $76,500: The council, in collaboration with ChargeNet NZ, will install two public 50kW DC fast chargers along the 394km-long Central Otago Touring Route.
2. ChargeNet NZ, $39,000: The company will install a public 50kW DC fast electric vehicle charger at Eketahuna.
3. ChargeNet NZ, $153,515: One public dual 300kW charging station is to be installed in Bulls on SH1, enabling the newest generation of EVs to add 400km of charge in only 15 minutes.
4. ChargeNet NZ, $237,825: Two public dual 300kW charging stations are to be installed in Kaiwaka in Northland.
5. ChargeNet NZ, $213,575: The company will install two public dual 300kW charging stations in Christchurch.
6. ChargeNet NZ, $237,725: Two public dual 300kW charging stations are to be installed at Smales Farm on Auckland's North Shore.
7. Auckland Cohaus (Surrey Crescent Cohaus Limited), $5,000: People living in a 20-home project in Grey Lynn, Auckland, will buy two EVs (at their own cost) and install two slow chargers for a car-share scheme.
8. EV Transport, $45,000: "Plug the Gaps Northland" will provide three public 25kW DC chargers – at Mangawhai, Tutukaka and Matakohe – as back-up and to complement the existing 50 kW network.
9. Higgins Contractors, $120,000: The company will install four fast chargers enabling the team to use EV lease trucks in Auckland, Wellington, Palmerston North and Christchurch.
10. Northland Regional Council, $34,000: "Plug the Gaps Waipu" will provide one public 50kW DC fast charger as back-up for the popular Auckland to Whangarei route.
11. Powersoft Limited, $17,500: The company will install a public 25kW DC fast charger near Paihia.
Secure e-bike storage facilities
12. Big Street Bikers, $200,000: Big Street Bikers will create secure dock-and-charge stations with digital wayfinding for active transport modes that will accommodate up to 20 electric bikes at once at two Wellington commuter hotspots.
13. Hawke's Bay Airport, $42,000: The airport will install four public 7.4kW AC EV chargers in the long-stay carpark and provide secure storage for 16 e-bikes.
14. Invercargill City Council, $25,000: The council will install storage for 20 e-bikes within the city's central business district.
15. University of Otago, $31,250: The university will establish a secure storage hub for 44 electric bikes and a maintenance stand, linked to workplace, commuting and accommodation.
16. Whakatane District Council, $63,000: The council will establish 10 public onsite slow-car chargers to support an electric pool fleet, B2B visitors and public, and will also install a secure lockup and charging site for 10 e-bikes.
Heavy electric vehicles
17. Customised Deliveries (2013), $218,060: The company will add two all-electric delivery trucks to its chilled fleet for its Auckland deliveries.
18. Davis Food Ingredients, $350,787: The company will trial two large EVs with chilled, frozen and ambient storage capacity.
19. Mahu City Express, $200,000: The business will partner with a battery leasing company to demonstrate a hybrid-ownership model to reduce the risks and costs (real and perceived) of transitioning heavy vehicles to EVs.
20. Tranzit Group, $484,708: Two of its diesel buses will be converted to electric, with the potential to eventually electrify the rest of its fleet of more than 100 BCI diesel single and double-deck buses.
Technology
21. ChargeSmart, $41,624: The company will launch a solar/storage (at their own cost) and EV charging solution, designed to refuel two electric vehicles, power the site, and top up EVs during power outages.
22. Critchlow Geospatial, $210,000: The company will launch its Smart Routing LEV website to provide two years' free access to estimated operational cost comparisons for fleet operators considering switching commercial vehicles from internal combustion engine to low-emission vehicles.
Subscription service
23. Turners Automotive Group, $97,500: Turners Subscription will purchase a fleet of 10 used EVs to be offered to the public on subscription.
Light vehicles
24. McKay Limited, $37,547: The company will convert an end-of-line utility vehicle to electric by utilising a second-hand Nissan Leaf drive system. This will reduce carbon emissions and landfill waste, and aims to build public confidence that larger vehicles can be transformed into affordable EVs.