Emissions-slashing projects in the money
Government fund set to increase in size and scope as politicians seek a faster uptake of cleaner vehicles.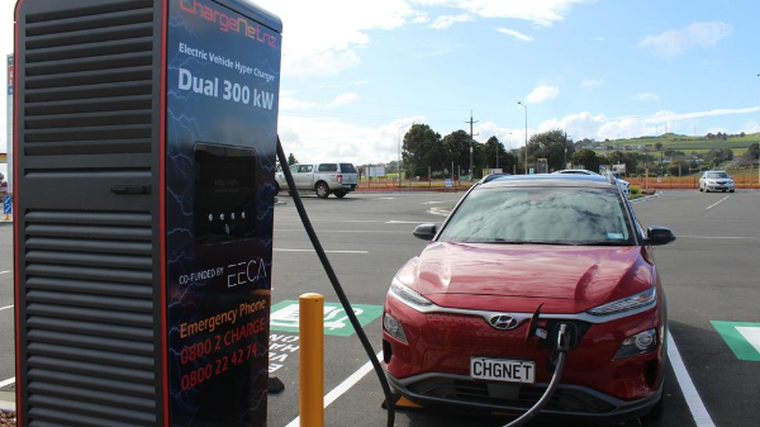 More charging facilities for electric vehicles (EVs) will be popping up around the country after being awarded some of the $6.5 million up for grabs in the latest round of the government's Low Emission Vehicles Contestable Fund (LEVCF).
A total of 22 schemes – including 11 charging infrastructure projects – have secured money in round 10 of the LEVCF and the recipients will contribute an additional $12.8m.
A battery swapping station for electric trucks is also among the transport schemes that will receive co-funding following an announcement by Dr Megan Woods, Minister for Energy and Resources, on July 9.
"So far, we only have a few dozen electric trucks on the road but innovations like battery swapping stations for e-trucks will save valuable time for truckies," she says.
"It will mean they'll be able to quickly swap in a fully charged battery to continue their journey, leaving the old battery for recharging later and at off-peak times when electricity is cheaper.
"This is exactly the kind of innovation the Low Emission Vehicles Contestable Fund is here for, to address barriers that may be in the way of faster low-emissions transport uptake."
Woods notes the latest round of financial support is the last one from the LEVCF in its present form.
The government will progressively increase the size and scope of the fund to $25m per year by 2023/24, and in recognition of that it will be renamed the Low Emissions Transport Fund (LETF).
More details about the LETF are due to be announced by October.
Successful applicants
Charging infrastructure
1. Alpine Energy Limited, $120,900: The company will install a rapid charger on Orari Station Road at the junction with SH1 (Orari), and one for Mount Cook village. Charging access will be via ChargeNet's service.
2. ChargeNet NZ Ltd, $282,875: Four 300kW charging ports and two 50kW charging ports will be installed in Queenstown, providing charging capacity for six EVs.
3. ChargeNet NZ Ltd, $308,500: Four 300kW charging ports and two 50kW charging ports will be installed in Wellington, providing charging capacity for six EVs.
4. ChargeNet NZ Ltd, $288,500: Four 300kW charging ports and two 50kW charging ports will be installed in central Waikato, providing charging capacity for six EVs.
5. Goodman Property Trust, $178,200: The trust will install two public 150kW fast chargers, one in the town centre of Highbrook Business Park and the other at M20 Business Park, Manukau.
6. Hutt City Council, $372,000: Charging stations will be installed across eight locations in Lower Hutt.
7. The Lines Company Limited, $55,750: The company will install one 50kW fast charger in Whakamaru to help fill gaps in the fast-charger network.
8. The Lines Company Limited, $99,500: Two 50kW fast chargers, one in each of Waitomo and Pio Villages, will be installed.
9. SIXT New Zealand – Auckland Airport, $214,600: A 24/7 publicly available 150kW two-bay EV fast-charger will be built in the airport's industrial precinct.
10. Wellington City Council, $498,785: The council will roll out 30 suburban-oriented fast chargers using council sites.
11. Z Energy Limited, $390,000: Two 50kW chargers and a 185kW charger will be installed at the new Z Energy site in Rolleston, next to State Highway 1.
Heavy electric vehicles
12. Carr & Haslam Limited, $140,549: This project will trial a small electric truck delivering single motor vehicles, including light EVs, in central Auckland.
13. Christchurch City Council, $447,207: Five civil construction and maintenance service companies, which are suppliers to the council, will use specialist battery electric trucks to perform their contracted services.
14. Christchurch City Council – Shopping District, $419,026: The project involves encouraging a zero-exhaust emissions area for a group of companies delivering to commercial shopping properties in the Papanui Shopping District and in the Christchurch Airport Shopping District. On-route truck charging infrastructure will be installed.
15. Fletcher Distribution Limited, $218,420: The company will test the viability of electric trucks with electric-powered tippers to deliver construction materials in Auckland and Christchurch.
16. Ghella Abergeldie Joint Venture, $500,000: Watercare's Central Interceptor (CI) Project will work in partnership with its contractors, the Ghella Abergeldie Joint Venture, to purchase three electric trucks with lift-off battery swapping capability and charging infrastructure.
17. New Zealand Post Limited, $239,948: A project in Wellington will pilot a Fuso eCanter electric truck in the NZ Post delivery network to assess and demonstrate light e-truck capability in operational conditions.
18. Reliance Transport Ltd, $500,000: Project SWITCH will purchase two Scania electric trucks to help its business become the first fully electrified carbon negative on-road freight solution in NZ.
Technology
19. Etrucks Ltd, $499,995: The company will import and demonstrate a gantry style robotic battery swapping station in New Zealand.
20. Kalista Ltd, $482,000: This project will enable Green Gorilla to utilise a fleet of EVs for a municipal food waste collection contract and allow third-party commercial operators to charge or trial EVs.
21. solarZero Ltd, $33,500: This project will develop, test and demonstrate smart EV and home load management to manage peak demand.
Vans
22. Mercedes-Benz New Zealand Limited, $240,000: The marque will partner with NZ Post to pilot more than 100 eSprinter and eVito electric vans in delivery fleets.