Driver's wheelie crazy move
FRIDAY FUNNY: Drag racer clinches win despite hair-raising moment. PLUS – video
Posted on 08 October, 2021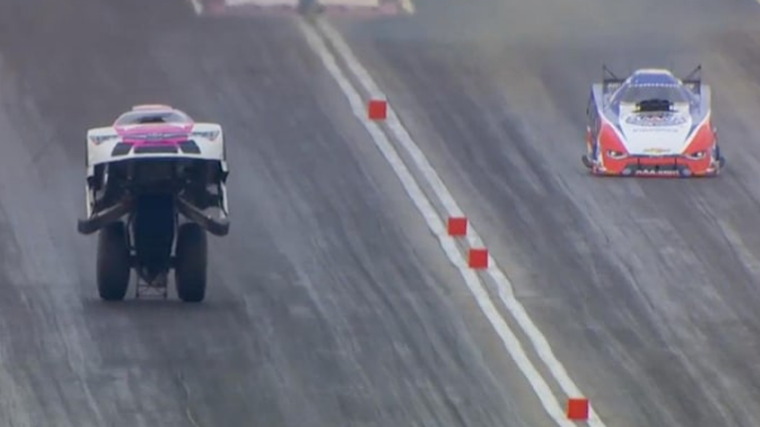 A moment of drama saw a professional drag racer unexpectedly wheelie his way to victory while hitting speeds of more than 320kph.
Cruz Pedregon was competing in the Funny Car section of a National Hot Rod Association event in Las Vegas when he pulled off the amazing stunt.
As he blasted his Toyota Camry dragster down the race strip in 2016, the front of the car lifted and knocked the back of the body off its mounts.
The vehicle continued to rise and briefly became airborne, with the wheelie bar out the back the only thing stopping it from flipping over backwards.
Amazingly, and to the entertainment of thousands of motorsport fans, Cruz stayed on the accelerator and crossed the finish line in front of his rival before landing the wheelie without crashing.
Thankfully, Cruz's skills made the moment one to smile about and it's certainly not a move to try at home.
"I think I wheelstood longer than the Wright Brothers flew through the air," said Cruz.
"I saw sky, then the body separated from the chassis and I saw more sky and thought to myself, I'm going to the hospital. Somehow it came back down straight and I can talk about it."
The hair-raising moment has been watched on YouTube more than four million times, with one viewer amusingly commenting: "The autobot momentarily forgot he had a human driver and almost transformed."
Autofile will be bringing you a Friday Funny online every week and we would love to see any entertaining videos, pictures or stories related to all things automotive that you know of or want to share. Email them to editor@autofile.co.nz